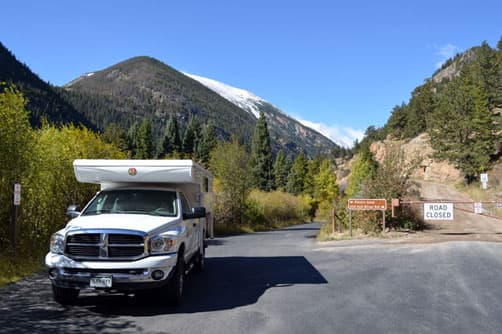 Old Fall River Road is well known as a challenging one-way off-road experience with sharp switchbacks and step grades.  Unfortunately, it's only open a few months a year and was already closed for the winter.  We'll be back.
From West Horseshoe Park we drove east on 34, passed the Fall River Entrance Station, and stopped at the Fall River Visitor Center.  There Angela got yet another stamp in her passport before we traveled another mile east to Nicky's Steakhouse.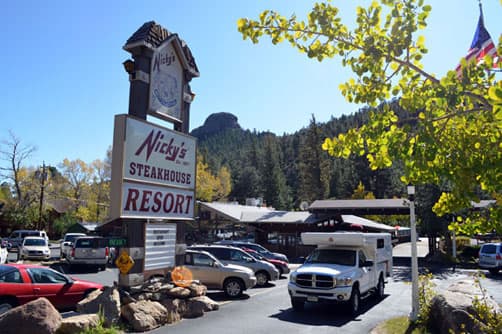 After a decent lunch, we drove into Estes Park to check cell phone messages, email, and make sure TruckCamperMagazine.com was still up and running.  With everything checked, we returned to Rocky Mountain National Park and headed down 36 to Bear Lake Road.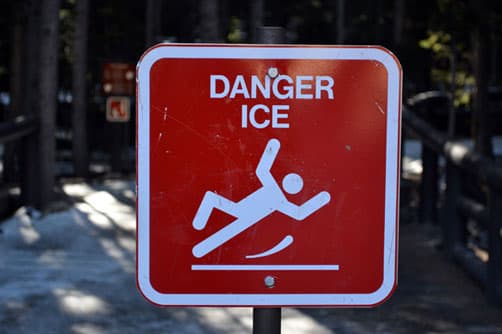 Our walk to Bear Lake was windy and brutally cold with plenty of ice and snow on the trail.  The ice in particular was quite treacherous, so we quickly turned around and headed to Sprague Lake.  Slip, slide, and away.
Approaching Sprague Lake, I saw something that reminded me of our first visit to Bob Mehrer's house near Penticton, British Columbia.  A hundred feet or so from Bob's house he showed us salmon in extremely shallow water as they tiredly fought their way upstream.  It was an incredible thing to see up close and in the wild.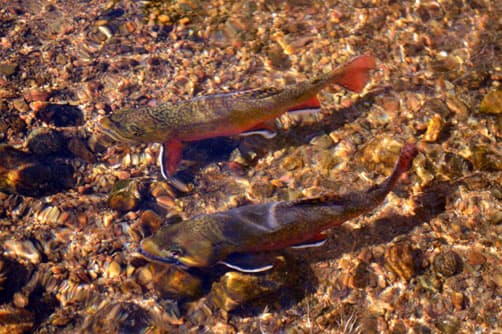 The pathway from the parking lot at Sprague Lake had a similarly shallow stream teeming with fish swimming in place a few inches from the bank.  You could almost touch them they were so close.  My camera has a wide angle lens with no zoom yet I was able to fill my lens with fish.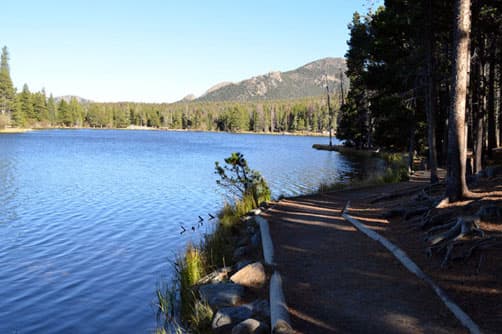 The following walk around the lake was brisk and beautiful.  This is definitely a worthwhile stop.
That evening we returned to Moraine Park and made camp at site 5.  Every other campsite was either full, or not suitable for a truck camper.  If you go to Rocky Mountain National Park late in the season, make sure you get a campsite as early as possible.
Once again we made dinner, took some notes for this story, wrote a few postcards home, and went to bed.  And yes, I had my Nikon at the ready just in case the elk returned.
DAY 3: Thursday, October 14th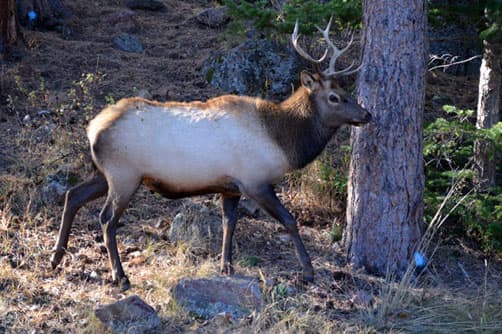 You couldn't script this any better if you wanted to.  Just after our coffee, breakfast, and showers were done, two large elk calmly walked around our camper eating the tall grass and nibbling at the tree bark.  This time I got as many pictures as I could possibly want as they didn't seem to be in any hurry, or care that I was standing there taking their picture.  Let's just say that if elk had royalty fees, I'd be broke.
As I stated on Day 1, it's so easy to get comfortable around the elk or any wild animal that's grown accustomed to humans in a National Park.  I had become too comfortable with the elk near our camper when our neighbor, who had been quietly breaking camp, loudly shook his tent while putting it away.  Instantly the elk bolted in different directions, one running about ten feet past me.  Had the elk been pointed in my direction, I would have been shish-ka-gordoned.
I can hear your future conversations now;
"What ever happened to that Truck Camper Magazine thing anyway?"
"I don't know.  I think it got run over by a reindeer, or something."
That ended my elk photo shoot.  After all, we had spent the better part of an hour photographing the elk near the Hallmark and it was time to go.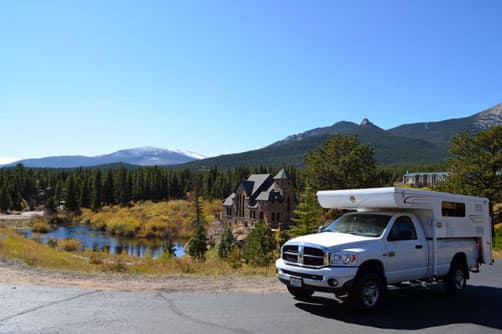 With Trail Ridge Parkway closed once again, we decided to leave Rocky Mountain National Park and drive the Peak to Peak Scenic Byway.  We had driven this beautiful road last year in the Spring and looked forward to seeing it again in the Fall.  On our way, we stopped past the town of Ward for a quick picture and started our drive back to Hallmark.

We even found a little off-road hill to take some pictures.  Yes, this is a beyond pitiful off-road experience, but it was there and we couldn't resist.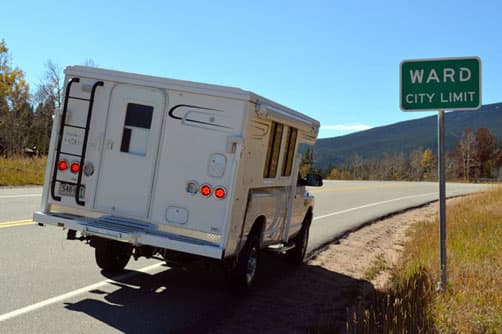 Overall it was a short trip to Rocky Mountain National Park, made shorter by the fact that Trail Ridge Road was closed and only one campground was open.  Did we let that ruin our experience?  Heck no!  We had a blast and loved all the snow covered mountains and elk close encounters.  We also enjoyed the opportunity to camp in a Hallmark and experience a pop-up truck camper in near freezing conditions.