Above the cooktop and sink is a storage cabinet that seems destined to hold cups, plates, and dry food items.  Air owners will need to be very conservative about what they bring and equally clever about how they store it within the camper.  There's storage in the Air, but none to squander.
Under the cabinet and immediately over the cooktop is a metal range hood with a fan and light, and a separate LED light.  In a camper as small as the Air, the range hood light will be a perfect ambient walk-around night light.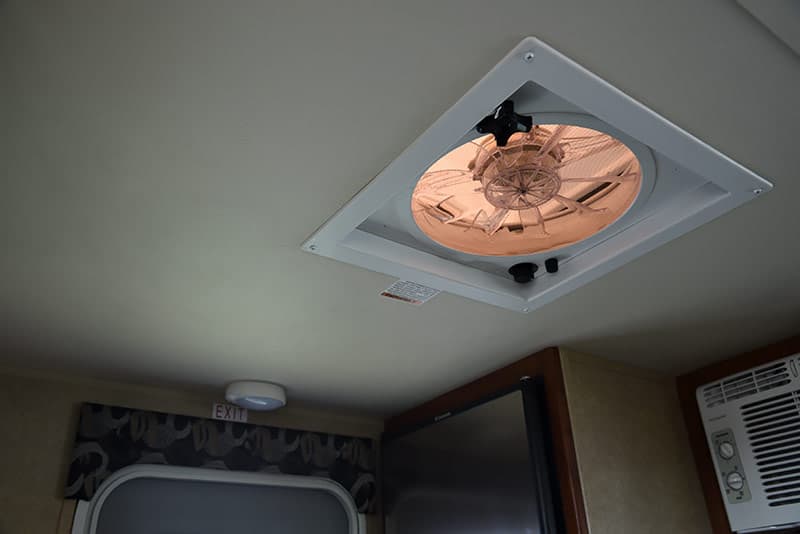 The range hood fan is a welcome feature, but probably superfluous with the much more powerful Fantastic Fan above the main area.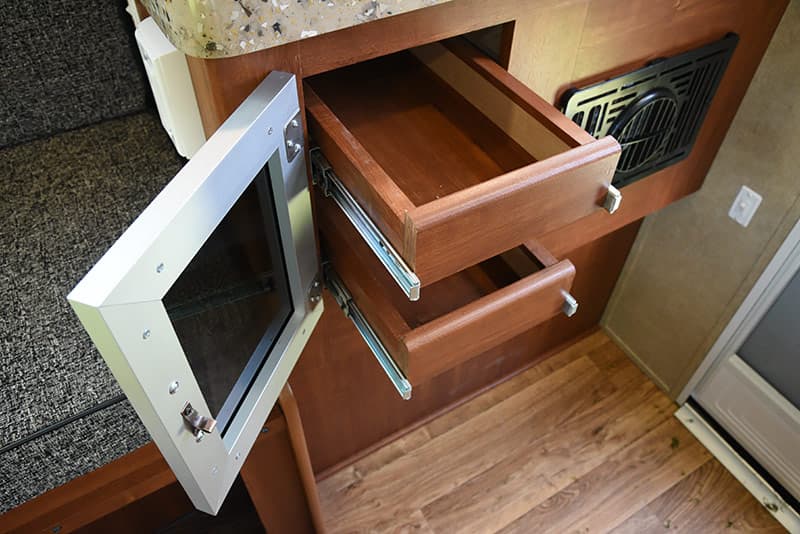 Under the countertop is a small cabinet (with two secrets) and a 12,000 BTU Atwood furnace.  When one opens the cabinet door, you discover not cabinet space, but two pull-out drawers.  These drawers are in the perfect spot for silverware and utensils and ring the "right storage in the right place" bell.
I'm not sure exactly why Travel Lite didn't just put in two drawers here.  Without the admittedly modern aluminum cabinet door, the drawers would have been more convenient for daily access and a touch bigger.  On balance, Travel Lite definitely scores on style points and the surprise factor.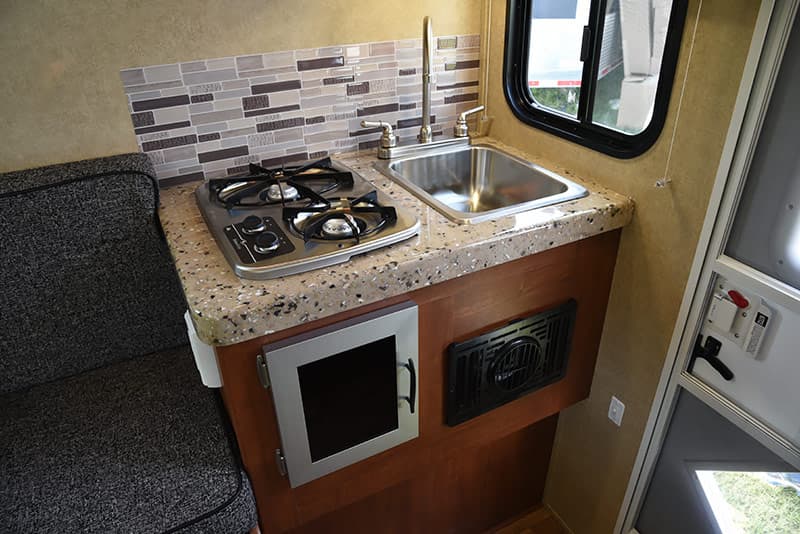 Even with single pane windows (versus insulated dual-pane), the 12,000 BTU Atwood furnace will keep the Air quite warm.  If you're looking to camp with the Air in colder weather, your only potential limitations could be propane capacity and power.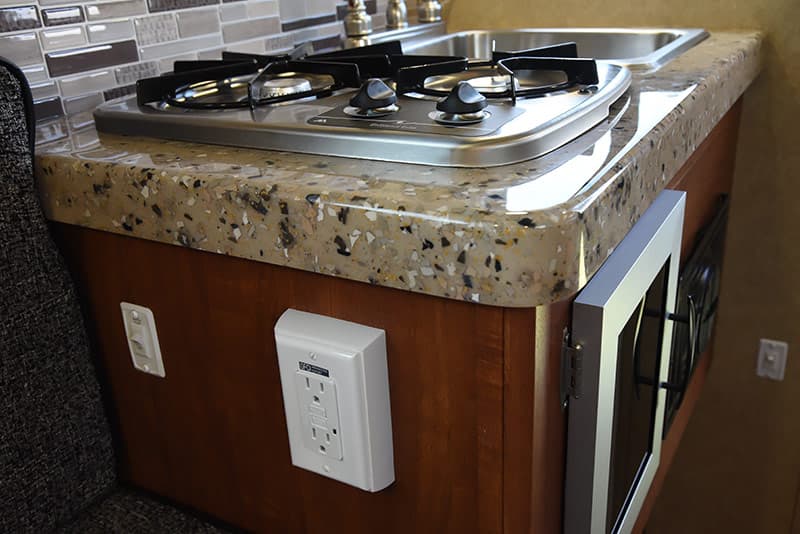 Speaking of power, there's a 110-volt GFI outlet on the forward facing side of the kitchen and the water pump switch.  With the location of these features, owners will need to be mindful of a possible spill over from the sink and cooktop above.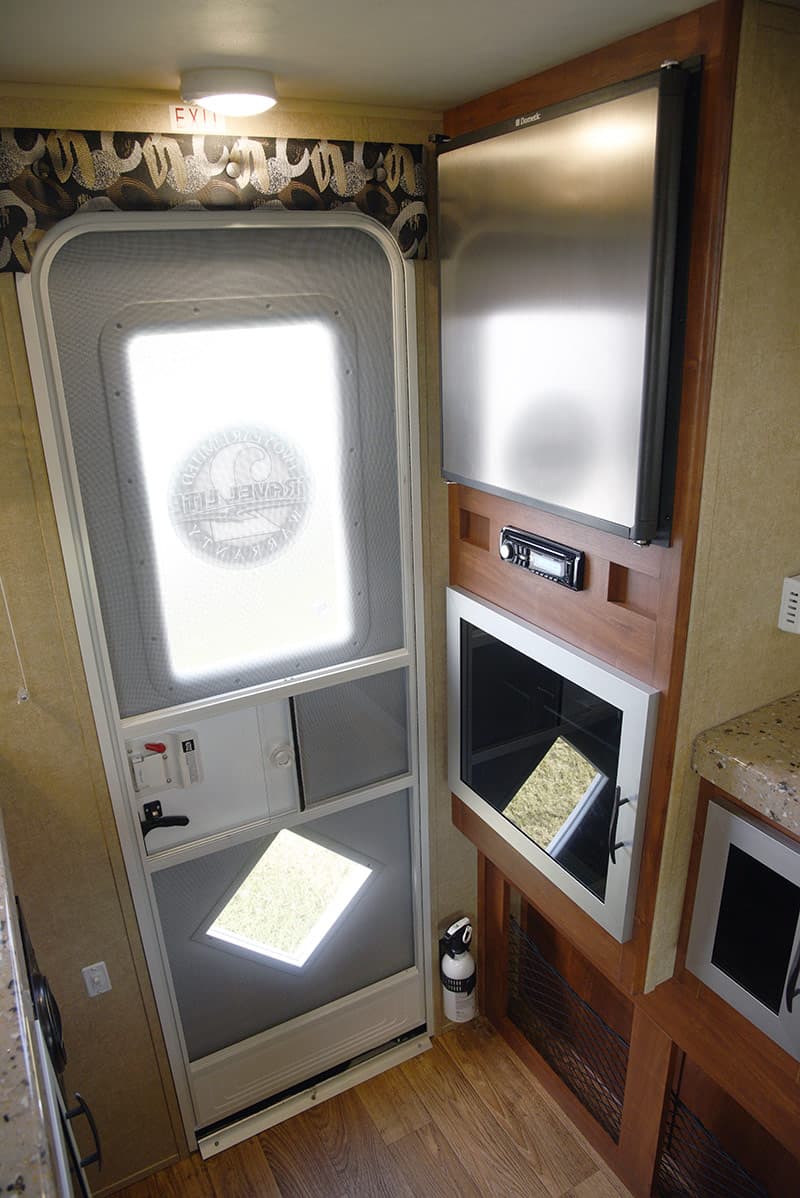 Now let's do the hokey-pokey and turn around.  Directly across from the kitchen on the driver's side is the 3-cubic foot 3-way Dometic refrigerator, Dual brand AM/FM CD stereo system, aluminum cabinet door with sealed Group-27 battery box, and storage netting.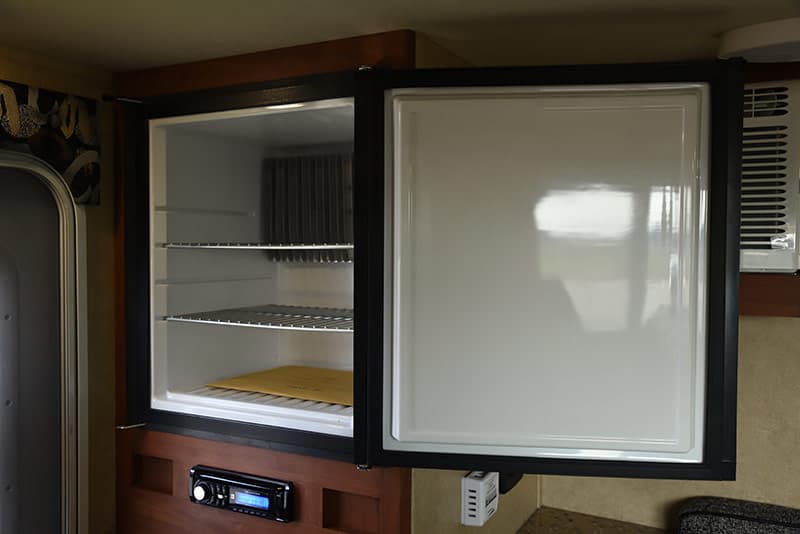 Not that long ago, a camper this small always came with an ice chest.  Having a 3-cubic foot 3-way Dometic refrigerator as standard is an amazing luxury in a unit where every inch, ounce, and penny counts.  Like the rest of the Air, storage in this camper will need to be used carefully, but the refrigerator is nice feature for an entry-level, half-ton, hard side.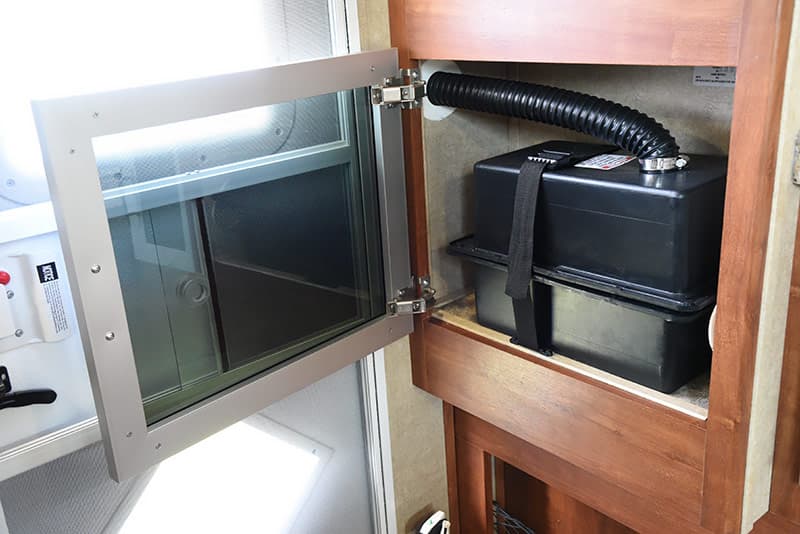 In a small camper like the Air, it's a bit disappointing to see a large cabinet used up for a battery.  That's a lot of interior storage lost.  Air owners could employ Torklift International's Extended Power or Hidden Power battery exterior battery box solutions and gain this precious interior storage space.  Given how precious storage space is in the Air, that would be a priority for us.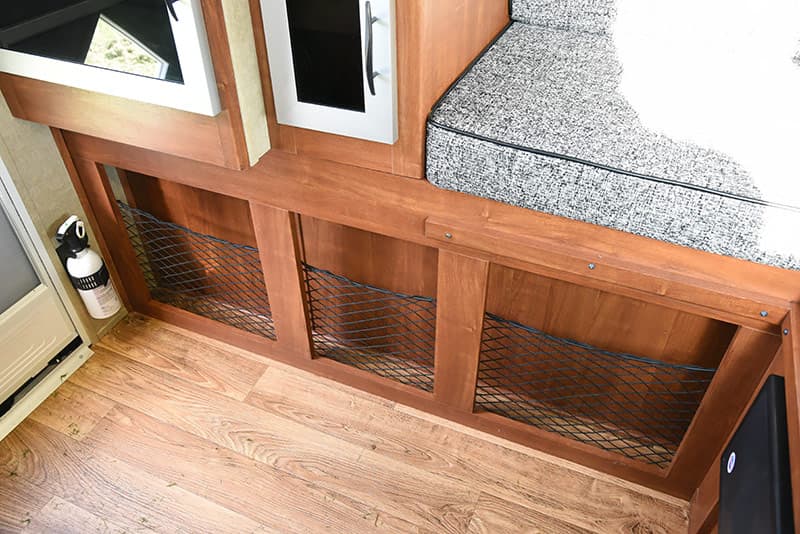 Netting is used instead of wood cabinet door faces and hardware primarily to save weight and cost.  Since those are the two goals for the Air, it only makes sense that netting was employed for the storage area along the lower driver's side.  This looks to be a good area to store shoes.