The cranks inside the cabinet are for the exterior Happijac jacks and the manual roof lift.  For speed and ease of operation, most Hallmark owners will likely use a cordless drill for the jacks and roof lift system.  At Hallmark headquarters, they use a Dewalt cordless drill.  For Milner owners, the entry way cabinet makes for a handy location to keep such a drill.
Ideally we would also find a battery disconnect switch here.  Having the battery disconnect just inside the entry door is slowly becoming a standard design feature across the truck camper marketplace.  For winterizing, light, and convenience, the ability to quickly connect or disconnect the main battery system from the doorway makes good sense.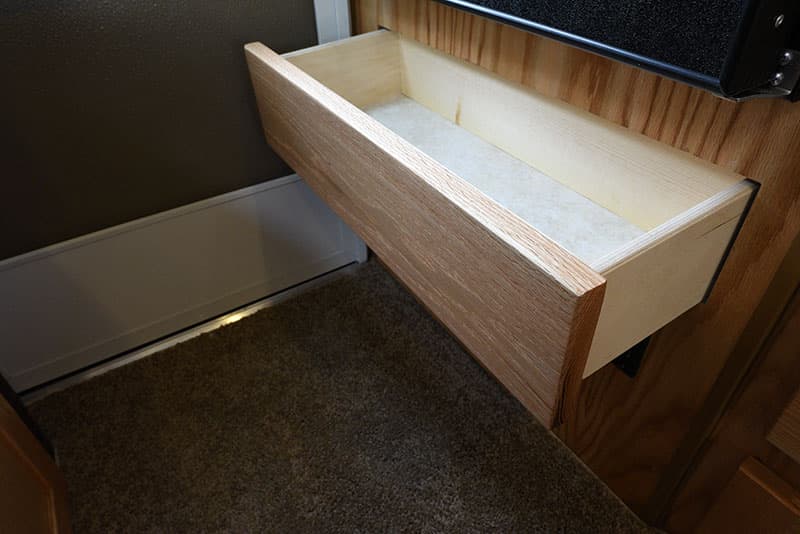 Above the pull-down cabinet and light switches is a small pull-out drawer.  I can envision this space being used for flashlights, pet leashes, and/or dry food storage.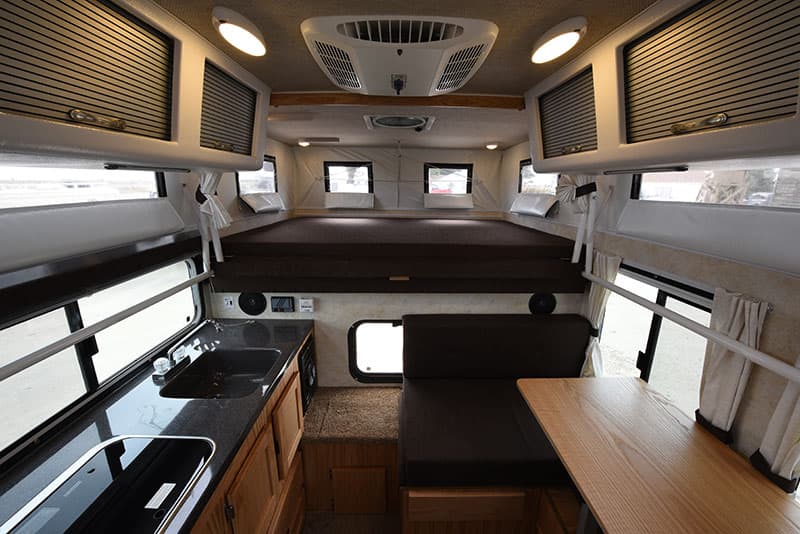 Once the pop-up roof is raised, the windows are opened, and the lights are turned on, the Hallmark presents a bright and well organized living space.  The kitchen is on the driver's side, the dinette is on the passenger's side, the standard east-west cabover is straight ahead, and luxury materials and features are everywhere.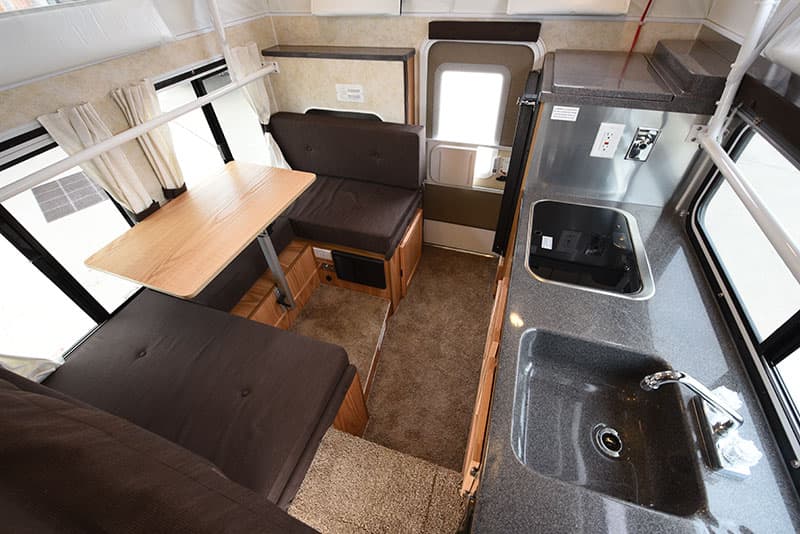 There's a surprising amount of floor space and walking around room inside the Milner.  This sense of space is aided by the Lagun table leg system that moves the dinette table to the passenger's side when not in use.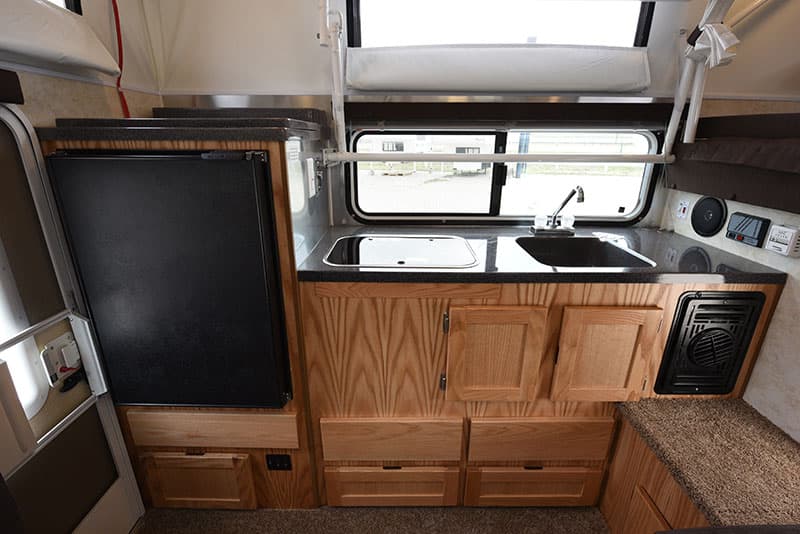 In this photograph you can see the full width of the Milner's kitchen.  As you can see, the Milner comes standard with a cooktop, sink, and refrigerator.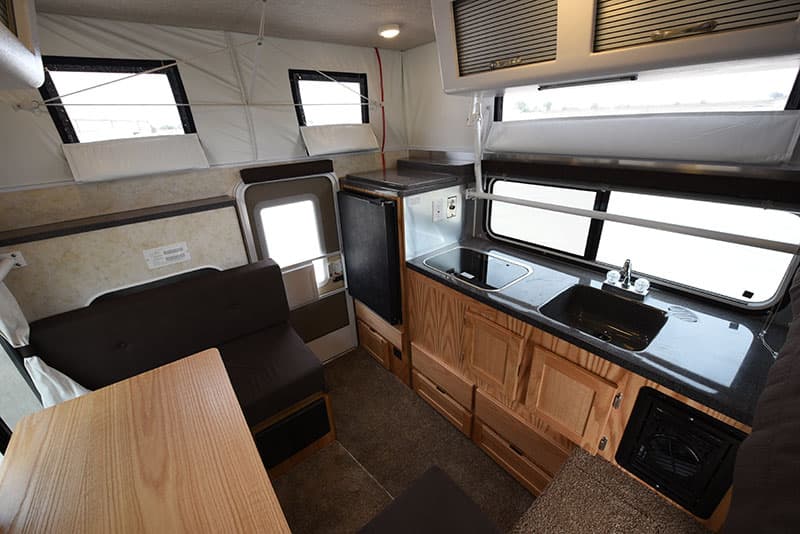 The Hallmark Milner comes standard with one heck of a premium 12-volt refrigerator.  The Nova Kool R4500 is a two-way AC/DC 4.3 cubic foot design featuring the highly-regarded sealed Danfoss compressor.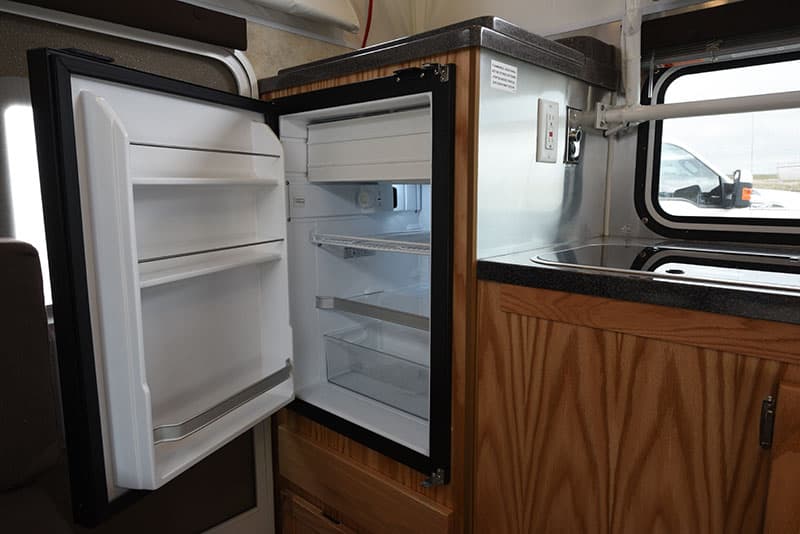 Danfoss compressor refrigerators are known to be incredibly efficient at 12-volts, not to mention exceptionally quiet, rugged, and maintenance-free.  The Nova Kool R4500 also features a positive latch system, tall bottle storage, magnetic door gaskets, stainless fasteners and hinges, low battery protection, and a two year warranty.  For a camper that's designed to go off-road and off-grid, you couldn't ask for a better standard refrigerator.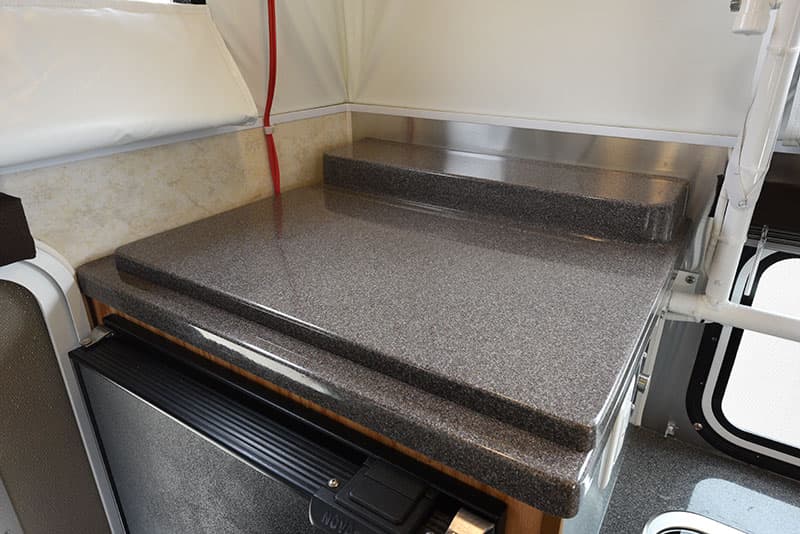 On top of the Nova Kool R4500 is a pull-up vanity.  The vanity and lid are made from molded fiberglass and feature the same attractive granicote aesthetic found in the kitchen area.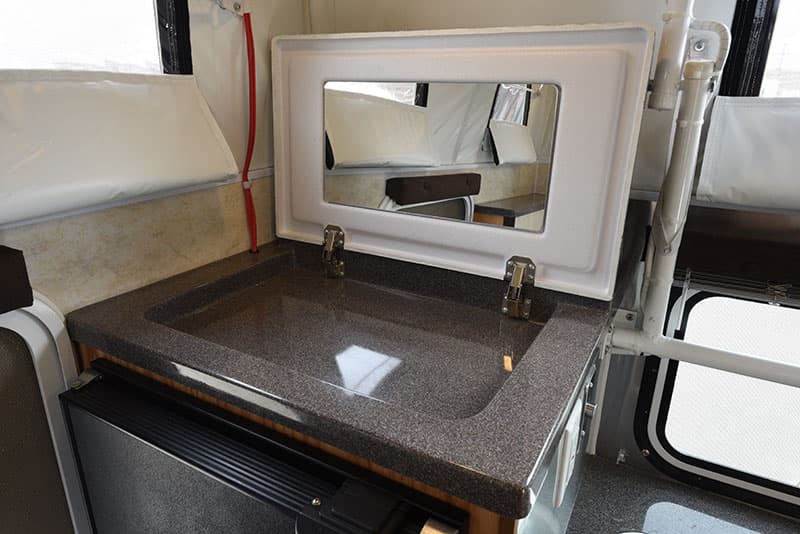 The underside of the vanity lid has a large mirror to help you stay presentable.  Just because you're boondocking in the boonies doesn't mean you don't care about your cowlick.
The inset well under the mirror seems taylor-made for toiletries.  A hairbrush seems obvious, but I can envision keeping toothbrushes, toothpaste, and razors in this space as well.