The 6-cubic foot two-way (LP and AC) Norcold refrigerator is a sensible unit for the 992.  From experience, 6-cubic feet is enough cold food storage for two people for about a week.  Our camper has a 6-cubic foot refrigerator and we don't wish for more.
Some might prefer a three-way refrigerator (LP, AC, and DC) but many would argue that having the DC option actually risks your battery bank.  If a three-way refrigerator accidentally switches over to DC and you don't notice, it can drain your house batteries in a matter of hours.
For anyone who doesn't feel comfortable running their refrigerator on LP while driving, turn off your refrigerator prior to heading out and turn it back on when you arrive at your destination.  Unless it's very hot, or your drive is especially long, your food will stay cold and frozen.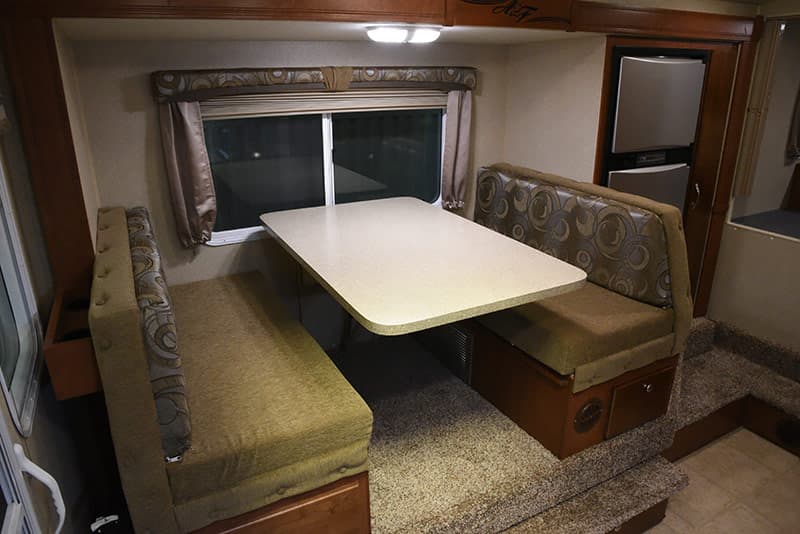 The size and proportions of full-booth dinette in the Arctic Fox 992 are awesome.  The dinette seats offer room for two adults on each side and the big stable table is perfection for breakfast, lunch, dinner, two laptops, big map planning sessions, Texas Hold 'Em, Mexican Train, or old school arm wrestling.  This dinette and table are the business.
In the past, Arctic Fox dinette cushions have been extremely firm.  While some people liked this firmness, others added egg crate foam to soften the seats, or changed the foam material entirely.
The 992 under review had a fairly firm seat, but seemed to be an improvement over the previous cushions.  Fortunately, adding egg crate under the cushions or changing the foam material is a relatively easy mod.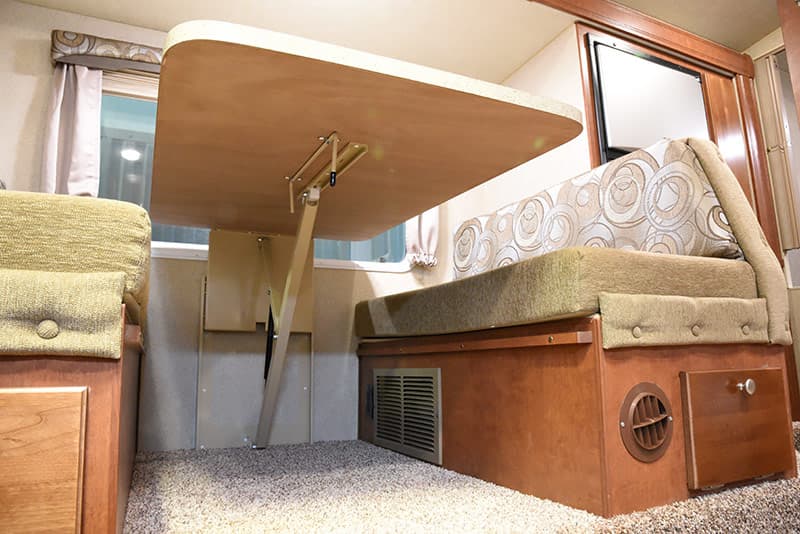 The Dream Dinette system not only eliminates the often annoying table leg, but also makes converting the dinette into a bed quick and easy.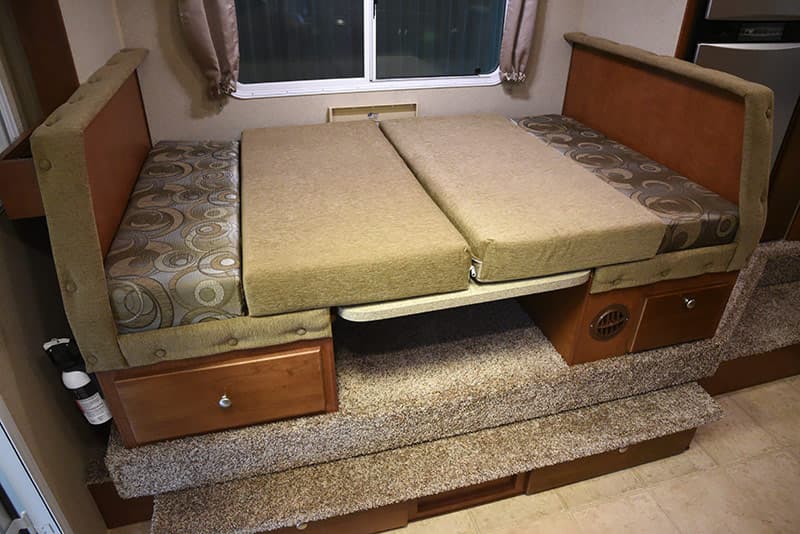 Just release the table top hinge and push it down until it rests on the seat ledges.  Then arrange the four cushions into a bed.  That's it.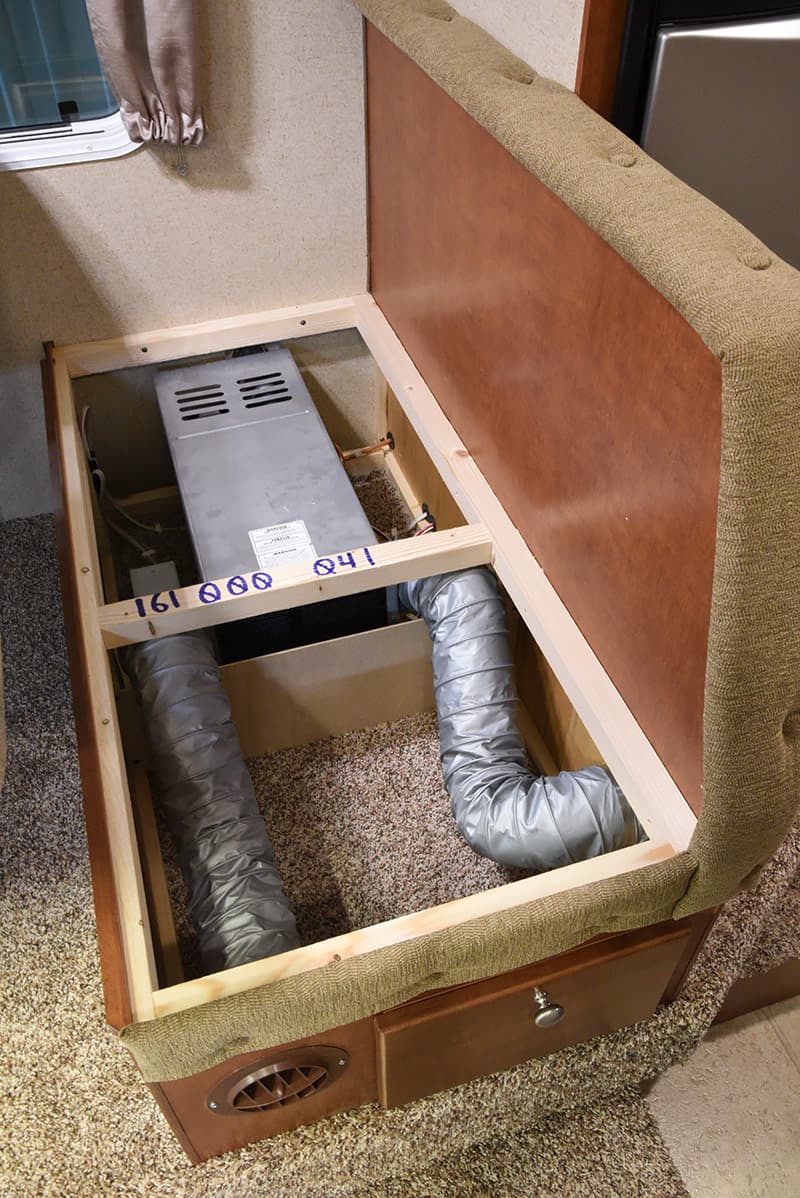 Under dinette seat facing the rear of the camper is where the heating system is located.  Half of this space is still usable as storage, but you'll need to be careful not to store anything that might move around and damage the heating ducts.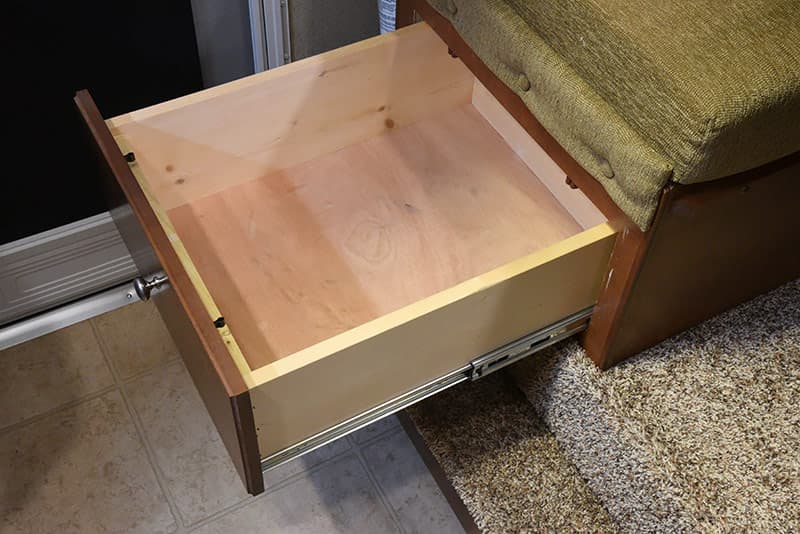 Under the forward-facing dinette seat is a pull-out drawer that really shows the quality and heft of Arctic Fox truck campers build.  The thickness of the wood and the steel roller bearings all say, "This camper is built to last".  The Arctic Fox owners we know really appreciate this aspect of their campers.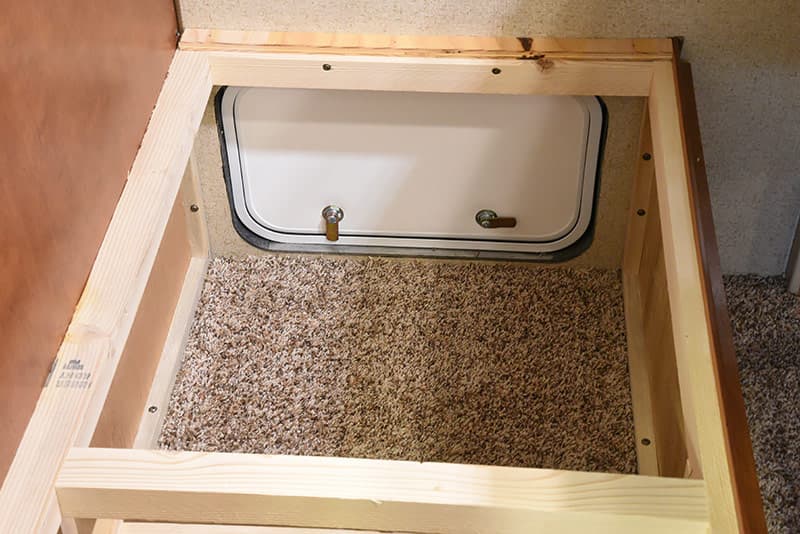 The other half of the forward-facing dinette seat offers access to the exterior storage compartment.  Having access to this exterior storage area from inside the camper is great, but I would be concerned about the carpeting.
There isn't much that's stored in exterior camper compartments that is 100-percent clean.  To prevent damage to the carpeting, I would look keep items in this space contained in plastic bins.  Or the owner could remove the carpet in this compartment and install linoleum.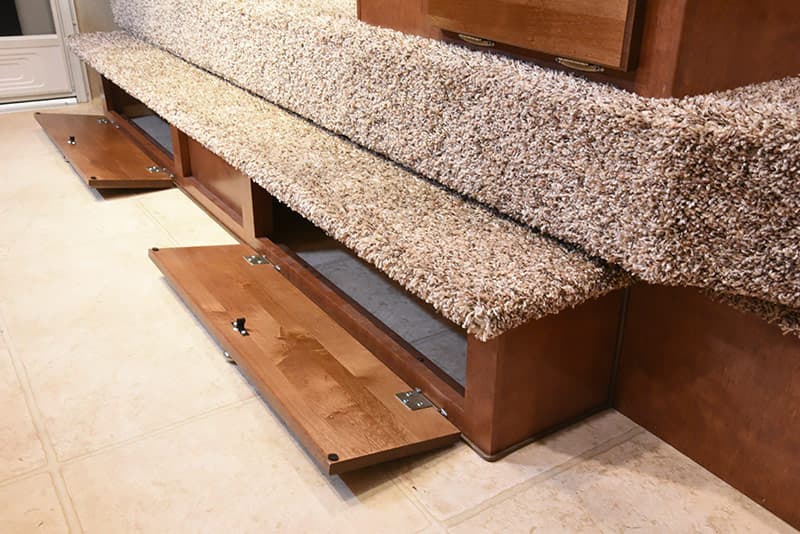 Under the entire dinette slide Northwood has cleverly added two pull-down storage areas.  These could be suitable for shoes, umbrellas, or maybe collapsing fishing poles.  Whatever you use it for, this is another great place to put stuff.