If you opt for the optional microwave, overhead storage in the kitchen is limited to one cabinet.  On balance, Lance did include additional storage under the sink, a single drawer to the left of the range oven, and a three-basket pull-out pantry next to the refrigerator.  You can also use the oven to store pots and pans.
In short, an owner of a Lance 850 will need to be mindful of how they utilize their kitchen storage.  Bring only the dishes, utensils, pots, and pans you need and you'll do fine.  Truck camper storage is always a challenge best met with planning and efficiency.  Besides, this is the price we pay for demanding microwaves, three-burner range ovens, and two basin sinks in our truck campers.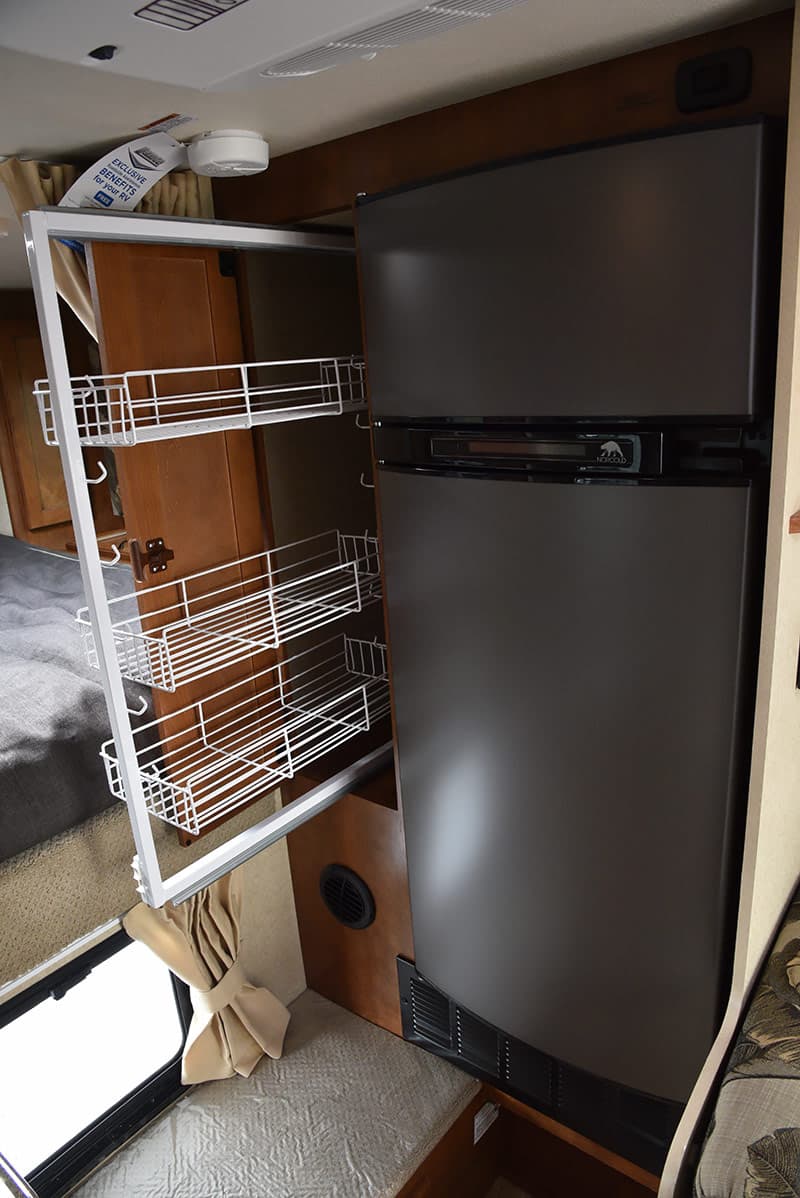 Above: The sliding pantry next to the 5-cubic foot refrigerator
The 5-cubic foot, 3-way (12-volt, LP, and AC) Norcold refrigerator in the Lance 850 features a separate refrigerator and freezer.  From experience, a 5-cubic foot refrigerator provides almost the same amount of practical food storage space as a 6-cubic foot refrigerator.  We have used campers with both 5 and 6-cubic foot refrigerators and haven't needed to adjust our food shopping habits much when using the 5-cubic foot models.  The slightly smaller freezer is the biggest challenge.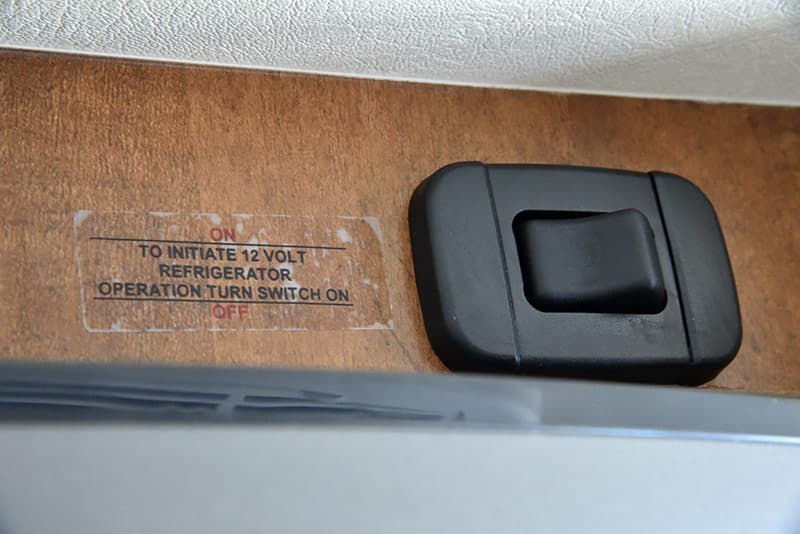 What was most interesting is the 12-volt switch over the refrigerator to prevent the 12-volt mode from accidentally draining your batteries.  Nice touch, Lance.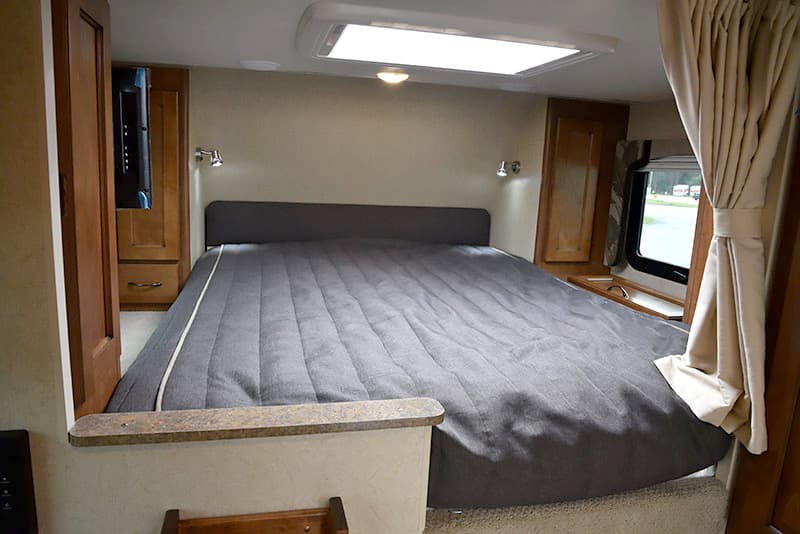 The north-south 60 by 80-inch queen-size bed will allow you to sneak past your snoring spouse to use the bathroom or get a 2:00am drink of water.  Not everyone has the same sleep schedule, so a north-south cabover is a real plus.

Above left: Driver's side of the cabover.  Above right: Passenger's side of the cabover.
The two sides of the cabover offer some excellent storage options.  On the passenger's side there is a front cabinet, hamper, and storage closet.  On the driver's side, there is a front cabinet and drawer, floor space, and a small storage cabinet.
For those who are concerned about marital harmony, the storage on both sides seems well balanced leaving couples the option to choose which side suits them best.  If you both choose the same side, try rock, paper, scissors.
Above left: The HDTV in the cabover.  Above right: The television swiveled out to the main living area.  Also note the tank monitors, power awning control, awning light, and stereo system.
Honestly, we love the cabover in the Lance 850.  It's attractive, well designed, has plenty of light from the Heki skylight and opposing windows, and offers an appropriate amount of storage.  What more could you want?
Specifications
| | |
| --- | --- |
| Specifications | |
| Dry Weight | 2,445 pounds |
| Wet Weight* | 3,350 pounds |
| Floor Length | 8'11" |
| Overall Length | 17'7″ |
| Width | 96″ |
| Interior Height | 76″ |
| Exterior Height | 8'6″ |
| Center of Gravity | 34″ |
| Truck Type | Long Bed |
Lance Campers reports the dry weight of the 2016 Lance 850 at 2,445 pounds.  This weight is based on a unit without options and is unlikely to be representative of a unit found on a dealer lot.  If you want a Lance 850 at this specified dry weight, you will need to special order the unit.
Most Lance 850 models will likely have 150 to 200 additional pounds with popular options; air conditioner, microwave, 10-foot power side awning, rear door awning, remote-controlled electric jacks, HDTV, day/night shades, Fantastic Fan, Heki skylight, removable pass-through window, etc.

Above: The Lance 850 roof.  Note the air conditioner, HDTV antenna, Heki skylight, and roof rack.
With an 8-foot 11-inch floor and a 34-inch center of gravity, the Lance 850 is designed for long bed trucks.  The exterior width is 96-inches (8-feet), the maximum width allowed for truck campers and RVs.  Unlike many of the truck campers that have debuted recently, the 2016 Lance 850 is not a candidate for a half-ton.
Interior height is 76-inches, or 6-feet 3.3-inches.  I stand at 6-feet 3-inches, so I had to be careful around the air conditioner.  That said, I quickly became accustomed to the ceiling height and found it comfortable.  It's interesting to note that the new Lance 650 has an 81-inch ceiling and the Lance 825 has a 77-inch ceiling.  Not all Lance ceiling heights are the same.