Before we talk about a proper truck for the 8.6, let's run the numbers using the TCM Buyers Guide wet weight calculation, and CampLite's supplied dry weight:
CampLite TC8.6: dry weight, 1,824.8 pounds + 30 gallons fresh, 250.2 pounds + 6 gallons full hot water heater, 50 pounds + 2 x 20-pound full propane tanks, 40 pounds + 1 battery, 65 pounds + stuff, 500 pounds = 2,730 pounds
Fully optioned, wet, and loaded with everything you'll want to take with you, it's possible that this camper could be pushing 3,000 pounds, or more.
Above: A few days after we left D&H RV Center, a customer bought the very 8.6 we reviewed and just happened to have a Ram 3500 dually just like ours.  Thank you to D&H RV Center for these truck photos.
After talking to a number of long time readers who are now researching their second and even third truck campers, I've had a slight change of heart when it comes to matching.  Now I believe the best course of action is to go as big as you can.  Even if you only need 3,000 pounds of payload now, go for the one ton with 4,200 pounds of payload.
Even better, get a dually with 5,000 pounds of payload or more (our 2014 Ram 3500 has 5,851 pounds of payload).  That way you will have the truck you need when you want to upgrade in a few years.  You will thank yourself later.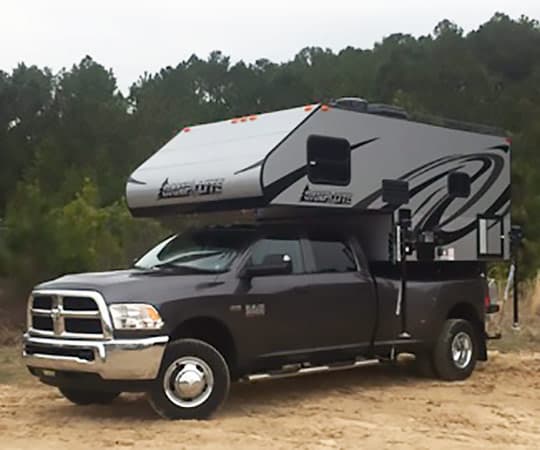 Above: Notice that the 8.6 does not overhang the back of the truck or go past the tailgate area of the truck.
The other route to take is to get the truck you need.  For the CampLite 8.6, that probably means a three-quarter ton truck.  If you go for a diesel engine, four wheel drive, crew cab, and all the upgrades and trim packages, you may even need a one ton.  If you can go gas, two-wheel drive, and a regular cab, you could special order a half ton with 3,000 pounds of payload.  It won't be on the lot, but it's possible.
My advice: If you can, buy the truck you'll want for your next camper.  Go big.  Even if you don't want a bigger camper later, you might decide to tow a boat, or a bigger boat.
Center of Gravity Matters
As a magazine, we believe it's important that center of gravity is accurately measured and marked on every new truck camper, as it left the factory.  A center of gravity sticker alerts consumers to the importance of center of gravity for a safe truck and camper match.  Center of gravity should always be forward of the rear axle.
Unfortunately, LivinLite does not mark center of gravity on their truck campers.  We implore LivinLite, and any other manufacturer that does not currently use COG stickers, to reconsider posting center of gravity on every truck camper they sell.  If they make this change, we will celebrate the news with a story in Truck Camper Magazine.
The Disappearing Slide
Angela and I both walked into the 8.6 and thought – for a split second – that it was a slide-out model.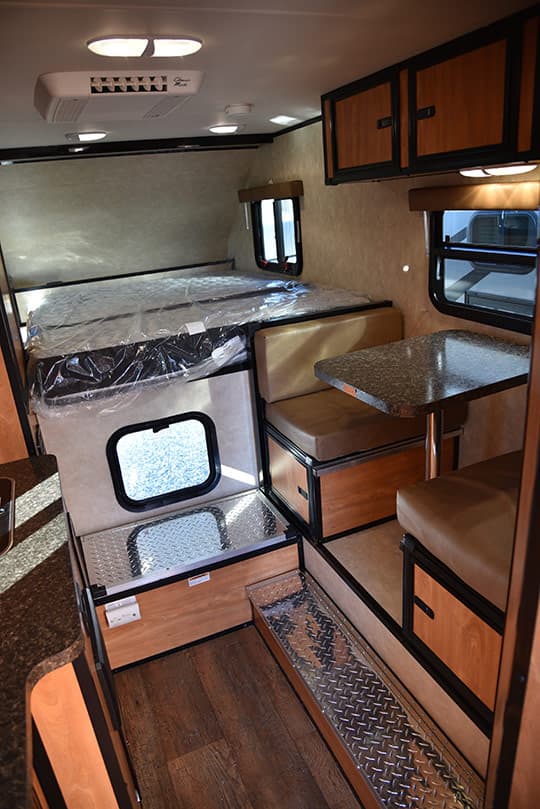 Once you get past the wet bath in the passenger's side rear, the floor plan opens up.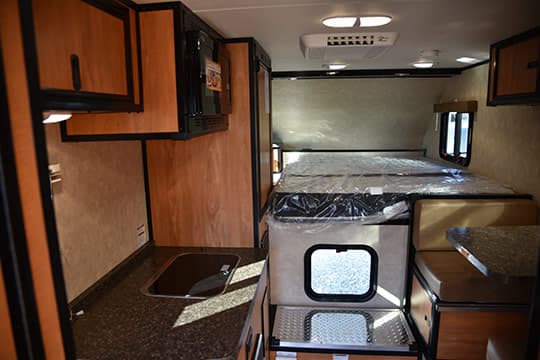 Then the two-top booth-style dinette tricks the eye into thinking, "Is that a slide-out?"  For a long bed camper that stops just past the tailgate, the 8.6 feels open and spacious.