The primary problem with shipping truck campers is their awkward shape and size.  Most truck campers are too wide to be loaded and shipped in a standard shipping container.  This means that truck campers need to be carefully loaded onto an open-air trailer and shipped three to four at a time (or less).  These trailers are often custom made, at considerable expense, expressly for the purpose of hauling truck campers.
Adding to the expense of shipping truck campers is the fact that these custom trailers are not well suited to back-haul anything but other truck campers.  A tractor trailer with a standard box can take a load of televisions from LA to Atlanta, and then back-haul a load of rubber chickens back to LA.  Custom-built truck camper trailers can really only carry truck campers, leaving the back-haul rubber chicken money out.  If a consistent back-hauling opportunity could be found, it could defray the costs of shipping truck campers dramatically.
Truck camper shipping has been a problem since the 1980s when truck campers began to ship long distances.  Before that, truck campers were primarily a regional product with manufacturers selling to customers within a few hours of the factory.  Now truck campers are made in Indiana and bought by someone in Alaska.
Keeping the above long-suffered situation in mind, take a look at the photograph below.

Here we see seven Travel Lite Rayzr truck campers ready to ship from Travel Lite in Indiana to two dealers in Montana.  On this load is are two Rayzr SS, two Rayzr FK, and three Rayzr FB models.  Bozeman RV is getting four of these units.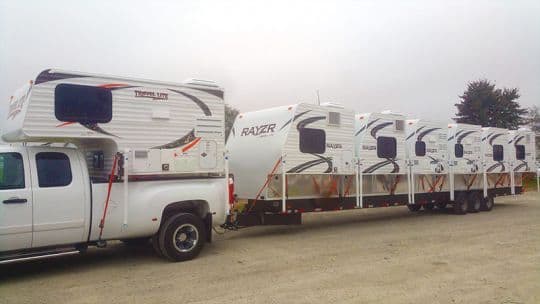 Just look at the beauty of this set-up.  With just one load, a dealer in Wisconsin will carry the full Rayzr line, plus a 2016 Travel Lite 625.  Seeing six and seven Rayzr truck campers loaded up and ready to roll shows another way the Rayzr product is pushing the industry forward.
Prediction: More Canapers To Come
Not only does removing the cabover create a new category of truck campers, but it also allows for tremendous efficiencies in production, shipping, and dealer lot utilization.  The cost reduction from shipping six or seven Rayzrs at a time cannot be understated.
I believe the canaper product category (half-camper, half-topper), represents an opportunity for a paradigm shift for the truck camper industry.  Old timers will remind me that this is all just back to the future, but I think it's something more.
Could canapers like the Rayzr be the iMac the industry has been looking for?
Could canapers reach young buyers – vital to the long-term viability of our segment – and help rejuvenate and grow the truck camper marketplace?
Could canapers be both more affordable to the consumer and more profitable to the manufacturers than traditional truck campers?
If done right, and marketed well, the answers are obvious; yes, yes, and yes!
Dustin Johns, President of Travel Lite, explained the shipping opportunity well in his introduction of the Rayzr:
"…a typical standard three camper run cross-country from Indiana to California costs $2,300 per camper in freight.  With the Rayzr we can fit seven campers on the truck.  That's about $1,000 in freight per unit.  The customer can save up to $1,300 dollars in freight with a Rayzr."
Well done, Travel Lite.  Yes, you cheated by removing the cabover, but you managed to create a whole new and exciting opportunity in the process.  We cheated when we cut printing and created an online-only magazine eight years ago.  Sometimes less can lead to something a whole lot more.
For more information about the Rayzrs, visit Travel Lite's website at www.travellitecampers.com.  To request information about the Rayzr, click here.