#10 – Jack Purdy, Mojave, California
1969 Ford F-250 Camper Special
1970 Roll-A-Long Sportster 9.5
When I purchased our truck camper in 1976, the tie-downs were simply turnbuckles with chain attached to hooks on the sides of the truck bed.  Early on I installed heavy duty front and rear sway bars to improve stability and handling.  Later I added Rancho RS9000XL shocks.
I knew the tie-downs were a weak point.  I needed frame mounted tie-downs for better stability, but couldn't find anything adequate for the front and rear of my older 1969 Ford F-250 truck and rear step bumper setup.  Torklift International had adjustable tie-downs, model F4000, that would work in the front, but not the rear.  Eventually, I decided to fabricate my own rear tie-downs.
Click to enlarge the photos throughout Jack's modification.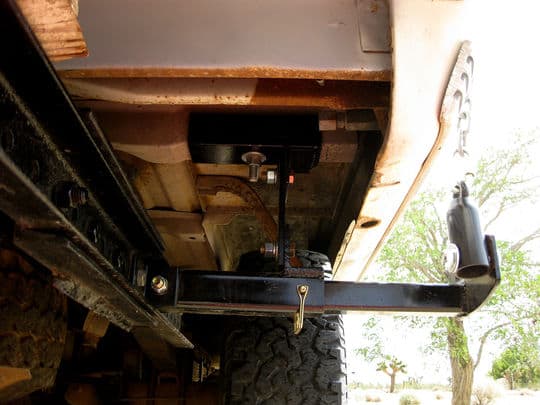 The rear step bumper supports attached to the rear of the truck frame, which provided a place for the tie-downs to attach to the frame.  Directly above was a bed frame which provided a place to attach the vertical support.  I added two rear bed-to-frame bolts for extra support.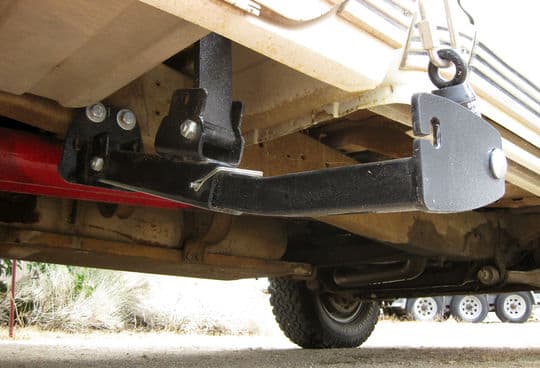 I special ordered square tubing and a flat plate in the proper thickness and cut the square tubing the to length and size needed.  I drilled all the bolt holes needed on a drill press.  My neighbor is a welder and did the welding.  For the tie downs I used two Torklift S9000 Basic SpringLoad Kits.  Each kit includes two SpringLoad units with springs, two heavy duty forged steel turnbuckles, and two lengths of chain which were cut to the length needed.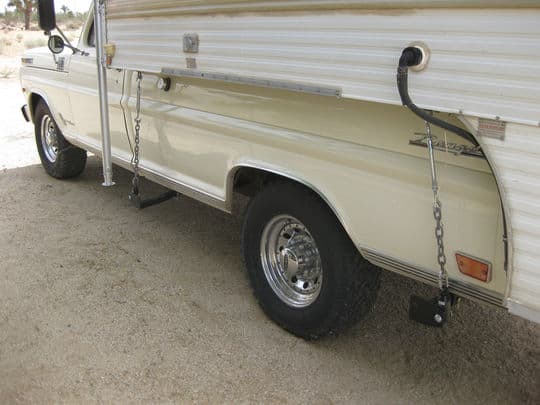 Above: The new system on Jack's truck – click to enlarge
The new tie-down and turnbuckle system has worked great so far.  I haven't taken any long trips yet, but I can tell the camper is much more stable.
It took me approximately 80 hours to complete and cost $530 (not including the exhaust work).  In my opinion, the skill level of this mod is hard due to the welding.  In addition, you need be able to remove and replace the factory tool box and the auxilary fuel tank shield.  I also had to get a muffler shop to re-route the dual exhaust muffler and tailpipe from the left to the right side.
CLICK HERE TO SEE WHO WON OUT OF THIS GROUP.
Disclaimer: The modifications above are submitted by Truck Camper Magazine readers.  It is your responsibility to make sure that any do-it-yourself modification project you undertake is safe, effective, and legal for your situation.