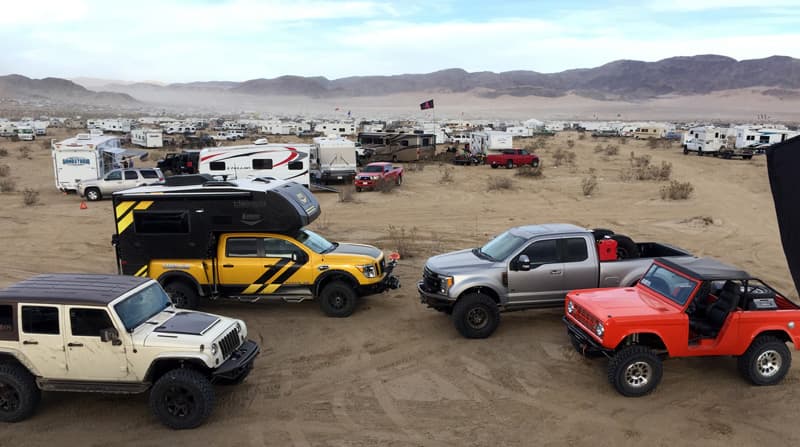 Above: Hellwig equipped at the 2017 King if the Hammers, in Lucerne Valley
TCM: Are you preparing another truck camper rig for SEMA this year?
Mike: We are not building a truck camper rig this year, but we are building a truck in the same "tow and haul" theme.  We literally support our customers with air bags, helper springs, and sway bars.  It will be a one-ton build around the outdoor lifestyle.
TCM: Any other fun stories about living with the Rule Breaker?
Mike: When I roll up, people come over inquisitive about the fact that the camper is black.  They say that it makes no sense to make a camper black because the camper would get very hot in the sun.  When I explain that it's a SEMA vehicle they say, "I guess it worked because it got me to come over and talk about it".
Then I introduce myself as being part of Hellwig Products and tell them that we wanted to do something different.  The camper does retain some radiant heat that is absorbed by the black vinyl.  I have never been driven out of the camper because of the heat, but I don't go camping in 106 degree weather either.  I go to the mountains or coast on those hot days.
I've worked at the beach because the Rule Breaker can be my mobile office.  All I need is internet and cell reception.  There are a lot of people who now have the freedom to work where they want.  You guys know what I'm talking about.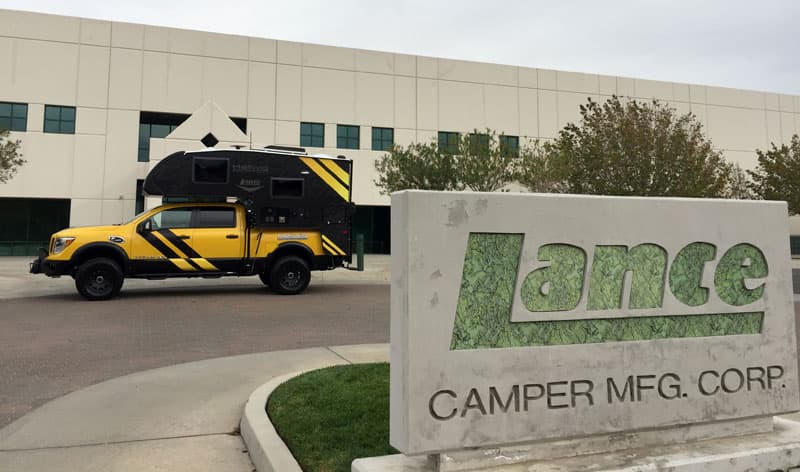 Above: Rule Breaker at Lance Camper, Lancaster, California
TCM: We are very lucky to be able to work from the road.  It is amazing.
Mike: It's been a blast having the Rule Breaker.  When I give it up I'm going to be sad because it's been a fun experience and it has created a lot of memories.
I have gained friends because of the events that I've attended with this rig.  It's impacted my business and personal life.  There has been nothing negative about it.  I love that vehicle.  It lives with me and I live in it.
If you want to see the Rule Breaker, it will be in the Lance Camper area at Pomona RV show October 6-15, 2017.
For more information on Lance Campers, visit their website at lancecamper.com.  For more information on Hellwig Products, visit their website at hellwigproducts.com.
To request a free brochure for the Lance 650 or the Hellwig suspension products on this rig, click here.