Above: Their first work camping site was Point Lookout State Park, Maryland.
TCM: Tell us about work camping.
Mark: This will be our third year work camping.  Our first year we worked for the Maryland Department of Natural Resources at Point Lookout State Park in Scotland, Maryland.  Last year we were at an Army Corp of Engineers park in Pella, Iowa.  This year we're at a Outflow Camp in Confluence, Pennsylvania.  We are going to be campground hosts.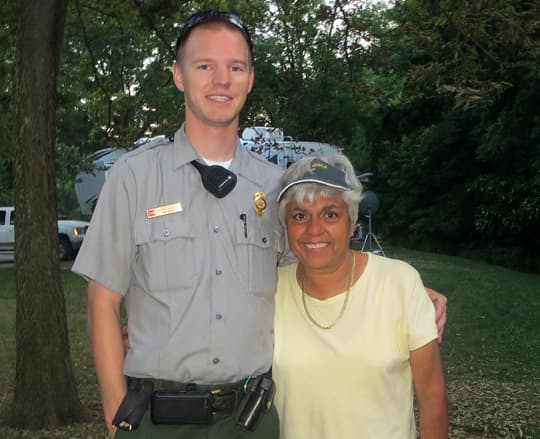 Above: Doris and Ranger Brian, Lake Red Rock, Pella, Iowa.
TCM: How did you get into work camping?
Mark: The government has a website, volunteer.gov, for volunteer positions at Army Corp of Engineers parks, National Parks, National Forests, and BLM lands.  You apply online.  They have a list of around 1,500 to 1,600 jobs.
All of the jobs are listed by state.  You simply click on the state you want to work in.  For each job there is a job description and hours listed.  Some jobs pay a daily stipend.  Others pay for propane or fuel.
We decided to volunteer our time and camp for nothing.  Most of the jobs include a full hook-up site, which we prefer.  They tell you the services they provide before you sign up.  You can apply for as many or few as you like and they usually respond within ten days.  They'll call you back and ask if you're available and interested.
TCM: What's the work schedule like?
Mark: This year we will be working thirty hours a week.  We make our own hours and have to work on the weekends.  The location we're at this year has river rafting in nearby Ohiopile and its also near Summerset, Pennsylvania.
Whenever we go somewhere, I make reservations in advance.  We try to be as organized as possible.  I also look for Passport America and Good Sam campgrounds because I get discounts.  I even applied for the Pilot Flying J fuel card because I get fuel discounts.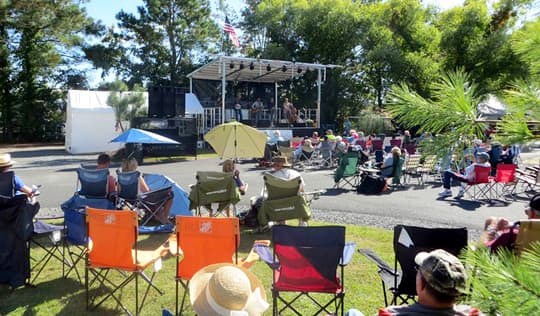 Above: Enjoying the Bluegrass By The Bay Festival in Ocean City, Maryland.
TCM: Beyond your work camping trip this summer, what else do you enjoy going while out truck camping?
Mark: We both enjoy Bluegrass festivals.  Each September we go to one in Ocean City, Maryland.  This will be our third year going.
We also like Fort Whaley Campground in Maryland.  They open from March through Memorial day.  The campsites are nice and they have an enclosed activity room.  They even run a bus to the Ocean City boardwalk from the campground.  We had our forty-fifth anniversary there.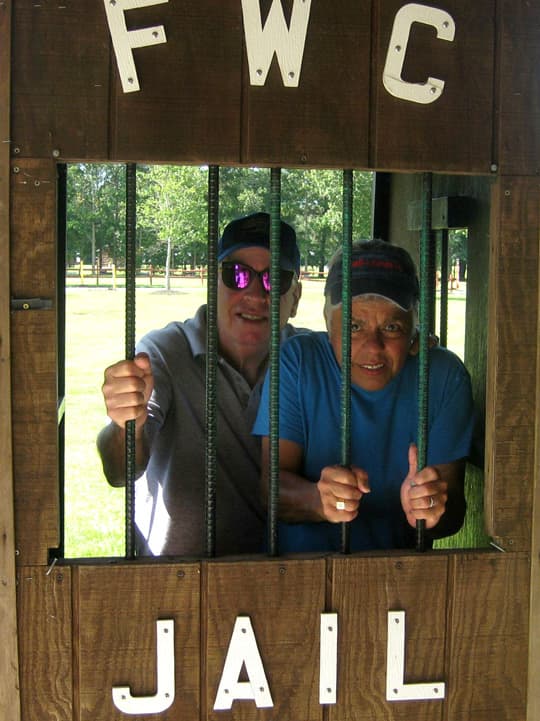 Above: Doris and Mark wound up in jail at Fort Whaley Campground on their 45th Anniversary.
TCM: Congratulations on the anniversary.  Am I right that you guys don't have propane in your truck camper?