Dinner that evening was a potluck.  Angela and I always struggle with potlucks because we really can't cook too much in the campers we borrow.  And you can't really cook something at home and then drive it in an unrefrigerated car for ten hours.  We could, but then the campfire might start turning colors for all the wrong reasons.
Making matters worse, everyone else brings out these incredible dishes.  It's like we're camping with Jamie Oliver, Wolfgang Puck, and Emeril Lagasse.  We do our best, and then eat all the delicious food everyone else brought.  Don't tell anybody.
After dinner Cathie Tassinari quizzed the rally about Massachusetts facts.  Cathie was extremely disappointed in our apparent lack of knowledge on the subject and didn't hesitate for a second to tell us so, repeatedly.  Eventually she asked questions cavemen and cavewomen like us could answer.  The winners received goody bags stuffed with everything from Torklift hats to rubber band guns.  Somehow we came home with two of the elastic band projecting devices.  C'mere Harley…  Just kidding.
Mikeee must be an early riser because he had a smoke alarm and propane compartment check seminar and cross campground inspection tour and fiesta at 8:30am.  Or maybe this behavior explains why he needs six gallons of coffee at 8:00am every morning.  It's coffee for the jamboree, right Mikeee?  Sure, sure.
We kid, but Mikeee was on a mission to give anyone who asked a fresh nine-volt battery for their camper smoke alarms.  And if the coffee had yet to fully kick in, surely Mikeee testing your camper fire alarm would help.  He found seven alarms with issues, with one that actually still had a wrapped battery.  Mikeee also checked propane compartment fittings by spraying them with soapy water and looking for any leaks.  If I'm the Chief of the Weight Police, then Mikeee is the Camper Safety Commissioner.
Something completely different happened when Cathie Tassinari held a "Spring Craft" gathering to make wind chimes.  Everyone received a wind chime kit and painted their chimes.  Donna Bitcon revealed her creative side and painted her chimes like baby turtle shells.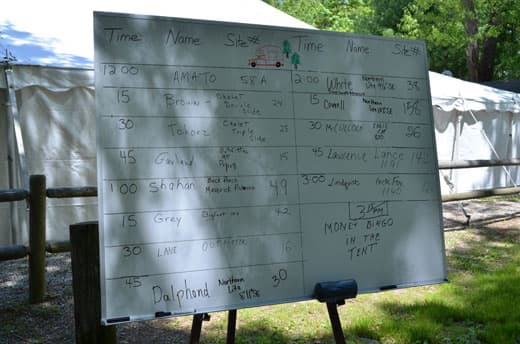 My favorite item on the rally schedule was the truck camper open house.  From 12:00 noon to 4:00pm on Saturday, rally attendees opened their campers for everyone to see.  To organize this event, people put their name, camper brand, and campground site number on a 3×5 dry erase board in one of the available fifteen minute spots.  We signed up to show the Northern Lite and attended as many open houses as we could.  Angela took notes and pictures and we'll be publishing the open house as an upcoming story.
Up on the hill, time was running out for eighty-one lobsters, thirty-five pounds of potatoes, fourteen pounds of sour cream, twelve pounds of butter, eight bags of romaine lettuce, and four bottles of Caesar salad dressing.
It was strictly BYOB drinks, plates, and flatware, but the joint was set with plenty of lobster bibs, shell crackers, picks, and plenty of napkins.  Under the pavilion tent the rally was buzzing with excitement as the lobsters were tonged out "bug by bug".  It's a Lobstah Bash!
While not completely lobster virgins, Angela and I had not really cracked our shells and were delighted to sit across from lobster experts Bob and Cathy Grey.  Bob was once a lobsterman with his own traps so he showed us, monkey see money do style, how to eat a lobster.  It was a delicious mess, just like it should be.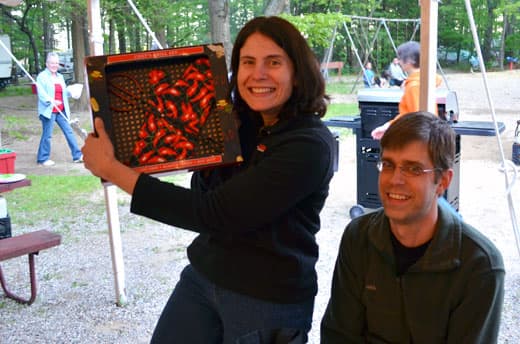 The traditional truck camper rally raffle started after dinner.  Red tickets in hand, everyone listened intently to Mikeee as he called out numbers and handed out prizes.  Angela nearly jumped out of the tent when she won a barbeque set.
At some point during the raffle Angela handed our camera to Pam Tchorz.  For those of you who haven't met her, Pam is just permanently beaming with fun, and a little mischief.  She was so excited to get our camera and proceeded to take candid pictures of everyone.  Somehow she got just about everyone to smile.  She even talked a few into kissing.  Like I said, mischief.  Next rally, she's our photographer.
Sunday breakfast brought the entire rally under the pavilion tent for pancakes, eggs, sausage, bacon, potatoes, coffee, and orange juice courtesy of Xtreme Campers.  It was wonderful to spend a few more minutes with our truck camping friends, but we had a very long travel day ahead of us and couldn't say for long.  We said our goodbyes, packed the camper, and headed west to return the Ford F-350 and Northern Lite.
Or did we?
Yes, begrudgingly, we did.  Two hours later we were pulling into Truck Camper Warehouse to unpack the camper into our car and hand over the keys to Bill Penney.  What did we think of the 2012 Ford F-350 SRW 6.7 diesel and a 2012 Northern Lite 9' 6" Special Edition?  A formal review is boiling in the pot now.
Thank you Mikeee and Cathie Tassinari and the entire North-East Truck Camping Jamboree for another amazing rally!
For more information about the North-East Truck Camping Jamboree, visit their website at www.truckcamping.net.