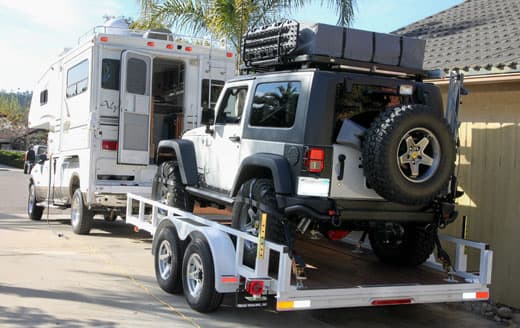 "We tow a 2006 Harley Davidson Road King.  I use my truck and camper to get me to and stay at work all week.  My motorcycle is affordable transportation to the places I wish to go.  I live 100 miles from where I work, and can't commute daily." – Gil Fecher, 1998 GMC Sierra 2500, 1980 Sunline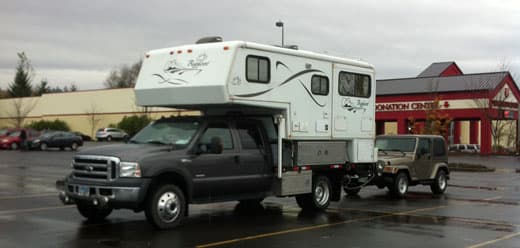 "We tow a 2004 Jeep Wrangler.  I can carry a 2011 BMW F800R motorcycle on my homemade rack.  Depending on length of trip, and if we're near a city, we tow the Jeep to explore the area.  The Jeep is low enough to get into underground parking garages and is way easier to get around in small places." – Rick Law, 2005 Ford F-550, 2003 Bigfoot 30C10.5SL
"We take our 19-foot Sea Sport boat and camper to all ports in south central Alaska; Valdez, Whittier, Seward, and Homer being the most visited.  We enjoy shrimping out of Whittier and halibut fishing out of Homer.  Our boat allows to overnight on the water comfortably with two.  It has freshwater and a camp stove as well." – Ed Soto, 2001 Ford F350, 2006 Snowriver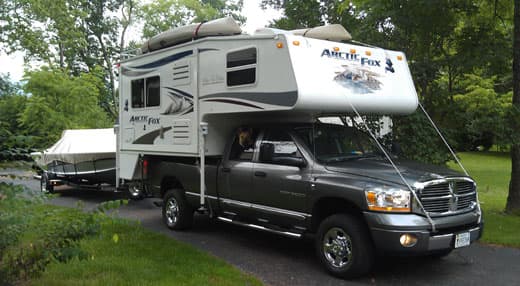 "My vice is fishing and I tow an 18-foot Alumicraft walleye boat.  I'm also getting into kayak fishing and carry two 12-foot Tarpon 120 kayaks on top of the camper.  I spent the month of June in Minnesota last summer fishing Mille Lacs and Leech Lake.  I camped at Stony Point Park and the facilities include two sheltered harbors for boats so you don't have to launch and pull-out every day.  It's very convenient.  The large Shepard in the back window is Zac and he loves to fish with me." – Dick Fite, 2006 Dodge Ram 3500, 2011 Arctic Fox 990S
"We tow a twenty-two foot Haulmark car hauler with a full size Civil War cannon (ten-pounder Parrott Rifle), limber, twenty-three-pounder Civil War mortar, uniforms, and all shooting accessories and ammunition.  The trailer weighs close to 8,000 pounds loaded, so a Torklift Super Hitch with 43″ double tube extension is mandatory equipment, as is the Reese Weight distributing hitch.
Occasionally we tow a light tilt bed motorcycle trailer instead, with either Moto Guzzi motorcycles or a Kawasaki ATV on board.  And when on camping adventures that might involve store trips without having to repack or remove the camper, we carry a Kymco People 150cc scooter on a front hitch carrier made by Versahaul.
We shoot competitively in N-SSA competitions with the cannon, a twenty-four-pounder Coehorn Mortar, and various Civil War small arms in Winchester, Virginia and Grayling, Michigan.  We also do occasional living history events for the National Park Service and civic organizations.  Can you say out-of-control hobby?
The motorcycles go to a couple Moto Guzzi motorcycle rallies each year.  For the bike rallies, Marylou drives the camper rig and I ride to the event on the bike, but we have capability to trailer the bike behind the camper if necessary." – John Wells, 2011 Chevy 3500HD Dually (No spark plugs!), 2012 Chalet Ascent S100F
"We tow a 1995 Jeep Wrangler.  We use the truck camper as a base and the Wrangler to explore on and off the blacktop.  We added air conditioning to the Wrangler so the dogs can come too.  Last November we hauled down to Austin for the US Formula 1 GP and were able to camp just a few miles from the circuit at twenty dollars per night when hotel rooms were going for hundreds if not thousands!" – Simon Carlton, 2004 Ford F350, 2009 Snowriver 10-9
"We mostly tow beach catamarans which we race with SISA (Southern Idaho Sailing Association).  Usually have eleven to twelve events per year on four to five Idaho inland bodies of water.  The venues include Lake Lowell, Payette Lake, Lake Cascade, CJ Strike Reservoir, Lucky Peak Reservoir, Magic Reservoir, and Redfish Lake.
The camper allows us a lot of freedom in areas sometimes limited in tent camping.  We have added a Torklift SuperHitch and SuperTruss, Rancho 9000s and airbags.  They work well for our use.  We are considering a front mount receiver, spring upgrade and a carrier for a small dual sport motorcycle." – JT More and Sue Jurf, 2004 Ford F250, 2005 S&S Ponderosa 8.5

"When my camper is on the truck I am limited to my homemade tilt bed ATV trailer that holds two ATVs, a 2003 Yamaha Bruin ATV and a 2005 John Deere Buck EX.  I also have a 1997 Seaswirl 18-foot OB boat and trailer.  My family and I are fortunate enough to live in the mountains of Colorado where we use our toys to enjoy hunting, camping, and fishing.
Having a Dodge Dakota I must be careful to not overload it.  I definitely take it near its limits, but our destinations are usually within an hour's drive. I outfitted the truck with Rite Rite air bags and a Air Lift control kit and compressor." – Bill Ortiz, 2008 Dodge Dakota, 1996 Hallmark Raton
"I have a Triton 177 multi-species boat and fish Lake Erie and other Ohio lakes." – Tom Sackett, 2013 Chevy 3500, 2008 Lance 825
"I tow a horse trailer and water craft.  I take my horses camping and on trail rides.  I take them for wilderness search and rescue.  I also do posse work, including security and crowd control.  I take the water crafts to the lakes all over the area." – Joshua Magner, 2010 Toyota Tundra, 2001 Harmar horse trailer