Un-Solitude
One cannot fathom how a mere machine
Shatters the silence of a sylvan scene:
What turns calm campers into RV-haters? –
The unrelenting noise of generators.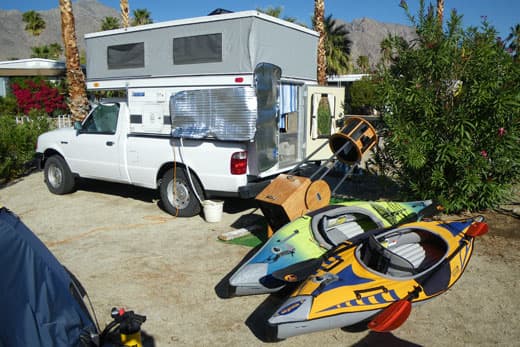 Besides calling attention to our truck camper's ability to go to high and remote places, we should also commend the interior design of the camper and its ability to carry our toys: our telescope and two inflatable kayaks.
As you may see, the telescope is quite impressive with a mirror of 12.5".  It fits perfectly at the cab-end of the aisle, just under the Queen-sized bed in its stored position.  The kayaks, each 10' 5" long when inflated, are carried in suitcase-sized bags.  With telescope and kayaks in our "Aisle of Delights," there is still room near the back door to store more items in the aisle.
It really is a very efficient design: stainless steel stove, sink, plus fridge – all reminiscent, as Bonnie says, of her old VW Westfalia – and thus very familiar.  The absence of an on-board toilet is supplied by a porta-potti.  Other than that, on our longest trips, we camp for the better part of three months at a time and do not feel compromised.  People ask how we can stand each other in our compact quarters, to which I reply, with considerable honesty, "Well, I basically live outdoors!"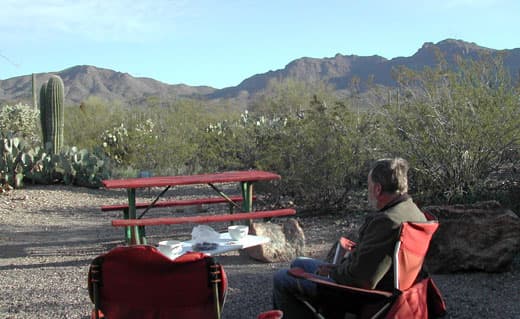 Our truck camper combo puts us into a somewhat different mode, compared to folks with big Class A and Class C motorhomes.  They need fancy campgrounds with hook-ups and, once in place, tend to stay there.  By contrast, we leave any campground where we are based and head off to adventures in nature.   We seek out dark skies for our telescope and look for seas, lakes, and rivers for our kayaks.
Our favorite mode is to stay at least two nights at any given site where there is a "water feature" so that we can have plenty of time to go out in our kayaks.  We have found that nature is best seen from the water, rather than from dark paths on land.  When we return to a campground, we regale our stay-in-place friends with photos and stories of our adventures.  They tell us how they spent their time in yet another "happy hour".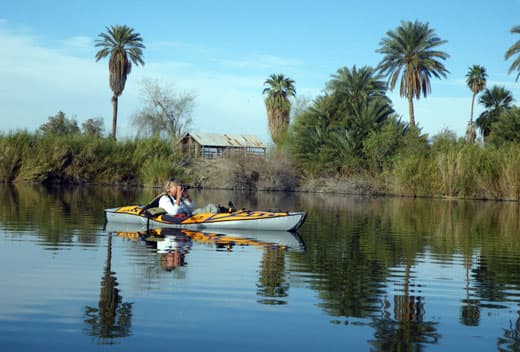 Attached are two more photos that give examples of the sort of thing we do.  One is of Bonnie on the Pacific Flyway at a wildlife refuge in Southern California using her binoculars to get a good look at the thousands of pelicans, herons, cormorants, egrets, and the like that winter there.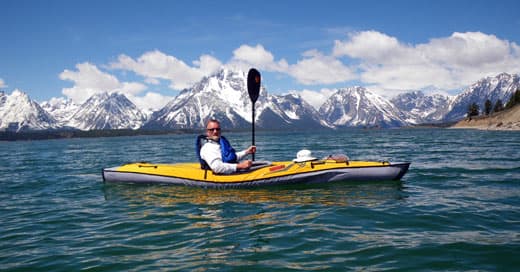 Another is a photo Bonnie took of me in my 13' kayak on Jackson Lake in the Grand Tetons.  We use a waterproof camera that's about the size of a deck of cards.  It has a flotation strap in case it's dropped overboard.
It is difficult to convey how our little pick-up truck and pop-up camper has enriched our lives, and at such a modest outlay of expense.  We have looked at a lot of other units.  I especially like old Airstreams, for example, but nothing else would give us the flexibility and versatility that we already have.  We would have to give up too much to be stuck in place with a big rig.
We agree with General Patton who said, "Fixed fortifications are monuments to the stupidity of man".  We are on the move, always.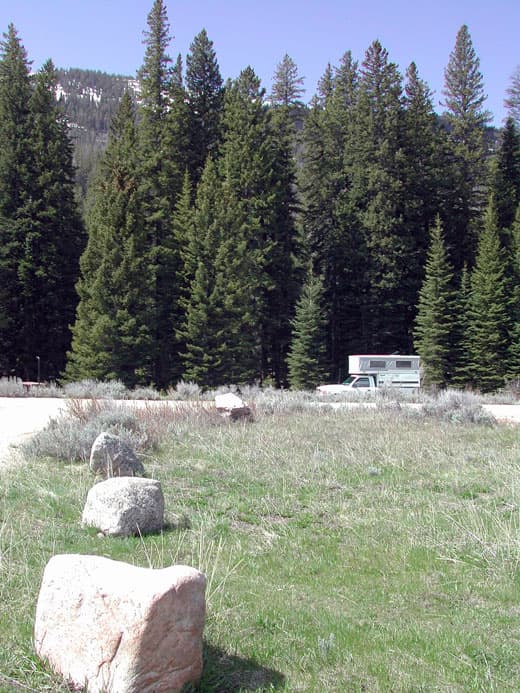 Truck: 2004 Ford Ranger, 2.3 Liter 4-cylinder, regular cab, single rear wheel, short bed, 4×2, gas
Camper: 2005 Four Wheel Camper Eagle
Tie-downs and Turnbuckles: Internal turnbuckles
Suspension Enhancements: Rear Hellwig Helper Springs
Gear: No extra gear but heater/fan, propane heater