The Travel Lite with the full-wall slide-out was the best bang for the buck and it has all the comforts of home.  It makes any ocean or lake side campsite a very comfortable harbor.  The truck we selected is a 2008 Ford F-350 diesel, dually.  We bought a dual rear wheel truck because we wanted something that could easily manage the load.  We found a great deal on the truck and saved a little money by buying it used with low mileage.
With this rig, I've got ten wheels on the ground.  I remember thinking, "How did I get into this?"  It's worth it.  I have peace of mind that the truck carries the camper well.
Above: Preparing for their maiden voyage to Florida last winter
TCM: What's it like to tow the sailboat behind the truck camper rig?
Mark: I grew up on a farm, so I am used to towing things.  I attribute the ease of towing to the F-350 dually.  I wanted the rig to be low maintenance and for the truck to be able to handle long hauls.  I also wanted the rig to be able to stop easily.  That's why I got the truck I did.  It has the ability to tow and control the load.  I have driven it to Florida and back in very windy conditions.  It's handled beautifully.
Our friends call us, "trailer-sailors" because we haul our sailboat from one harbor to the next.  The advantage of moving a sailboat at highway speeds is like legs versus roots, and we really enjoy the trek and dramatic changes in scenery.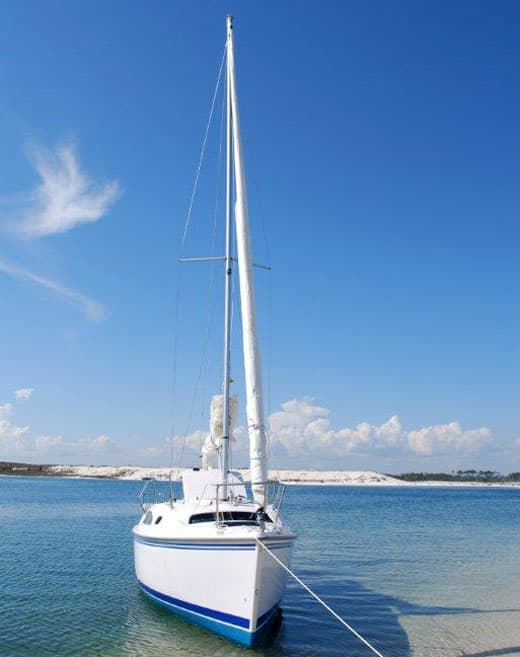 Above: Anchored for island picnicking with two pounds of fresh steamed gulf shrimp and ice cold drinks
TCM: Where do you like to go truck camping?
Mark: After buying our truck camper at A&M Services, the first place we went was around Mayport, Florida which is near Jacksonville.  We stayed at Little Talbot Island State Park.  We stayed there for a week after we got the camper and then drove out to the panhandle of Florida to Big Lagoon State Park.  That's around Pensacola, Florida.  We stayed there for a week.  We had the boat with us and were trying that out too.
Living on a sailboat is a lot like living on the camper.  With a boat, once you're out there, you're out there.  You have to take your water and your groceries with you.  You have generators for electricity, but you still have to plan and prepare for the excursion in order to relax and enjoy the outdoors around you.
We like to sail to places like Fort Jefferson off the Florida Keys, which is a seventy mile sail.  We also sail on two large lakes north of our house, Kerr Lake and Lake Gaston.  Those lakes are great for three day weekends.  There are at least eight state parks just north of us.  Sometimes we take the sailboat, and sometimes we don't.
These little sailing trips prepared us for working with the camper.  Now, with the camper and the boat, it's almost like having two boats.  Whether we're in a state park or on a lake, it's the same sort of mindset; enjoy the time while we're out there.
TCM: What's your truck camping lifestyle like?  Is it all about sailing?
Mark: We don't always take the sailboat with us.  Sometimes it's nice just to sit around a campfire and enjoy the wilderness.  We've really come to love our camper because we spend less time setting up and more time around the campfire, hiking, or sailing.  And as I mentioned earlier, it's a warm dry lodge when the weather turns bad.
I remember late last Fall eating lunch and looking out over a sweet little mountain lake as a mass of thunder heads bore down on us.  My wife and I were warm and dry with a ham sandwich in one hand and our favorite beverage in the other.  Meanwhile the show across the lake was spectacular.  Our old tent just wouldn't have offered that deal.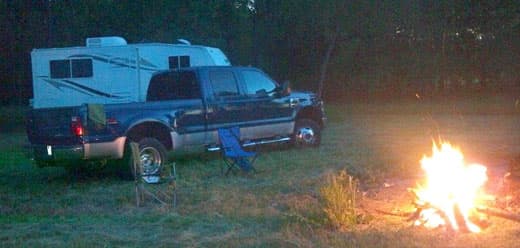 Above: Visiting the old homestead in northern Illinois
TCM: So, when you go sailing do you just keep your camper at the marina and leave for a few days?