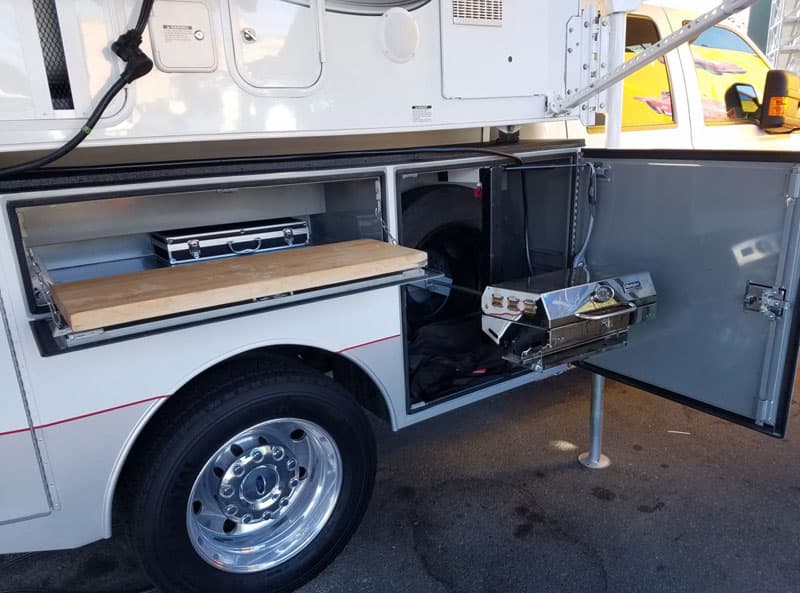 The right side of the utility body is for outdoor cooking.  The left side has power cords, straps, caulks for leveling the rig, and more.  The compartments all have adjustable shelves.  I still have more storage room, which is nice.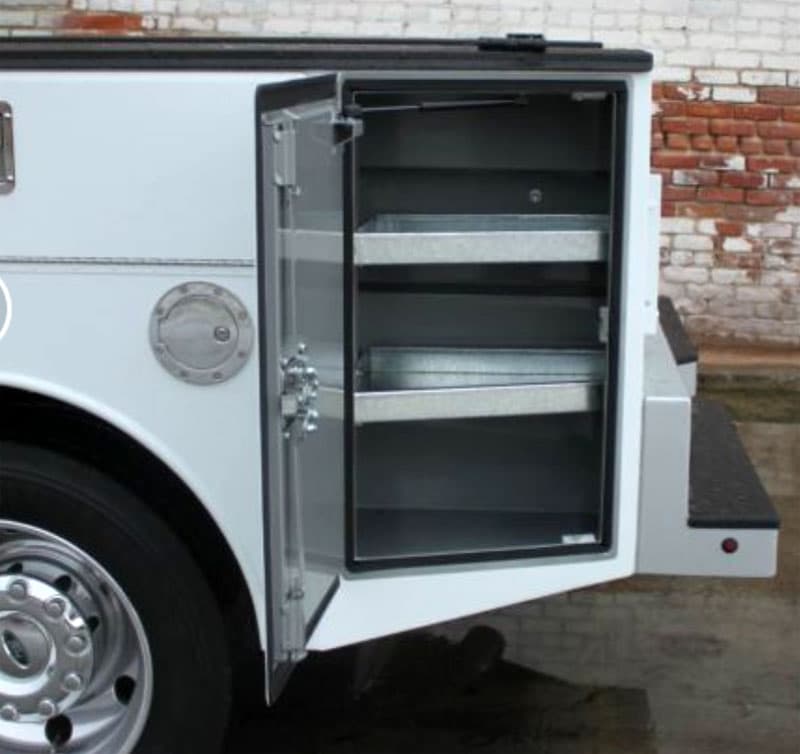 TCM: You also did some interesting modifications prior to taking Douglass your truck.  Tell us about those mods.
Steve: I sold the dually flares and tailgate.  Then I removed the truck bed and installed an auxiliary fuel tank where the spare tire went.  The spare tire would be going in the utility box, so I didn't need the spare tire under the truck anymore.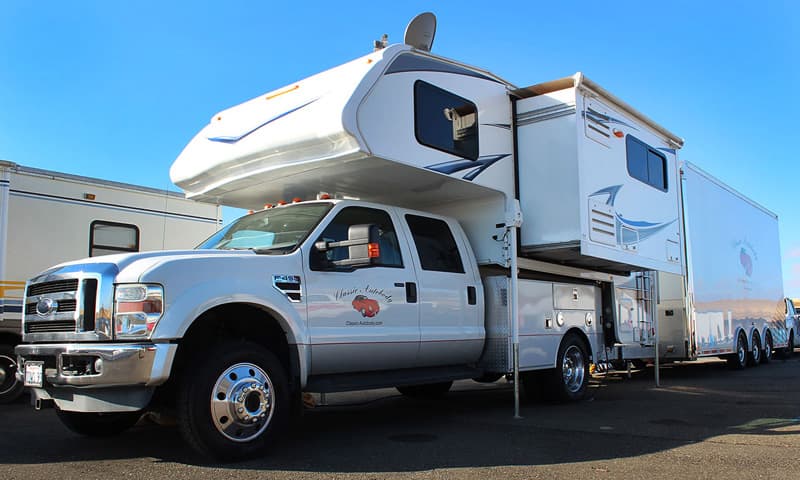 TCM: How did you set up the truck for towing two race cars?
Steve: I started with the standard Ford hitch.  Then I upgraded to the Torklift SuperHitch Magnum.  It works great!  The SuperHitch Magnum is rated for 30,000 pounds and has a 36-inch extension.  I also use Equalizer's weight distribution system.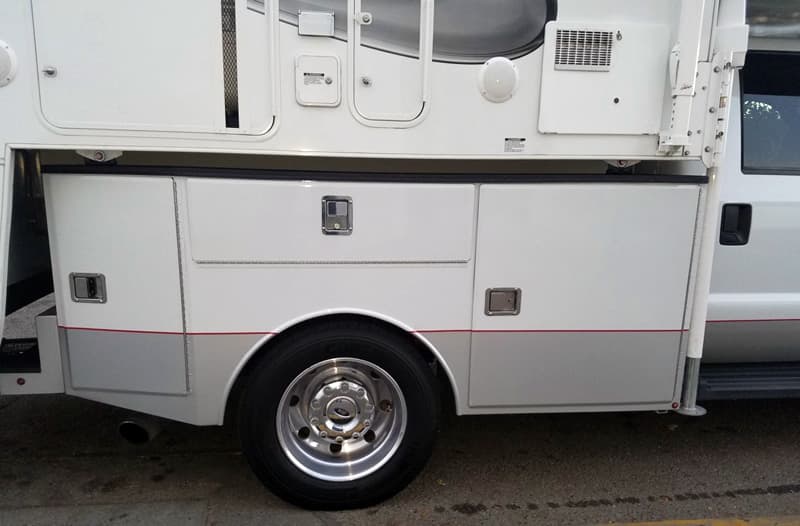 Above: Douglass Truck Bodies put in guide brackets for loading and hinge points to attach to the camper's tie-downs
TCM: How is loading and unloading with the Douglass truck body?
Steve: Douglass Truck Bodies put guide brackets in the bed to help locate the camper.  The guide brackets go up 3 to 4 inches and then taper back into the side on the front wall of the truck bed.  The guide brackets are bolted in the bottom of the box and run the width of the floor.  If I'm a half-inch off when loading the camper, the guide brackets slide the camper into perfect position.
When I lower the camper into the utility bed, I get it all the way to the front wall.  Then, it drops down and it's right in place.  I can unload the camper in 20 minutes, but it takes longer to load because I have to line up the truck and camper.
With the Douglass utility body, I do not use a traditional tie-down and turnbuckle system.  The utility body has four built-in hinge brackets that line up with the four tie-down brackets under the wing walls of the Lance 1172.  Using this system I was amazed when I drove away from Douglass with absolutely no sway.
The hinge bracket system takes a little longer than a traditional tie-down and turnbuckle system because you have to be perfectly lined up.  Thankfully, the guide brackets help.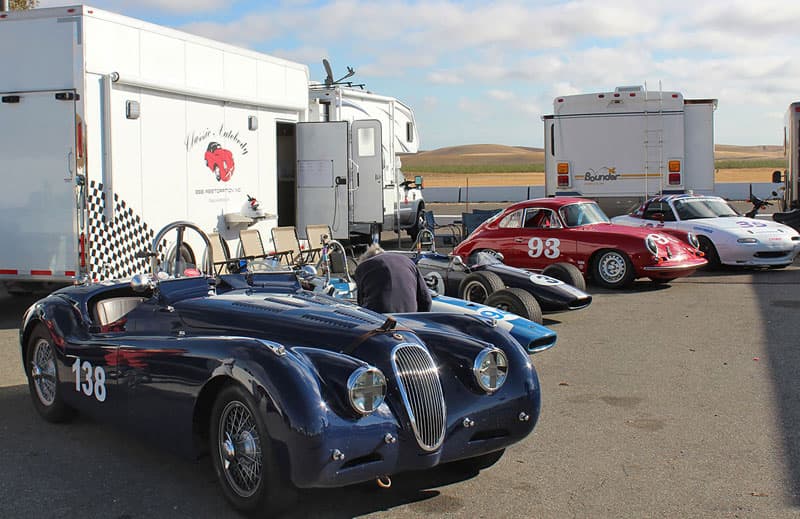 TCM: Tell us about your racing vintage Porsches.  How often do you get to do that?
Steve: I race vintage Porsches four to five weekends a year.  I have been vintage automobile racing for twenty-five years.  I've been on the board of directors for Classic Sports Racing Group for ten years.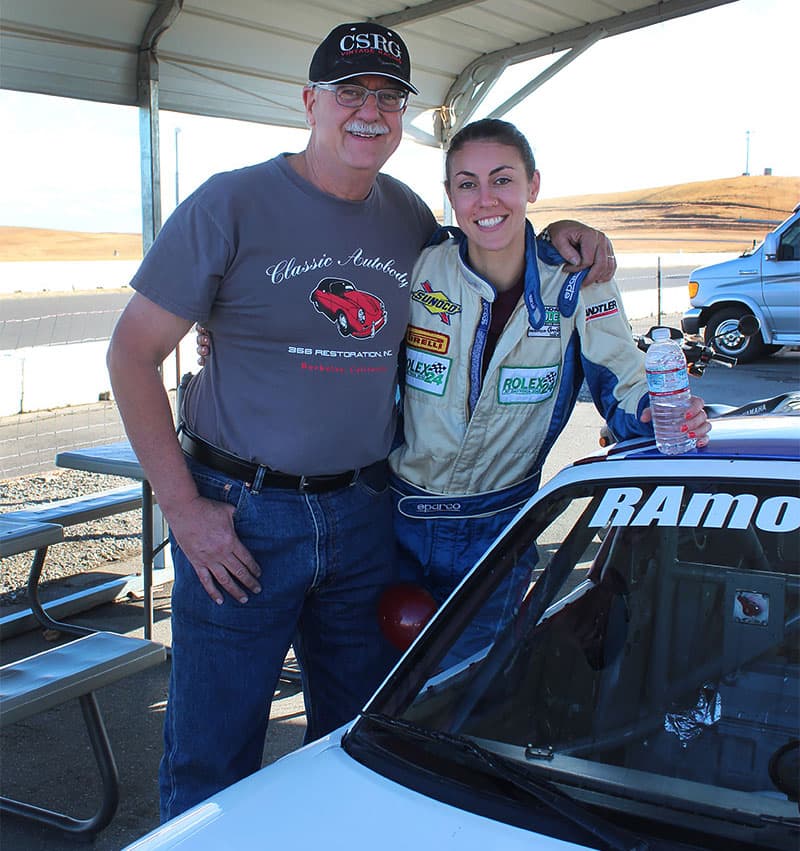 Above: Steve and his daughter at the track