It's just me so I don't need a large camper.  I don't want to deal with that much.  Compared to my climber camping experiences, the Laredo is like a palace.
When I started truck camping there was no such thing as basements or slide-outs.  They make an amazing camper, but add considerable weight.  They also raise your center of gravity and the truck camper can be difficult or impossible to use with the slide-outs in.
I was looking for something light and small, so I went with the Northstar.  The Laredo is only seven feet wide, which I like.  It's a small, well built, and compact.  As a third generation family business, we also get great support.  Plus, the camper is great.
TCM: In your Powerpoint presentation, you had a picture at the factory.  Did you go and see your camper being built?
Larry: After I ordered the camper, the guy at SCATT Recreation went to the Northstar factory.  He had seen the camper in the factory and they were beginning to put the walls on.  The pictures were on his website.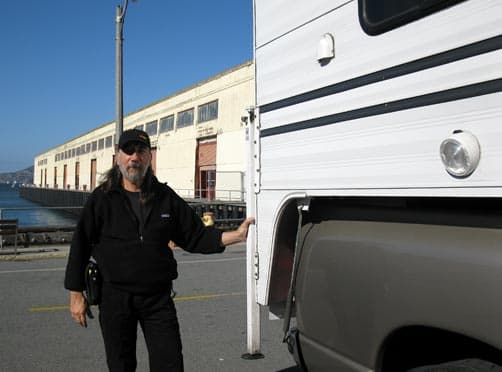 Above: Larry at work in San Francisco with his Northstar
TCM: How do you use your truck camper now?
Larry: My camper is an excellent base camp and is also my daily vehicle.  It's my transportation other than on foot and bicycle.  It's my lunch room, and my coffee spot at work, and gives me occasional overnight accommodations.  I've owned three campers and they've hardly ever been off the truck.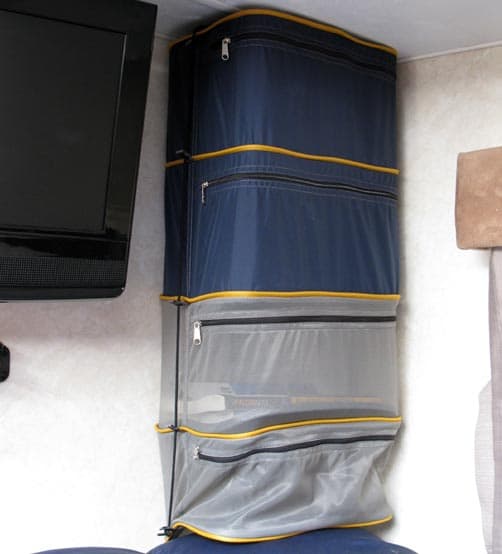 Above: Larry added a storage compartment in his Northstar
I've hauled lumber, materials, and large quantities of tools to and from job sites.  It's also a recreational vehicle.  When I go kayaking, I have amenities.  I go from paddling to a hot cup of coffee.
My camper is also an economic backup.  Should a natural disaster hit, I have shelter that I can move.  And because I use it every day, I have changes of clothes in it, the galley is stocked, and the refrigerator running all the time.  I'd be good for at least a week before I would need to restock.
TCM: How does your truck camper help you with work?
Larry: I do technical theater and theatrical design for a living.  I've also been doing production work for art museums and theaters.  I design sets, lighting, sound, and work as a union stage hand.  For twelve years, I have been the Technical Director for Cowell Theatre in San Francisco.  I'm responsible for technical items in the theater.
The theater is an old military complex that was converted to a theater.  There is a large parking lot at the end of the pier looking at the San Francisco Bay.  So, my outside view is a view of the bay.  The theater is on the end of the pier, and the parking lot is at the edge of the bay.
TCM: That would be an amazing, and otherwise expensive view.  Where do you go when you go camping?
Larry: I generally avoid RV parks and rarely hook up.  Destinations are usually National Parks and National Forests, State and County parks, climbers camps, and some urban stealth locations.
I mostly go to destinations in western states that have to do with climbing.  I go kayaking, get out in the woods, go for a hike, or a bike ride.  I work hard and then take a week off and go to National and State parks.  That's pretty much my pattern of recreational use.  I want to do Death Valley when I have time off around the holidays.  In California, we can go from the desert to the alpine to the sea coast.  Most everything is available.
TCM: My ears perked up when you said, "urban stealth locations".  How do you scope those places out and feel safe?