Above: Dudley loves camping and boating
TCM: Your dog, Dudley, is adorable.  I see that he even goes with you on the boat.
Gary: Dudley, a Basset Hound, travels with us in the camper.  He was raised as part of the family and loves camping and boating.  He always rides in the truck with us.  He's a real sweetheart.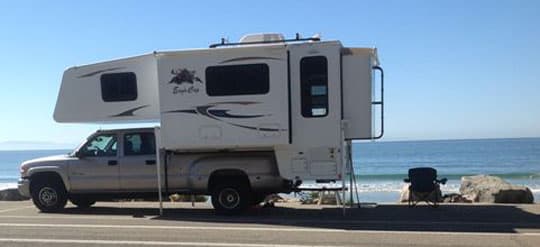 Above: Gary and Lisa's Eagle Cap 1165 on the Pacific Coast
TCM: What's next for your truck camping plans?
Gary: We're preparing our plans for 2014.  We want to visit Yosemite and Sequoia National parks in the winter.  We will also return to Lake Trinity this summer.
This camper has the capacity to handle more of the family.  We can bring the fun into the camper.  Before, everyone could not fit around the table.  In the Eagle Cap dinette, everyone can join us.  This camper has a tremendous amount of room, and will be a family hub.
Truck campers are the way to go.  We have loved our truck campers.  They have given us the flexibility and agility to go anywhere we want to go at almost a moment's notice.  We have always loved our truck campers and can't envision us ever going over to a motorhome, ever!
The Eagle Cap 1165 is quite amazing.  We have more comfort than we ever imagined with it, yet we still maintain the truck camper feel, including the flexibility and maneuverability that we're used to.
Having the Eagle Cap in our backyard also gives as a guest house and an emergency refuge.  After the earthquake in 1994, we lived in our Lance for six months while our house was being repaired.  So, if we have another earthquake, we have our new larger capacity emergency refuge; our Eagle Cap 1165.
Truck: 2005 GMC 3500 Sierra, dually, 4×2
Camper: 2013 Eagle Cap 1165
Tie-downs/Turnbuckles: Happijac tie-downs with Qwik-Load turnbuckles
Suspension: SumoSprings Supreme, SuperSprings, Bilstein Shocks,
Tires:  upgraded to Load Range E, 235-85-16 with a 2-inch rear wheel spacers
Gear: Reese Class 5 hitch receiver, Reese hitch extension
Gauges: DiPricol Pryromenter and Boost Gauges
Do you have a neat story about how you found your truck camper?  Please share your story.