If we leave Alaska late in the year, we'll take the truck camper because of snow and bad weather.  When we pull the fifth wheel we stay away from bad weather.  We usually take the fifth wheel out for our longer trips.

Above: Henry and Charlotte's 5th wheel/toy hauler
TCM: Since you know the lifestyle of using a fifth wheel versus a truck camper, what would you say are the advantages of both?
Henry: One advantage of a fifth wheel is that we can take more clothes.  From November to May we have three seasons to deal with, so we have to take a lot more clothing. It can be tough to pack three seasons of clothing in our truck camper.  A disadvantage of the fifth wheel is that it's a lot harder to drive in traffic.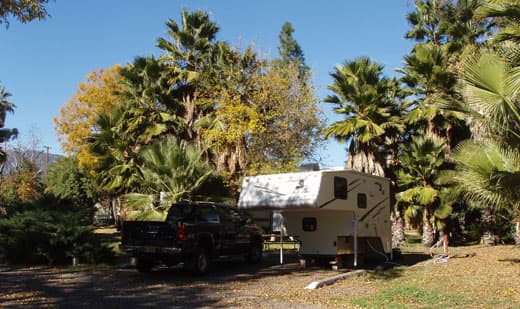 Above: Lake Elsinore, California
Charlotte: In the lower forty-eight we go from one coast to another.  We are one week here and two weeks there.  We visit our children, cousins, brothers, sisters, and friends.  We stay at their houses from one day to three weeks.
Ninety-nine percent of the time, we'll stay in their yard in our truck camper.  With the fifth wheel we have to stay in an RV park.  That becomes expensive.  With the truck camper we can park in most driveways.  We're there in the morning to have coffee with them.  If we have the fifth wheel, sometimes we have to be forty to fifty miles away from where we are visiting to stay at a campground.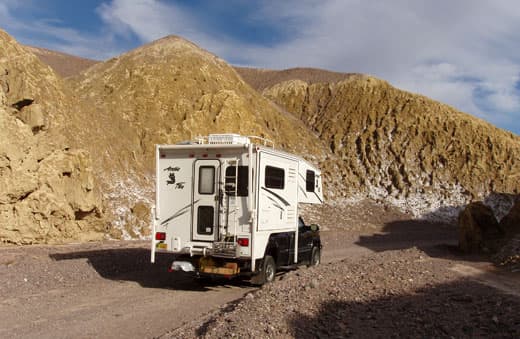 Above: Death Valley, California
TCM: Tell us about your truck camping lifestyle.
Charlotte: In addition to visiting friends and family, we take two side trips every year.  We go out to the Arizona BLM land for a couple of weeks and mess around.  We always plan another trip of some sort, like down to Florida or like next year we want to go to Newfoundland.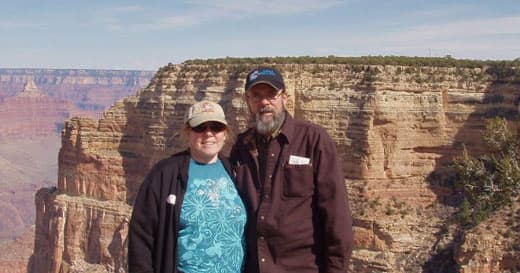 Above: Henry and Charlotte at the south rim of the Grand Canyon
Henry: We have kids in Alaska, Georgia, Kentucky, California, and Maryland.  We see all the kids twice a year.  We'll go from East Coast out to California and then go back in reverse.  Charlotte will go and see her sister in Las Vegas, and I'll fly back to Alaska for the Polar Bear Plunge  charity that I'm involved with.  Then we'll go to California and then east again.  I put 36,000 miles on our trucks every season.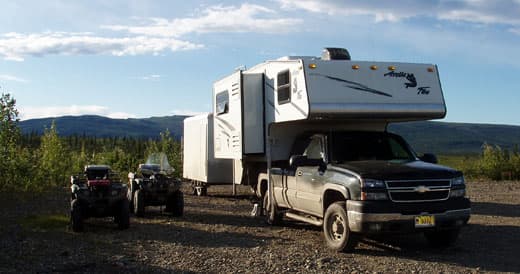 Above: Stampede Trail, Alaska
Charlotte: When we are in Alaska, we don't spend much time at home.  We are always out camping, four wheeling, hunting, and fishing.
Henry: We have an RV pad next to the house with full hookups.  We'll stay in the fifth wheel for the few days in the summer that we're home.  Our daughter lives in our house in Alaska.