I have a hard time being in the same place for too long.  I like to go somewhere different for every trip.  I also don't like to take the highway.  I like to go on the roads that go through the towns so that we see more than just concrete.
TCM: Do you boondock or stay at Walmarts as you travel?
Denise: Yes, we do.  We have a Walmart near home and often see RVs parked there overnight.  During a trip to Thousand Islands, we decided to give Walmart a try.  My husband wasn't too keen on the idea, especially when we arrived and there we no other RVs in the parking lot.  Then it got dark and other RVs arrived making us feel more comfortable.
A strange noise woke us up early the next morning.  I thought the refrigerator had blown up!  It was actually a Walmart employee gathering up the shopping carts.  I guess that's what you get instead of a rooster for an alarm clock!
We also stayed at city hall in a town that openly invited RVing tourists to do so.  Right next to city hall was the fire station.  The city hall was closed and the fire station was empty.  We had our lawn chairs out and we were having a beer when the brother of the Fire Chief came by and was wondering why we were there.  We explained that we were visiting the town and just stopping for the night, and he said, "Feel free to stay".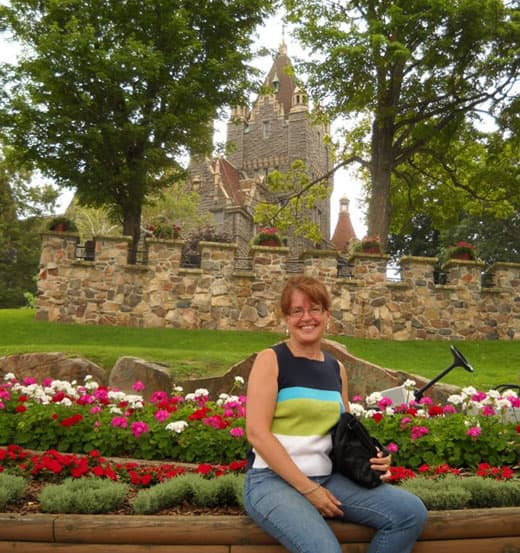 Above: Denise at Boldt Castle, New York/Canada border
TCM: What brought you to the Thousand Islands area of New York?
Denise: Coming back from a trip to Washington D.C. and while crossing the Thousand Island bridge, my husband mentioned that we should come here next time to visit.  We enjoy Boldt Castle.  The Thousand Island area also has incredible properties, and the parkway is nice.  You could spend a week there exploring the castle and enjoying the available water sports.  It's a very diversified area and a great destination for truck campers.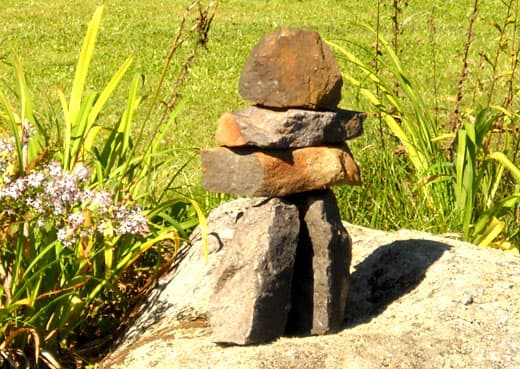 Above: Denise's rock sculptures
TCM: In your email you said, "I love to make rock sculptures called Inuksuk, which is an Inuit name for a human figure.  I have many on our property and, on all of our trips, I bring back rocks and make smaller Inuksuk versions".
Denise: I studied architecture and had seen a couple of these Inuksuk rock sculptureswhile on a trip to Yukon.  Then one day, my sister-in-law suggested we do some Inuksuk figurines for my in-laws anniversary because I had a lot of rocks on my property.  We made two, one that was rugged for a man, and one that was rounded for a woman.
For the Inuksuk rock sculptures, you need a minimum of five rocks; two for the legs, one for the body, one that represents the shoulders and arms and finally, one for the head.  You must have five that fit together well because they are not glued.  The rocks are just sitting on each other.  Usually I have to have at least twenty to thirty rocks before I find five that will hold together well.
As we travel, I look for rocks for my sculptures.  At the cottage, my husband moves the big rocks with a cart.  On the road, I can't bring too many of those back home.  On our trips, I mostly look for flat rocks as they're harder to find in our area.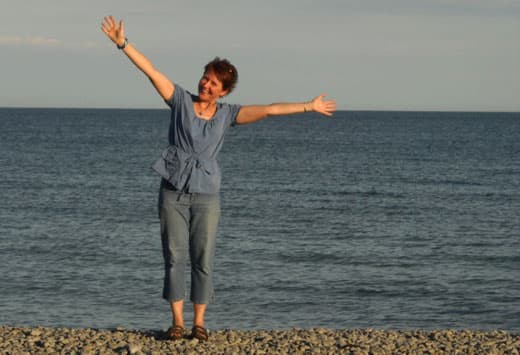 Above: Denise at the sand banks in Lake Ontario, Canada happy to find great rocks for her sculptures
The sand banks on Lake Ontario have polished grey rocks that are rounded but flat enough where you can place rocks on top of each other.  They are for smaller figurines because the rocks are smaller so those have to be glued together.
Notre-Dame-du-Laus in Quebec is approximately an hour north of Ottawa, Ontario and has white rocks.  I actually found the rocks there in a ditch on a side of a road.  The Transport Department put dynamite in the mountains to make the road larger and straighter, they left the rocks in the ditch.  When I saw those rocks, I had to make my husband stop to bring some back home.