I had Robby build my camper with a low profile.  There is hardly any gap between the cab of truck and the overcab of the camper, which makes the rig more aerodynamic.  I wanted my camper to look like it was part of my truck.  People I've met on the road have commented on how nice it looks which is great and all, but many have also been surprised when they realize it on Tacoma.
I got many of the standard features along with the optional hot water heater and outdoor shower.  The outside shower allows us to rinse off when we're camping in dusty conditions.  Robby also added two additional aluminum supports within the roof to support equipment and to allow me to stand on top.
TCM: You matched your Phoenix Camper to a Toyota Tacoma.  Why did you choose the Tacoma?
Brian: I actually bought the Tacoma first with the idea that we'd be putting a truck camper on it.  I didn't want a full size rig.  I use my truck for everyday purposes and I didn't want to be driving around a larger truck all the time.
When I sat down with Robby, I wanted to make sure the truck and camper rig would be as aerodynamic and lightweight as possible.  For my camper, Robby used a much lighter material on the inside, instead of standard particle board.  That shaved off significant weight.  We built the camper completely custom to be light and did not sacrifice strength or stiffness.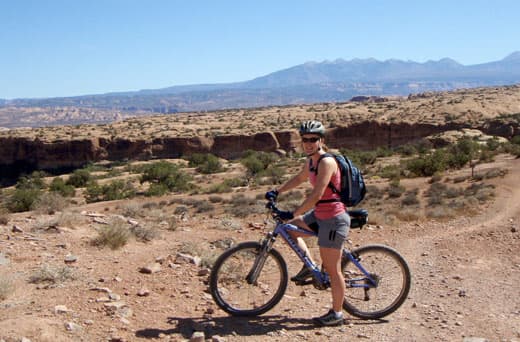 Above: Moab, Utah
TCM: What's your truck camping lifestyle like?
Brian: We live three hours from Moab and anywhere in Colorado is fairly close.  Most everything we do with the camper is close by.  We don't need something that's big and self contained since we don't travel that far.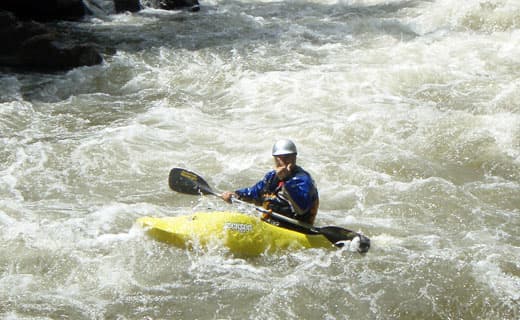 Above: Kayaking on the Arkansas River, Colorado
 
We go out on most weekends plus two to three longer trips each year.  I like to go whitewater kayak pretty much every weekend during the spring runoff and the Phoenix Camper is our base camp.  When my wife joins me, it is far more comfortable for her to hang out in the camper than to roast in a tent during trips to the high desert terrain such as the Arkansas River valley.
At least once each year we will also go on longer trips to California to go surfing.  For the California trips we'll often stay at the state beach campgrounds.  It's a bit more close quarters, however we're fifty steps from the surf.  The camper gives us the feeling of home or at least a hotel room on wheels, which helps us to stay for much longer periods.  Two weeks in a tent just isn't happening.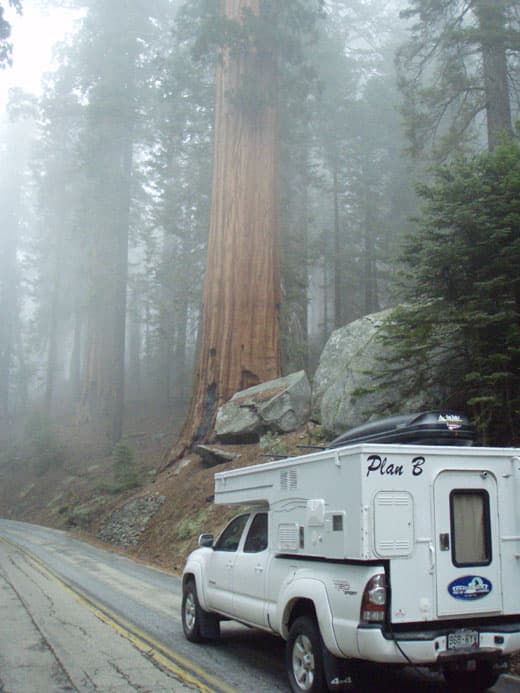 Above: Plan B in Sequoia National Park
We've taken a huge road trip to Sequoia, Yosemite, and Big Sur which included a drive down the California coast.  That was a ten day road trip from our house.  We prefer not to fly.  I am the son of a truck driver, so it's in my DNA to drive for a long time.  We're only fourteen hours from California and leaving after work gets us to the coast for a morning surf.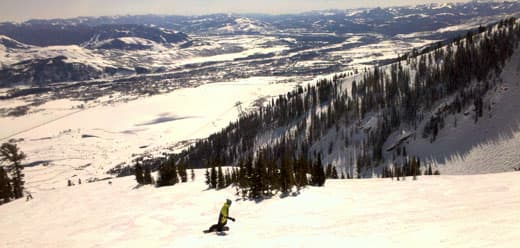 Above: Jackson, Colorado snowboarding
TCM: From your pictures it looks like you have a lot of hobbies/sports that you like to do while you're on the road.  You already told us about your kayaking.
Brian: We go mountain biking, rock climbing, kayaking, hiking, surfing, and skiing.  Our toy collection is quite impressive.  We have both long board and short board surf boards, trekking gear, four snow boards and more.  We've got so much stuff.  We're sort of the Beverly Hillbillies of weekend warriors.  We take lots of toys with us.
We never were outdoorsy people until we moved to Colorado.  Living here, it's like I'm a kid in a candy store.  In many respects I'm younger in my late 30s than I was in my late 20s.  There are all these new things I need to be introduced to.  We've been here for about nine years and feel like we've just scratched the surface.