Aaron: My wife and I still work.  We get out for three weeks to a month each year.  We do a couple of trips that are a week and a half or so long where we pick an area we want to go to.  We don't make hard plans.  We'll say, "Let's go to the coast or up north".  Then we play it by ear from there.  We also go on a few trips that are a couple days in between our work cycles.
Our jobs give us a few days off quite frequently.  That way we don't get tied down to a traditional weekend.  It's is nice to be out during the week when everyone else is at work.  On top of that, I do the one longer hunting trip and then two or three shorter trips that are three or four days of hunting.  The camper serves double duties.  It's a hunting rig and a camper rig for traveling with my wife.
We occasionally go to national parks, but mostly stick to forest service roads and old mining roads.  We make our own adventure.  I'll look at satellite photos and find places.  We'll go on roads that are washed out or not maintained, but even some of those we can't get through because they'll narrow into quad trails.
Above: Some of Aaron's favorite truck camping spots around British Columbia
A lot of the adventure is to find places.  We try to go to places most people don't, which is ideal.  We'll go off road and not see another soul in sight for days.  Our GPS and satellite photos help us find our way anywhere we go.
One hundred percent of our truck camper traveling is discovering new places.  We don't seem to set up for more than two nights in the same spot.  We want to get going, find something new, and see more wildlife.  Campers are perfect for being nomadic.  If I wanted to sit around, I'd probably have a trailer.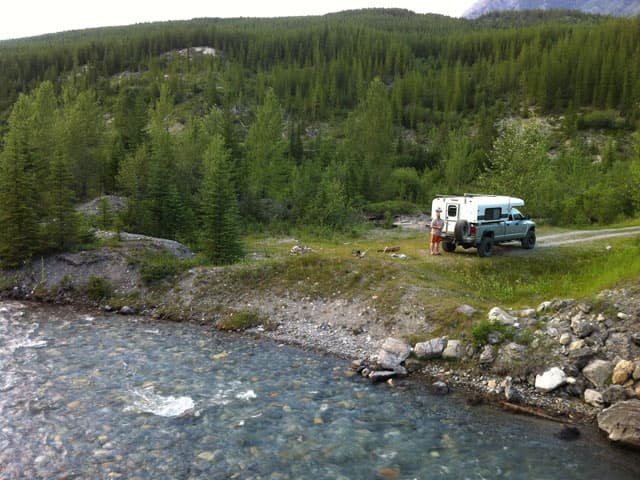 Above: Top of the World Provincial Park, British Columbia
TCM: Have there been any unexpected challenges as you've been truck camping that far off the beaten track?
Aaron: I am diligent with the upkeep and maintenance on my truck because of the remote driving I do.  Most of the time we are one hundred kilometers away from cell service, so I need to be fairly good with truck maintenance.  I haven't had any break downs, knock on wood.
The worst roads we've been on are through areas that were washed out and, in a couple of instances, the bridge was never installed and we've had to backtrack a long way.  A few times I have come close to my fuel reserve running out.  I usually do carry extra fuel, but not always.  Those have been the trips where I've cut it close.
TCM: What are your upcoming plans with the Alaskan?
Aaron: Next year we want to go to the Queen Charlotte Islands.  There are white phase black bears there and it's very wild and beautiful.  That's the only place we've narrowed down for next year.
The Queen Charlotte Islands are a twenty nine hour ferry ride from the tip of Vancouver Island with a couple stops along the way.  We are going to put the camper on the ferry.  There are small communities between the three islands, and you get on ferries to get from island to island.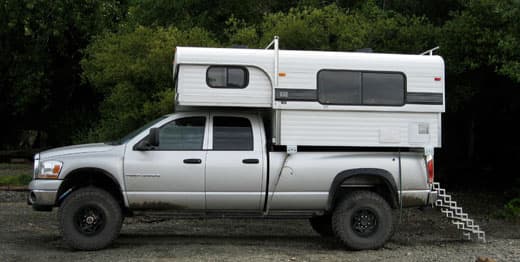 TCM: That sounds amazing.  We may follow you.  Is there anything else that you would like to add to your interview?
Aaron: I'm a guy who likes to have unique things.  I don't like to have what everyone else has.  For me, that's a big part of the attraction of an Alaskan camper.
My Alaskan attracts a lot of attention.  I was on the Alaska highway and met up with people going in a different direction.  They came over to say that they had seen me before.  We don't roam as much of North America as you do, but we have been throughout British Columbia, Alberta, and the Yukon and people always ask about our camper.
I also like quality of craftsmanship, and am very happy with my Alaskan.  I've put a lot of care and attention into my truck to build it for functionally.  I think people can see an idea of who I am by looking at my truck and camper.
We also try to live as green a lifestyle as possible and the fuel savings with an Alaskan helps with that.