Twenty-four more TCM stars offer their best destinations from 2013.  For many of us, these same places will be our best truck camping spots in 2014.  We can't wait.

The possibilities of the road are truly endless.  You could go to every national park, in every season, for the next ten years.  You could visit every beach that allows truck campers, and make new truck camping friends between the waves and dunes.  You could visit friends and family from coast to coast, reconnecting as guests, but not house guests.  I could go on and on, and often do.
Then there are the possibilities that cannot be foreseen, places discovered while on an adventure that may not have been planned, but make a trip remarkable.  Imagine an article that pulled together a list of the best places truck camper folks found this year, complete with details about what to do there, and advice for truck campers.
Well, that's exactly the vision we had for this year's catching up series.  Something more detailed, something more fun, something we could all use to launch an even more fantastic 2014.  There's no doubt in our minds that we will be retracing a few tire tracks after reading these reports.  We are inspired!
Frank Ross
Eleven Days In the Desert
2006 Dodge Power Wagon
2005 Hallmark Milner LX
I went to Death Valley, California and Petroglyph Butte, Nevada.  As the name implies, Petroglyph Butte was a fantastic site to see ancient Indian Rock Drawings.
Most people don't like to give locations of petroglyphs because of vandalism.  But I will say this location can be found on maps of Nevada.  It's called Petroglyph Butte so it's no secret.  You can get there by car, it's fifteen miles off the pavement.  I did not know what to expect there, and was surprised at the amount and quality of the glyphs.
I was doing some map research before a trip to Nevada to hunt for petroglyphs and pictographs.  I came across a site named Paint Rock Canyon.  That meant there were pictographs there or whom ever named the canyon thought the colors of the rock looked like paint.  I thought I would check it out.
It was a very narrow slot canyon with a spring.  At the mouth of the canyon I found a very nice pictograph.  I decided a hike up to the spring might yield more Indian graffiti.
Right then six large cattle with big horns came running out of the canyon.  Not being a cowboy, I had visions of me being trampled in a narrow canyon with no where to run.  So I fired a few pistol shots up in the air to see if more cows would come out.  When none did, I walked a mile or so up to the spring, constantly ready to try and climb the canyon walls to escape rampaging bulls.
I didn't find any more art or cows and returned to the truck camper unharmed.  Finding pictographs (painted) is special as they are harder to find than petroglyphs (scratched into rock) the paint tends to wash away.
I would just say that camping with a four-wheel drive truck and pop-top camper opens up a whole new world away from pavement and campgrounds.  It's not for everybody, but getting out into the backcountry is so enjoyable.
Bonnie and Mike Pascucci
2012 Torklift International Treasure Hunt Winners
2011 Chevy 3500
2012 Adventurer 86FB
We started in March with a trip to Yellowstone National Park.  After Yellowstone, we spent a wonderful trip in Alaska thanks to Torklift International, attended the Montana Truck Camper Rally, enjoyed three long weekends in the Montana mountains, and took an interesting trip to Cherry Creek State Park in Denver for a wedding.  Cherry Creek State Park still amazes us.  It's an oasis in the middle of Denver.
The high point of 2013 was the Alaska trip, but many other experiences were memorable.  A few that come to mind include sitting at the camper table drinking spiked coffee watching a storm in the Crazy Mountains, sharing Garden of the Gods with the cousins from back east, and Yellowstone.  Who can not enjoy Yellowstone in any season, or the Milky Way in October?
Our dog is pretty smart.  She makes such a pest of herself, and we let her jump up into the truck to keep her out of the way.  You can feel her big sigh of relief, "Yes! I get to come!".  I feel the same way when I slide into my seat and we head out.
We enjoyed the good people we met this year including Doug, Tammie, and Katie Baughman, the organizers of the Midwest Truck Camper Rally.  They spent a night in our driveway and had a dinner with us.  Sharon "Hawke" searched us out on the Kenai and shared another dinner with us.  Carol and Wayne from England managed to meet us again at Rich's Glacier Rally, and we had coffee with bicyclists from St Louis, just to name a few.
Henry Huizenga and Charlotte Webb
From Alaska To The Lower Forty-Eight
2005 Chevy 2500HD
2004 Arctic Fox 860
We spent our summer in Alaska camping in Petersville, Eureka Summit, the Kenai Peninsula, Homer, and on the Denali Highway.  Our favorite was the trip on the Kenai where we took our son, his wife, and the two grandchildren.
We fished for trophy Rainbow Trout and Red Salmon in Sterling, Alaska and for Halibut in Homer, Alaska.  We caught lots of fish and sent our son's family home with the bounty.
The Kenai area of Alaska is by far some of the best fishing in Alaska, but with that comes crowds.  If you want to catch fish, I would recommend a charter operator.  The Rainbow Trout in the Kenai river are pretty much catch and release, so don't plan on collecting a wall hanger.
There are several campgrounds, and lots of places to park along the highways for those of us who travel with truck campers.  During the summer, reservations should be obtained well in advance for the campgrounds.  A great source of information about travel to and through Alaska is contained in The Milepost.  We never leave home without it.
The most fun we had this year was up on Eureka Summit.  We added a new ATV to our inventory of toys, and we rode over Bellanger Pass on our Yamaha Rhino 700 Sport.  This area has active gold mines and an abundance of wildlife including moose, caribou, bears and varmints.  The scenery is spectacular with views of glaciers and snow capped mountains.
Our camp was filled with friends and lots of time around the campfire with nearly twenty-four hours of daylight.

  We enjoyed the little summer that we have here in Alaska, and this was an exceptional year for weather.  It was warm, and dry for most of the summer, but during hunting season, the rains came.  So glad we had our truck camper.  We had the comforts of home.
Lee Johnson and Bonnie McClees
Small Camper Big Life
2013 Ford F150 and 2004 Ford Ranger
Four Wheel Hawk and Four Wheel Eagle
Bonnie McClees refurbished our 2005 Four Wheel Camper Eagle at the factory in Woodland by having the bench changed to a dinette.  She also had hydraulic lifters installed so that the top pops-up in front when she raises the top in the rear.
Last August, we had great week camping in Lassen Volcanic National Park and really enjoyed the new dinette configuration.
For my part, I bought a new 2013 Four Wheel Camper Hawk and a new 2013 Ford F150 last Spring.  I am completing my Great Loop Tour of 2013, which started September 18th and concluded on November 3rd.  Bonnie is currently busy with grandchild number three and had to miss the Grand Loop Tour.
I camped at Big Pine F.A.S. west of Missoula, Teddy Roosevelt south unit, and Lake Audubon.  I spent eight days at the family lake home in Minnesota, and then, with my Texas brother, camped at state parks, on lakes, in Iowa, Missouri, and Oklahoma.
While spending several days at my brother's home in Stephenville, Texas, I had rear-suspension air bags installed on the truck to make it more level.  Resuming my trip, I went to the great McDonald Observatory and, with my telescope, helped host a star party there.
Then I spent a couple of nights in New Mexico and Arizona on my way to the Salton Sea, where I again took out my kayak.  After a week of swimming at our favorite RV park in Borrego Springs, I headed north, visiting friends in the San Francisco area.
I am now on top of Pine Mountain in central Oregon, at the observatory, where we are snowbound thanks to an early winter storm.  Fortunately, I have cable-chains for the truck and should be able to get off the mountain later this week.  It was 17 degrees Fahrenheit this morning.
I simply can not single out any place or experience as my favorite this year, although Fish Creek at Big Pine F.A.S. (fishing access site) west of Missoula looks like the scenery used for the fly-fishing scenes in the movie, "A River Runs Through It".
But the grandeur of McDonald Observatory, the Salton Sea, Crater Lake, even here at Pine Mountain Observatory, all call for attention.  Here, at Pine Mountain, to the west one can see, in a line, Mt. Hood to the right, then Mt. Jefferson, the Three Sisters, and Mt. Bachelor pining away.  There are hundreds of miles of Cascades volcanoes covered in snow, even in the fall before the real snow season is under way.  It is one of the most uplifting vistas I have ever come across.
Larry Whitman
Phoenix Rising On the Jeep Trails
1978 Chevrolet K10
Custom Phoenix Pop-up
In March of 2013, we made a 2,500 mile, nine-day trip from home in Colorado to the Mojave Road and then up to Death Valley in California.  On the way back to Colorado, we made a detour through Utah's Canyonlands.  Later we traveled to the Overland Expo in Mormon Lake, Arizona.  That was it for 2013.  The best news of 2013 was our brand new baby girl!
Definitely the Mojave Road was my favorite place.  The Mojave Road has a lot of history behind it and makes for a beautiful trip through the Mojave Desert.  We mainly followed the Mojave route, did some hiking along the way, and looked over the old homesteads.
If you go on the Mojave route, be well prepared.  The Mojave Road is 140 miles through the desert with no services.  The road is a dirt two track where four wheel drive is needed in several spots.  Cell service was available in a few spots along the way.
Getting a feature in Four Wheel and Off-Road magazine at the Overland Expo was very cool.  It was a short season for me, but we still racked up close to 4,000 miles in our truck camper.
Mark Marano
Roam Free
2011 Ford F150 Ecoboost
2011 Four Wheel Campers Keystone
It was exciting to have made it to all forty-eight contiguous states in less than two years of owning my truck and camper.  A lot of this trip was exciting as I had never been to most of the northeastern states.
I took my truck camper on another journey from Florida to Chicago this summer before making a trip out to Maine and down along the East Coast back to Florida.  Earlier in the year, I took a trip down to southern Florida and the Everglades.
Maine was a bit different than other states I had been to and was very pure and beautiful.  I loved how untouched the land felt, even the interstate had no billboards.
I went up to the northeastern-most point of the United States and then to the eastern-most point.  Near the eastern-most point, I took my truck across the border to Canada and found a really beautiful park there that reminded me of the West Coast.
Acadia National Park is a great spot to go to in Maine.  Be sure to check out all parts of it.  Mount Desert Island and Cadillac Mountain are great, but equally beautiful is the Schoodic area.  I almost didn't go there.  It was definitely worth exploring.  The rocks at the southernmost tip reminded me of places I'd been in California.
If near the northeastern-most point of Maine, definitely go over to Canada.  Roosevelt Campobello International Park is quite stunning!  It's very natural, beautiful, and peaceful.  It felt a lot like many spots I explored on the West Coast.
If you do cross the border, drive up to the northernmost point of the island.  There's a nice overlook and lighthouse up there.  After meeting someone else who said he was going to stay in his camper overnight there, I decided to sleep in the parking lot and woke up shortly after sunrise.  It was beautiful exploring the island in the early morning light before going back to Maine.  Once again, the tranquility and feeling in the air reminded me of the West Coast.
In the center of Maine, Route 11 from I-95 north to Fort Kent (where U.S. 1 begins) has nice rolling hills and is very rural.  The Winterville Forest is just a couple miles off route 11 and was very quiet.
The Green Mountain National Forest in Vermont was a nice spot; all of Vermont was beautiful to drive through.  White Mountain National Forest in New Hampshire was even more beautiful.  The rural areas along the Great Lakes are also worth exploring, as well as the Adirondack Mountains in upstate New York.
The Outer Banks of North Carolina are great to drive and explore.  Ferries are available so you can take your truck camper across the whole way without having to turn back at the end of the islands.
I got a remote control quadcopter this year and it was fun to fly it and get aerial footage for the films I'm making about my journeys.  I just started putting together the first few films from my journey to the West Coast last year.
The Geisenhavers
Two Adults, Three Kids, and One Truck Camper
2005 Chevy 3500
2008 Lance 1131
This year we went to a lot of U-13 baseball tournaments, Muskegon State Park in Michigan (in February, we did Luge racing), Assateague Island, Maryland, and Gettysburg, Pennsylvania.
Our favorite place would have to be Assateague Island.  We met up with Ron and Michelle Humphress in August to spend a long weekend on the island.  If you have been there I don't have to say why it was our favorite.  If you haven't been there, you need to put it on your bucket list.
Sunrises, beach camping on the Atlantic Ocean, surf fishing, surfing, swimming, wild horses, the food, and most of all, our host and hostess, Ron and Michelle.  Make sure you read all the information on the Assateague Island website and talk to the locals that go every weekend.
One of the funniest things is when we talk to other RVers who see us pile out of our truck camper.  There are six of us.  We get a lot of funny looks and some will even ask how we do it.
We do it because truck camping isn't just camping.  It's a lifestyle that we have grown to love.
2013 was a great year for us.  It started out winter camping, then days and weekends at baseball tournaments.  Kim says there's nothing like having your own bed and bathroom at the tournaments.  Then, going to the East Coast to visit friends, and then Gettysburg for a little history.  With four kids all on their own schedule, I think we did well getting out camping.
Jim Bursen
Retire Young and Have Fun
2003 Chevy 2500HD
2012 Alaskan Camper
I traveled to central Florida, Salida, Colorado, and the Gates of Lodore in Dinosaur National Park, Colorado.  I traveled on Route 50 in Nevada, went to Lassen Volcano, Lake Ossette in Olympic National Park, Deer Park in Olympic, and to the north unit of Teddy Roosevelt National Park.
I was a backcountry volunteer for ten weeks and put 2,000 plus rafters on Green River.  Nobody drowned, which is a miracle as there are a lot of stupid people out there.
I also volunteered at Lake Ozette in Olympic National Park for three weeks. 

Camping at The Gates is fantastic.  There is a great view, cheap camping, water, no hookups, and a clean restroom.  There is free camping on BLM land.  This is the area of "The Hole in the Wall Gang".  Four wheel-drive is recommended for the backcountry.
Lake Ozette in Olympic National Park is a great place to visit with cheap camping.  There are no hook-ups, but there is water and flush toilets.  There's great ocean hiking and six miles of board walk.  The lake is ten miles long.  No fishing license is required.
Deer Park in Olympic National Park has great views, glaciers, virgin forest, and meteor showers.  There is no water or hook-ups.  It's a tough road, so RVs are not recommended.  

Port Angeles, Port Townsend, and Sequin are great places to visit.  There was good chamber music, jazz and blue grass.
Jerry and Judy Funk
Full-Time With the Funks
2012 Chevy 3500 Silverado Diesel
2011 Lance 1181
We have been nearly full-time in our truck campers since 2007, and have covered a lot of ground since then.  We began this year boondocking on BLM land near Quartzsite and the Imperial Dam in Arizona.  That led to Lake Havasu City, Arizona for the annual fireworks festival.
We spent several months roaming the south west and visiting friends.  Once again, we headed toward the National Parks in Utah, exploring the Four Corners area and the Navajo and Hopi Reservations along the way.
In April, we took a detour to Fort Worth, Texas, where Judy had a total left knee replacement.  She recovered there in our fifth wheel and we were off the road for two months.  By the end of June, we were back in the Lance visiting relatives in Indiana and Illinois.  We were camp hosts for six weeks at a state park near our kids.
September found us at the North-East Truck Camper Jamboree Rally in Gettysburg, Pennsylvania for our third rally with them.  That took us down the East Coast to Assateague and Chincoteague Islands, maritime museums, Okefenokee, Osceola and Ocala National Forests, and the Crystal River National Wildlife Refuge in Florida.
Interesting places we visited this year were the birthplace of Walmart in Bentonville, Arkansas, The Spanish Mission Trail and Historic Park, The Alamo, and Riverwalk in San Antonio, Texas, the Birth Place of Pepsi Cola in New Bern, North Carolina, the Navajo Nation Capitol and Code Talker Memorial in Window Rock, Arizona, and the Air Force Museum in Dayton, Ohio.
We love the Southwest in part due to its culture, people, beauty and peacefulness.  There are so many historical sites out there it's hard to pick a favorite; the Alamo, Chaco Canyon, Canyon De Chelly, Casa Grande Ruins, The Spanish Mission Trail, and many others.  Another fun and unique experience we had this year was a visit to the Toilet Seat Museum in San Antonio, Texas.
A very meaningful experience this year for us was our trip to Hopiland in northeast Arizona.  Completely surrounded by the Navajo Reservation, the Hopi today still live high on three mesa tops in their original ancestral homes, dating back 800-1,200 years.  Hopiland is the oldest continuously inhabited community in the United States.
We parked overnight alone at the Hopi Cultural Center on second mesa, where we enjoyed a spectacular sunset and starry sky with magnificent 100 mile views of the desert below.  The sight and silence went right to the soul.  Wish you could have been there.
The next day, our Hopi guide took us to his village on top of second mesa.  We met his people, toured their ancestral homes, and learned about their culture.  We came away with an original Katchina doll purchased right from the hands of the craftsman in his home on second mesa, Masa (Hopi corn) from his grandmother's 1,200 year old house, and another very rich and rewarding cultural experience.
To visit Hopiland, a good bet is to have a nice Hopi dinner, camp at the Hopi Cultural Center and secure a guide there as we did.  You cannot tour the Mesas without a Hopi guide.
The best advice we have about traveling in a truck camper is, "You have to go to get there".  If you are able to travel, get going and do it.  Time is of the essence.  Once you start traveling, you will realize that you don't have time to see and do it all.
Rick Johnson
Mods, Boondocking, and Beyond
2004 Ford F350
2007 Lance 1181
We took two trips this year.  One trip took us to the Chiricahua Mountains In southeast Arizona, and one to southern Colorado with our Jeep in tow.
Camping with grandchildren was the best.  Southern Colorado was fun because we also rented a Forest Service cabin for our daughter's family.  We have four grandsons ages seven, five, three and seven months.
We stayed in the camper at night and drove our Jeep around the mountain roads during the days.  The boys loved climbing on rocks, geocaching, and riding in the Jeep.  Then we spent another week Jeeping by ourselves in the San Juan mountains around Lake City and Silverton.
The southern Colorado mountains from Walsenburg to Cortez have so many places to visit with a truck camper that it could take weeks or years to visit them all.  Planning in advance for these adventures is a must.  There are helpful Jeep blogs to find all sorts of trails to explore in Colorado.  Many of the communities exploit Jeeping to attract visitors.
Dave Ruane
The Hunt for Adventure
2008 Chevrolet 3500HD
2006 Northstar TS1000
This year I went to Yellowstone National Park, Grand Teton National Park, and multiple places in Colorado.
Yellowstone is such a fantastic place!  It did require mobility, so it was one of the few times where it was a daily chore to truck and de-truck the camper.  I got very good at it after a few days!
Wildlife viewing as well as the geothermals and landscapes are just amazing there.  Yellowstone is on the plan for next year already.
Most of the campers in the Yellowstone National Park campgrounds would leave during the day and not come back until evening.  We did that, too.  However, one day we came back to camp in the middle of the day and found twenty buffalo milling around the campsites.  They must know when most campers come back since there were none to be found then.  I bet they left telltale signs!
I sure wish I could have caught up with you guys at the Missile Silo Park.  Big regrets on not getting that one to work.
Mitch Polinsky
Soaring Like a Hawk
2010 Ford F150
2010 Four Wheel Camper Hawk
I lived in my camper at the Ely, Nevada airport plugged in for six weeks this past summer.  I also went with my wife in the camper to Rocky Mountain National Park in September.
The best trip was to Rocky Mountain National Park, from the San Francisco Bay Area.  My wife and I used the camper as a base for day hikes and a short overnight backpacking trip.  Make reservations in advance if you can for the campgrounds in the park.  While in Rocky Mountain National Park, I opened the camper door one evening around dinnertime and saw and heard elk bugling in the meadow across from our campsite.
Kim and Dan Rounsley
Building the Perfect Truck Camping Beast
2012 Ford F550
2013 Arctic Fox 990
We flew to Houston in mid-March where we retrieved our camper from storage.  We headed west then north, sampling many beautiful sites along the way.  We loved the Texas state parks, and also enjoyed several premier national parks.
Highlights included Big Bend (where the agility of our truck camper paid off traveling 5,400 feet up to Chisos Basin), Carlsbad Caverns, Yosemite Valley, Zion, and Redwoods National Park on the coast.  

One surprise gem was Colossal Cave Mountain Park where we camped in silence among the saguaros right inside the city limits of Tucson.  On the other end of the scale was the Main Street Station campground, two blocks off Fremont Street in downtown Las Vegas.
This summer we put our camper on the Alaska Marine Highway and sailed to Gustavus, traveling in forested inland waterways through Lynn Canal and Icy Strait.  Gustavus is a friendly community that serves as the gateway to Glacier Bay National Park.  We had some amazing Halibut fishing and explored portions of the park.  There's no camper facilities, but we boondocked comfortably in a beautiful rural location.  It was a bit remote, but definitely a world-class destination.
Heading north from the Canadian Border in mid-April, we knew the highway conditions could be dicey.  We were fortunate to have dry road surrounded by ice and snow under a clear blue sky for most of the way.  We dipped at Liard Hot Springs on Earth Day before continuing our planned route to Whitehorse, Yukon.  The weather forecast changed our plans, and the snow hit on the White Pass where we found ourselves in whiteout conditions, in our white truck and camper.  It was very slow going for several miles until we got back down towards sea level and the ferry home to Juneau.  We arrived home on April 26th, and then woke up to three inches of snow on our camper in the driveway.
Eric and Nancy Williams
An Alaskan Family Tradition
2002 Ford F350
2012 Alaskan 8' extended cabover
After our last Alaskan camper was totaled in a car accident (hit by a drunk driver in September of 2012), we got a new camper in late November 2012 from our friends at Alaskan Camper in Chehalis, Washington.  We used it a lot this year beginning in March for baseball tournaments in Washington State with our twelve year old son Chayce, grouse hunting in Twisp, Washington, and our annual duck hunting trips to Okanogan, Washington.
The camper went on the truck in early Spring and didn't come off until early November.  

As always, our annual pilgrimage to duck camp topped the list.  While we made trips to Yakima and Moses Lake for baseball tournaments, it was true camping in Okanogan that was our favorite.
Our family owns forty-two acres where we've established our duck camp and we've been going there for years.  This year, it was five weekends in a row with lots of duck hunting and camping.  Eric's dad, Earl, along with his brother, Rory, and numerous other family members made the weekend trips to duck camp as well.   It's just an opportunity to kick back, relax, enjoy nature, sit around the campfire, and get some hunting in.
Al
though this is not a public place, we'd be happy to host friends who might want to join us.  But you definitely need a rugged four-wheel drive vehicle to get into the area.  It's high desert with lots of rocks and sagebrush.  We usually tow our Jeep Wrangler behind the truck and camper (made much easier with the Roadmaster Invisibrake system) and use the Jeep to drive the lakes.
We enjoyed our many baseball tournaments, both out of town and local, in our truck and camper.  It's always nice to have a home away from home where we can hang out between ball games.  We often do potluck barbecues with the team and the party seems to start around our truck and camper.  Or maybe it was the barbecued bacon wrapped prawns we would serve.
We're looking forward to more trips, more baseball tournaments (perhaps even in Reno, Nevada), more camping, and more hunting.
Pam and Gary Veeder
From Key West to the Yukon
1997 Ford F250
2001 Northern Lite Ten 2000 RR
This year we went to Maine and camped at the county fair.  We go each year to Maine and camp next to the beach.  We meet our granddaughters and family at Oceanview Park in Phippsburg, Maine.  There are no amenities to speak of, minimal electric, water and a parking lot type camping area.  It has great owners.
During the two weeks we are there, the fellow campers are great.  We have been going for twelve years.  The beach is four to six miles long and low tide creates walks to islands.
My wife and I have been camping since 1967.  For the first time, we went on a cruise for our 50th anniversary.  We went with excited anticipation of a fourteen day cruise.  We had two thoughts related to camping.  The people in campgrounds are much friendlier, amazing as it sounds, and the cruise is relatively the same price as camping.
Rich and Barb Landis
Alaska Planning Pays Off
2007 GMC Sierra 3500
2007 Lance 915
We went to Newfoundland and traveled all around the Province.  The people were very friendly.  Diesel was expensive and the roads were not in good shape when we ventured off the Trans-Canadian Highway.  The ferry ride to and from Newfoundland and the Western Brook Pond boat ride in the fjord was beautiful.
Rodger and Arlene Brill
A Delicious Truck Camping Recipe for Two
2008 Ford F350
2012 Arctic Fox 1150
This year went on camping trips on average twice a month.  All of our camping has been in a sixty mile radius of home, and free.  Our campgrounds are The Tater Patch, Hazel Lake, The Dog Lot, and the Pines.  These are very unique places that we boondock.
We usually have eight to ten campers.  However, with our cooking and invites, we have had as many as seventy-eight for dinner.
At these locations, we fish, ride four wheelers, and play corn hole along with other games.  One of our more popular events is conversation of exaggeration.  I think you know what I mean.
Matt and Cheryl Reinker
The Cannonball Alaska Run
2006 Chevy 1500
2007 Northstar TC650
This year we went to Frankenmuth, Michigan for Memorial Day weekend to a friend's wedding.  We also went to Fay Lake, Wisconsin for a week long vacation with my son and his in-laws.  We went to a resort that had cabins that everybody else was staying in.  We called ahead and they said, "Sure you can park your camper here".  We had a great time, but if it hadn't worked out we had the truck camper to take off in.
We went on a two week vacation to Glacier National Park, Hells Canyon, and Craters of the Moon National Monument.  We had Glacier on our bucket list.  We would not recommend taking a dog to Glacier.  They are not allowed in the water or on the trails.  To see much of Glacier you have to hike to most of the attractions.
We added Hells Canyon after seeing Cheryl and Ted White's September 2012 TCM Calendar picture.  Craters of the Moon ended up being on the way home.  We tried to stay on two lane highways most of the trip.
Our favorite place was Lolo National Forest in Montana.  The drive down Trout Creek Road (FR250) takes you through some amazing backcountry.  Make sure your gas tank is full and you take your camera.
The drive up Kleinschmidt Grade going to Sheep Rock Point to view Hells Canyon is not to be taken by the faint of heart, or in a big rig.  On advice from a local store owner (she claimed to take a four place horse trailer up there) we drove up the grade to Cuprum and then on to Sheep Rock Point.  On the way back, we took Cuprum/Council Road (FR002) to Council Idaho.
Mark Turnbull
Plan a Trip to Alaska
1998 Chevrolet Silverado 1500
2011 Four Wheel Camper Hawk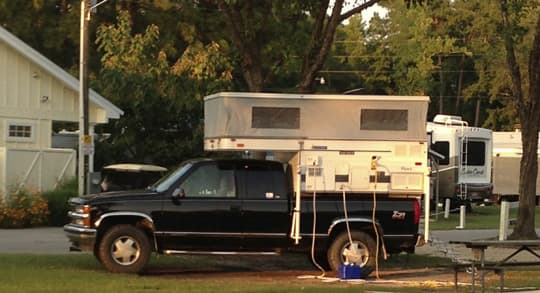 I used my truck camper to go to a Triathlon that I competed in.  It made it very easy to arrive at the start line at 6:00am in the morning and it was nice not to worry about hotel rooms.  I was able to get close to the venue since I had a truck camper.
If you get a truck camper for a specific trip, like I did for my 2012 trip to Alaska, do not let go of the idea of using it in the future even if you have a job and might not be able to get the same amount of time off.  Keep it in good shape and then the next big adventure is just around the corner.  I know mine is.
Joei Carlton Hossack
Author, Speaker Joei Carlton
1997 Ford F250
2004 ten foot Adventurer
I spent from November 15th, 2012 to March 15th, 2013 in California and Arizona.  I returned home and went on four different camping rallies in Washington and northern British Columbia.  Fun, fun, fun.   I think my favorite place was Armstrong, British Columbia because I love camping rallies.  Not only did I have a display for my books and crafts, but I was invited to do an entertaining travel lecture.
For the first time, I drove home from California very slowly and I stopped at three beading factories.  For me, they're pure heaven.  I also published a story about it in RV Times Magazine.
My most interesting event of this summer was leaving my camper parked in our RV lot, taking the train to downtown Vancouver, and getting on a cruise ship to Alaska.  Stop judging.  I've been a solo RVer for twenty-two years and it was wonderful letting someone else do the driving for a change.  I am heading out this winter for California and Arizona, again.
Chris Cole
Building a Unimog Truck Camper Rig
2002 Unimog U500
2013 Phoenix Custom Camper
We went down to Uwharrie Forest in North Carolina where I stayed in my camper while conducting the Training for Certification for the International 4WD Trainers Association [I4WDTA].
The best place for me in 2013 was Grand Staircase Escalante National Monument.  Take your time and don't rush.  Phoenix Campers did an awesome job building our camper!
Doug and Denise Hauser
Apple By Day Keeps Truck Campers at Play
2011 Ford F450
2014 Eagle Cap 1165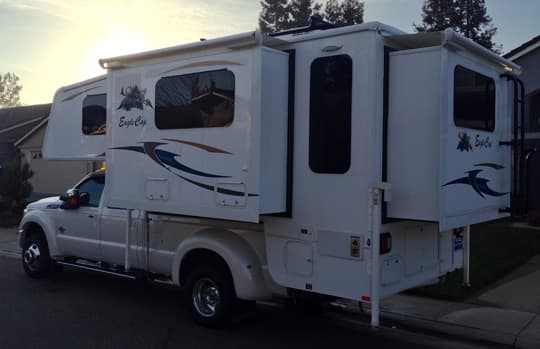 I used my camper a little this year.  A Caribbean cruise early in the year and a two week family trip to Hawaii in the summer to celebrate my parents 50th Wedding Anniversary really slowed down our nights in the camper.   That and work, work, work.
We did manage to get our rig in the snow a few times early on, up into the foothills outside of Sacramento.  We also made it out to the coast a few times.  We camped a little over twenty nights by the end of the year, which is almost a half of a normal year for us.  Nothing overly exciting for us, just some good times in the snow with our niece and nephew.
We did upgrade the truck from our 2004 Dodge 3500 SRW earlier in the year to a 2011 Ford F450.  That was the first step to upgrading to a bigger camper.  We are excited that we just picked up our 2014 Eagle Cap 1165!
I anticipate some great adventures next year, the top of my list is getting back to Yosemite in the winter.  There are no crowds and, when there is snow in the valley, it's even more beautiful then in the summer.  I highly recommend it!
Barb Hartman
The Adventures of Barbara Hartman
2005 GMC Sierra 2500HD
2006 Travel Lite 890SBRX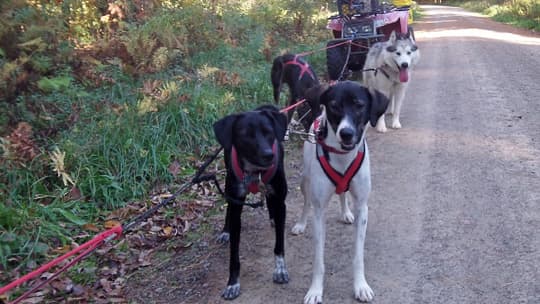 This year I have been busy moving to upstate New York.  With my second retirement, the plan was to do some exploring around New York State, but I was only able to do a couple of overnights this summer.  First a dead battery and then a jack issue interfered with some plans.
This Fall I spent a week at a Mushing Boot Camp in the Adirondacks.  The following weekend I attended the Northern New England Sled Dog Trade Show in New Hampshire.  I have two new sprint racing pups in training and help out at three sled dog kennels in my area.
I hope next year I finally make my long planned trip to California.  I am also considering volunteering as a campground host for part of the summer.
Keith and Nancy Rivers
Discovering Road Magic
2004 Ford F250
2013 Northern Lite 9-6Q Special Edition
We used our camper a little this year, mostly because of family responsibilities.  We have put off our dream Alaska trip for now.  We took a two week trip to Nova Scotia, primarily Cape Breton.  There is so much to see there, so we didn't want to try to do all of Nova Scotia.
We enjoyed Fundy National Park and its amazing tides on both our way to and from Nova Scotia. Our real reason for going there was to procure our favorite smoked salmon.  In Cape Breton, we started in Fort Louisburg with the SnowCrab Fest, a great annual gathering with the freshest seafood you can hope for.  It was lots of fun meeting the locals.
The next amazing thing was a tour in the coal mines of Glace Bay.  A retired miner takes you down into a mine shaft and regales with stories of history of the mines and his own experiences.  We were about sixty feet below ground.  The actual mines go under the Atlantic Ocean for four miles.
Another must-do attraction in Cape Breton is the Cabot Trail.  We really enjoyed how the truck camper handled winding up and down the road.  It was like a roller-coaster with marvelous views of the ocean and mountains.
The best yet was our decision to go as far north as possible.  We landed in Meat Cove, above the Cabot Trail and on the northern most area of Cape Breton.  We camped on cliffs overlooking water, pilot whales playing (or probably fishing) for hours, great hiking, and a wonderful seafood shack restaurant.  The hosts were most hospitable.
After that, we visited a Celtic Museum, a historic village with interpreters in period costume.  Other memorable places were the whiskey distillery (Glen Mora), great live music at the Red Shoe Pub, and more beautiful sight seeing.  It was truly like a little bit of Scotland on our own shores.  Next will be Disney in January!
Mary Anne Pugin
The Solo Adventures of Mary Anne Pugin
2006 Ford F350
2005 Lance 1121
I used my camper just once this year, for a three-month summer trip around the shorelines of Lakes Superior, Huron, and Michigan.  I left home in June and returned in September.
I loved all three Great Lakes!  Following the shorelines, beginning in Duluth, Minnesota, took me into Ontario, Canada.  That was a gorgeous drive on the Trans-Canada Highway.  I was on Lake Michigan the longest and especially loved the sand dunes of Sleeping Bear Dunes National Lakeshore.  Every chance I had, I went swimming and just marveled at the clear, cool waters of these glacial lakes.
I visited lighthouses, sampled cherries, and, every now and then, headed inland to get away from weekend beach crowds and inclement weather.  My trip around the lakes ended in Superior, Wisconsin, after which I headed back west via a side trip to Banff National Park in Alberta, Canada.
My advice is to follow the shorelines.  It also helps to stop at visitors centers and pick up guides and other reference materials.  In Canada, I stayed mostly at Ontario's Provincial Parks.  They were beautiful, clean, well-kept, but somewhat expensive.  I wasn't prepared for that.
I generally travel solo in my camper and, since I don't want to be committed to a fixed itinerary, I rarely make plans to visit people.  On this trip, however, I had a fantastic rendezvous in central Michigan with two friends I hadn't seen in over thirty years.  They were traveling in their camper from Pennsylvania to Vancouver, British Columbia.  I should point out here that I'm deaf and my friends are hearing.  Using the cell phone is not possible for me but we kept track of each other's progress via email, despite spotty internet access here and there, so our rendezvous was successful.
For only the second time since I started traveling in the camper in 2006, I invited a friend to join me for the last two weeks of my trip.
Watching the sun set below any body of water is my favorite thing.  Watching the sun rise above the water's horizon is rare for me since I'm not a morning person.  My friend, however, is an early riser and she got me up early one morning to see a beautiful Lake Michigan sunrise.  That was, in a word, special!
Tim and Ginger Burk
It's All About the Toys
2005 Dodge 3500
2011 Eagle Cap 950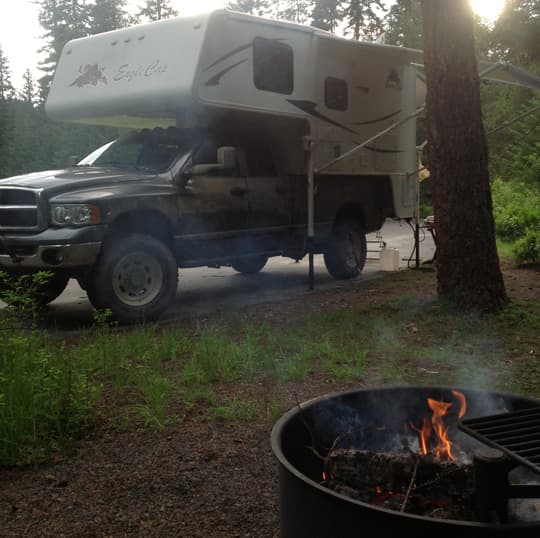 We went many places this year.  We went on a long week trip near Metaline Falls, Washington. We camped on the water.  That was the best.  We did stand up paddle boarding and enjoyed Seadoo madness.  It can get busy there on the weekends.
Jerry and Reta Caldwell
Leaving the Class A Behind
2003 Dodge 3500
2005 Lance 1181
We went to Yellowstone National Park and Grand Teton National Park.  Of course Yellowstone was our favorite place this year.  We spent eleven nights in Yellowstone and six nights in Grand Teton National Park.  We went to our first Indian Pow Wow in Eagle Butte, South Dakota on the trip to Yellowstone.  We really enjoyed doing that and look forward to going to another one.  The trip was late in the camping season and we really enjoyed reduced crowds that time of year.
Make reservations ahead of time for the campgrounds in Yellowstone.  Go prepared for any kind of weather, especially cold weather late in the camping season.  I just love being on the road with our truck camper.  I look forward from one trip to the next.
The Wilson Family
Cycling to Win
2007 GMC Sierra 3500HD
2003 Fleetwood Caribou 9.5
We went to Arizona, Utah, Colorado, and New Mexico.  The Arkansas River Valley in Colorado was our favorite place.  There is lots of great mountain biking from Leadville, Buena Vista, Salida, and everything in between.
Jen and I both bagged our first fourteeners.  Jen rode the Colorado trail from Leadville to just below tree line on Mt. Elbert and then ran the rest of the way to the top.  I did a big loop on my bike to the saddle below Mt. Antero and made quick work of the boulders, in my bike shoes, to the top and back before the weather got bad.  There is lots and lots of free camping in that area, which is perfect for the truck camper.
Check out the Four Mile area across the river from Buena Vista if you like to mountain bike or ATV.  They have dedicated ATV trails there that are super fun.  Salida has a great free BLM spot right near town on the river.  It has a nice toilet but no running water.  The Salida Chamber of Commerce has water and a dump facility.  Don't stop at the Poncha Springs RV dealer.  If you have any disposable income, you'll probably drive off with a new rig.
Meeting up with my dad and his wife in their Arctic Fox and my best buddy, Brent in his Hallmark at Hartman Rocks outside of Gunnison, Colorado was truck camper heaven.
Kris and Ken Cardwell
mOOners In Mexico
2003 Ford F350
2002 Bigfoot 2500
We spent the winter in Mexico, as we've done every year since 2007.  In the summer we traveled from our stomping grounds in Northern California, to Oregon, Washington, and British Columbia.
Our trip to the Pacific Northwest was great because we connected with many of our sailing friends, our harmonica blues playing buddies, and friends we know from our travels in Mexico.  The truck camper allows us to visit with friends and family while staying in the comfort of our own home.
For the past two years, on our springtime trip home, in a roundabout way, we've visited Clarksdale, Mississippi, for the Jon Gindick Blues Harmonica Jam Camp.  Ken attended camp the first time and it was so much fun.  The music is so addicting that I started playing and we both attended the camp the following year.
There were campers from all over the world with topnotch professional blues harp players as instructors.  While at camp, we parked our truck camper where everyone roomed.  The camp was held, at the world famous Shack-Up Inn.
At night we played our blues harps in Clarksdale clubs, including Morgan Freeman's Ground Zero.  One night, after performing and hitting the local blues clubs, including Red's Juke Joint where the moonshine flowed, eight of us crammed into our camper and we shared some of our excellent Mexican tequila.  It was unnecessary, but so much fun.
One of our friends used the head and unfortunately left the water valve open which we caught just in time.  That required an emergency 2:00am dump at the local fairgrounds in unseasonably cold weather, so I am told.
We're into our seventh year of full-timing in our truck camper.  And yes, time truly flies when we're having fun.  People we meet along our travels are constantly amazed that we live and thrive in a ten and a half foot truck camper.
We give total credit to our great relationship and our fantastic kitchen layout.  The counter space between the stove top and the double sink is spacious and workable for all of our cooking needs.  We've fully outfitted our camper with all the gadgets we normally use at our California home including large and travel size crock pots, juicer, bread maker, rice cooker, Magic Bullet, Cuisinart, and pots and pans of all sizes. We love creating and cooking together and we're happily able to do so in our awesome little kitchen.  Two years ago we gave the area an updated look by painting the faded base of the cabinets with glossy black paint.
Our advice is, "What are you waiting for?  Go!"
Dan and Bonnie Forry
Ranger Out West
2004 Ford F250
2006 Palomino Bronco 1251
We used our camper as much as time would allow.  We took our camper to Rowe Sanctuary in Nebraska in March to see the sandhill crane migration.  I spent a couple nights in northeast Iowa trout fishing in May.  We also traded in our 1999 F250 for an 2004 model in late May.
In June, we camped at home with our granddaughter for the first time.  She had fun and always likes to play in the camper.  In July, we camped over the 4th of July at Waubonsie St. Park.  In late July, we attended the Allis Chalmers tractor show in Minnesota.  In September, we camped at a local tractor show over the Labor Day weekend.  Later in September, I went trout fishing again for a couple more nights in the camper.
In October, we went to Colorado and, despite the federal governments best efforts at making things miserable by closing all federal lands, we had a great vacation.  We camped ten more nights using National forest dispersed camping, KOA's, and several state parks.
We rented a Jeep in Buena Vista, Colorado and drove up some mountain trails.  We stayed in Chama, New Mexico and rode on the narrow gauge railroad and got caught in a snowstorm.  But, we were snug in our camper.
We hiked in Palo Duro State Park in Texas, encountering several tarantulas on the trails.  At Quartz Mountain State Park in Oklahoma, we encountered a porcupine in the evening as we sat around our campfire.
Retirement is great for me, but I am very busy.  My advice to others is to get out there and enjoy this wonderful nation.  There is so much to see and experience and so little time.  This is our seventh camping season and I can't imagine any other way to travel that would work as well for us.
Truck campers rock!  See you on the road!