Twenty-seven TCM interviewees reveal the best places they went truck camping in 2013 and tell us exactly what to do when we go there.  Get your bucket list out.

We took a slightly different path for our annual catching up series this year.  In the past, we simply asked previous interviewees about their year of truck camping.  This year, we sent them four questions designed to get down to the nitty-gritty of the best places they'd been in 2013.
Here are the questions:
1. Where did you go this year in your truck camper?
2. Where was your favorite place that you traveled to in your camper this year?  Please include why it was your favorite, and what you did when you were there.
3. Please share any advice you have with readers who may want to visit that place.
4. What's the most interesting experience you had while truck camping in 2013?  We're looking for anything fun, funny, remarkable, unique, and/or exciting.
We also asked for photographs of their rig, their adventures, or anything that illustrates their story.
It can be hard being a past interviewee for Truck Camper Magazine.  We put these folks to work, all in the name of making Truck Camper Magazine the best resource it can be.
The result of all this toil, labor, and general knuckling down is a list of truck camping destinations that is sure to have pens wiggling and bucket lists growing.  After all, these folks are some of the most out-going, passionate, and adventurous truck camper people on the planet, and these are the best places they found in all of 2013.
Think you've hit truck camping destination gold?  You're right.
For Part 1 of our 2013 Road Tracks & Flash Backs, we connect with…
Paul Karchut
Truck Camping CBC Reporter
2010 GMC Sierra 3500HD
2005 Arctic Fox 990
We traveled throughout Western Canada, mainly to ski, but also to hike and mountain bike.
My favorite place was Cypress Hills Interprovincial Park.  It was a beautiful mid-summer weekend with very few people, great hikes, relaxing evenings, delicious food and good friends.  This isn't a big park but has some fascinating geological history so stop by the visitor information center on the Alberta side to better understand its significance.
We saw our first cougar walk right across the quiet side road we were driving.  It was dusk and this huge cat came slinking out of the woods.  I've waited for decades to see one.  So cool.
We upgraded to a dually this year.  What a difference it makes to the driving stability.  I've spoken with a number of people who really push the limit on their truck capacity (we did too) and it's so worth getting a larger truck for peace of mind.
David and Cindy Gilbert
Truck Campers Escape the Rat Race
2011 GMC Sierra 3500HD
2011 Northern Lite 10-2
After finishing our four month hosting gig at Caddo Lake State Park, we headed northeast through Arkansas, stopping at Queen Wilhelmina and Mill Pond State parks. We then traveled to Tennessee, where we visited family, before making our way to Campbellsville, Kentucky to work for Amazon.com.  We're still here, helping Santa make all his deliveries through December 23rd.
When we were interviewed in May, we were at Caddo Lake, Texas.  That had to be the favorite this year.  Another favorite is Queen Wilhelmina State Park in Arkansas.  The hiking trails were amazing at this small, but beautiful park.

  Caddo Lake visitors should visit in May through June to for the best weather, animal sightings, and scenery.
Paddlers and boaters will find the lake grown over with vegetation after mid-June, but photographers will love all the green, bald cypress trees draped in moss, scenery, and birds.  While paddling on Caddo Lake, we didn't think we'd get to see any of the shy alligators.  We were surprised when a thirteen to fourteen foot gator swam quickly parallel to us, passed us, then cut in front of us in order to get to the other side of the bayou.  It made a great video, even with Cindy cursing me to slow down in the background.
Still loving this life… just "leaves on the wind".
Doug, Tammie, and Katie Baughman
Get A Camper, Start A Rally, and Go
2008 Ford F350
2013 Northstar 8.5 Arrow
After the Midwest Truck Camper Rally, we toured many sights in Iowa and a small part of Wisconsin.  We spent another ten days in Missouri in September and are going to Branson, Missouri for the Midwest Truck Camper Christmas Gathering.
We have stayed in our truck camper seventy-four days as of the end of October, and plan on staying in our truck camper two to three more weeks before the year is out.
Our favorite trip this past year was to the Montana Truck Camper Rally.  We really enjoyed the scenery and the time spent with each other.
We recommend that you stay off the interstate and take backroad highways.  There is so much more country to see.
We were in Branson, Missouri this summer visiting the campground of a future truck camper gathering.  We ran into a Truck Camper Magazine reader who had just read the article that TCM did on me this summer.  He said, "Hey are you that guy with the snowplow that I just read an article about in TCM?  I live here at this campground.  What are you doing here?  I saw your truck camper earlier in town and wanted to come talk to you, but I was working."  That was cool.
Bill Tex
One Unforgettable Family Adventure
2006 Chevy Silverado 2500HD
2013 Eagle Cap 850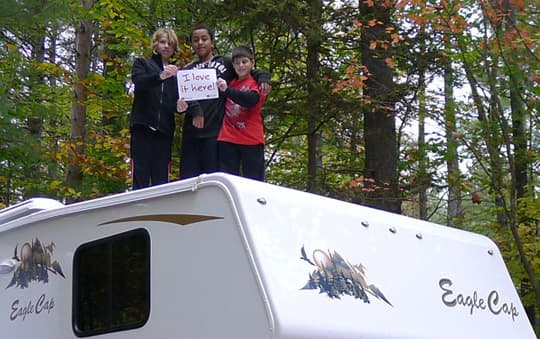 We started the year ski camping in Vermont, then white water rafting in Maine, then hiking in the White Mountains of New Hampshire in June, the beach for summer, and a few trips back to New Hampshire in the Fall.
We just returned from Salem, Massachusetts for Halloween.  What a blast!  We enjoy every trip together as a family.  Salem, Massachusetts was pretty unique.  There is a municipal campground right downtown, and you can walk to everything.  The Halloween events are outrageous.
We were fortunate to purchase a new camper this year.  Our previous camper was great, and we had a lot of good times with it, particularly our cross-country National Parks tour.  We will miss that camper, but the added room of a slide-out is awesome.  We are really digging our new Eagle Cap.  We have camped three times in just the first month of owning it.
Orian Hartviksen
Minus 15 and Truck Camping
2011 Ford F350
2010 Northern Lite 8-11
We went north, south, and west.  Last spring we took six weeks to explore southern Utah and northern Arizona.  We explored and stayed in most of the National Parks and Monuments in the grand circle starting with Arches and Canyonlands, Natural Bridges, Monument Valley, Petrified Forest, back up to Vermillion Cliffs, Zion, Escalante, Bryce and Capitol Reef (and lots of places in between).
We couldn't believe how amazing and different each place was. We hiked down through the hoodoos in Bryce, and up to Angel's Landing in Zion.  We camped in parks, national forests, and BLM lands.  There was lots of hiking, and even dune buggy riding!  We can't wait to go back.
This Fall we went to Vancouver Island to explore.  The Pacific Rim has amazing beaches and weather.  We spent a day in T-shirts watching a surfing competition, and another day bundled up with howling winds, rain, and roaring waves.  The local seafood was to die for!  After a couple of weeks the fog set in, and we couldn't get dry.  When I emptied the salt shaker at home, it was like wet sand!
This Summer we also did a couple of closer trips into British Columbia's backwoods with an ex-logger friend and his wife.  We found tiny hidden lakes and lonely loons on one trip in the Okanagan Highland.  The Okanagan Highland is part of the Monashee Mountains.  During this time we discovered that two editions of Backroads Mapbooks and a GPS were no help.
Our second trip was to the mountains northwest of Lilloette, British Columbia where we traveled The Highline (formerly called the Douglas Trail).  It is 28 kilometers of single lane goat track perched on the side of a cliff over Anderson Lake, with the final 8 kilometers being improved switchbacks at about 15%+ grade (improved meaning you no longer have to alternate going forward then backward).
Fortunately, the only vehicles we met were smaller than us, so they had to make way.  Alf was driving, so he had the joy of not seeing the edge of the road, while I was quite happy to be on the inside.  Exhilarating would be an understatement!
Our favorite place was a close tie between Bryce Canyon and Capitol Reef.  The geology of each is so unique.  Hiking in the Hoodoos in Bryce is like being able to shrink yourself and enter a childhood dream fairyland.  Capitol Reef is also amazing, especially when you learn the history of the settlers, and see their names and dates inscribed on the wall of the Grand Wash.
In April, if you want to stay in the parks, have BLM and forest sites in your back pocket.  Also, get there early in the day, especially on weekends.  Information centers and park entry staff usually have lists for overflow camping.
Take in the guided hikes and lectures, and talk to the park staff to find out the best hikes, and places to see.  Maybe bring a dust-buster.  It took months to clean out the red dust form the truck and camper, and my camera zoom still jams!
The Highline Road was definitely the most interesting place.  It is remote, beautiful, and heart pounding.  And getting to the road was an adventure as well!
John Bull
From Emergency to Adventure
2004 Dodge 3500
2004 Lance 920
Early in February 2013, we left Kansas for Arizona to visit our daughter and grandkids.  We also saw the Gem and Mineral Show in Tucson.
On the way down, the truck didn't have pep and wasn't making good mileage.  We stopped at a campground in Tucumcari for the night.  I checked the air filter and found it was pretty bad.  There was a Napa store a couple blocks from our camp so I purchased a new filter to replace the dirty one.
The next day the truck had zip and the mileage was good.  We entered Arizona in the south going to Douglas and Bisbee.  In Bisbee we found the huge Lavender Pit Copper Mine.  That was one really deep hole!  We also visited the shops and listened to the street musicians.
After Bisbee, we drove up the road to Tombstone and found a campground in town, all the while hoping the Sheriff had the outlaws under control.
The next day we headed to the Saguaro National Park east of Tucson.  We drove the route through the park amazed by the beauty of the landscape.  As we entered Tucson, we passed the boneyard for airplanes.  This amazing place will be on our list for the next trip.
We next headed downtown and found the Exhibition Hall and parking for the Gem and Mineral Show the next day.  Now we needed to find Gilbert Ray Campground on the west side of Tucson.  This is one beautiful county park with wonderful views.  The Desert Museum is nearby featuring desert plants and animals.  This is a must if you are in the area.
Going to and from the campground to Tucson we had to cross over a pass with lots of switchbacks.  It has wonderful views (if the driver dares to sneak a peek).
Before we left the Tucson area on our way to Scottsdale, we rode a tram four miles up the Sabino Canyon northeast of Tucson.  We disembarked at the end and walked three of the four miles back along the road, climbing on the rocks of the adjacent stream and taking pictures of the beauty that surrounded us.  This and the Gem and Mineral Show were but a few of the highlights of Tucson.  I can't say enough about the beauty and things to do in the Tucson area.
We next headed to Scottsdale to visit our daughter and grandchildren.  We found the Music Museum nearby which documents the music and instruments from countries all over the world.  We also got to see the grandkids playing football and softball.
It was snowing lightly in Scottsdale the day we left for Kansas.  Just north along I-40 was a monster snowstorm, so we headed south and then east, waiting out the snowstorm in Demming, New Mexico a couple days before heading north.  We followed the snowstorm home, staying a day or so behind it.
Five hours after arriving home, we finally got all the heavy wet snow out of the drive so we could get the camper in its parking spot next to the house and out of the street.  Once again we experienced the beauty of Arizona and now that we know about Tucson, we want to return.
Another trip we went on was to the First Annual Midwest Truck Camper Rally in Amana, Iowa organized by Doug and Tammie Baughman, which we thoroughly enjoyed.
Dan McKinnon
Pop-Up and Ride On
2004 Chevy Silverado 2500HD
2011 Palomino Bronco 1251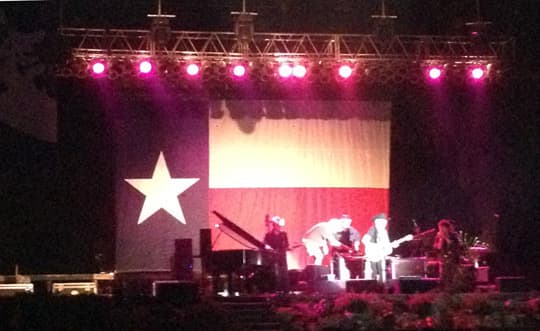 I sold my home in Atlantic Beach and moved south to Deltona, so I was unable to take any major trips this past summer.  I did head out to Live Oak, Florida to The Suwannee River Music Park and attended two big music events.
The end of March was the Magnolia Spring Fest and, in late October, was the Magnolia Fest where we joined other friends that we have camped with over the past several years.  In October the headline on Saturday evening was Willie Nelson.  Another great Musician was Mavis Staples and her wonderful Gospel songs.
The festivals are on the Suwanee River so you can rent a canoe and paddle down the Suwanee.  They have hundreds of sites, many with hook-ups and many out in the woods if you want to escape into the wilderness.  They also have cabins for rent and many other activities.  It's just a couple miles off I-4 just west of the I-75 junction.
Seeing Willie Nelson and Mavis Staples was awesome!  I hope to make up for lost time this coming Spring and Summer.
Guy Dalphond
Truck Camping For Work and Play
2007 Dodge 2500HD
2010 Northern Lite 8-11 SE
I went to three rallies with the North-East Truck Camping Jamboree and traveled all over Quebec for work.  I also went to Myrtle Beach and Wells Beach on vacation.
Myrtle Beach was nice and warm.  I was with my family including my young adults, which meant four in a camper.  We went to Myrtle Beach State Park and Hunting Island State Park.
This year I lived in my truck camper more than 100 days.  I still use my truck camper for work.  I also installed solar panel with inverter.  I was able to stay six weeks without power and still had my coffee in morning with my electric coffee machine.  I was able to use my microwave and work everyday with my computer without using my generator.
David and Jenney Kiel
City Slickers Toss the Trailer
2007 Toyota Tundra
2012 Phoenix Custom Camper
We went to Acadia National Park in Maine, the Finger Lakes in New York, Mount Rogers National Recreation Area in Virginia, the New River National River in West Virginia, and Smokey Mountain National Park on the border of North Carolina and Tennessee.
We also went multiple times to Monongahela Forest (North Fork, Canaan Valley and Dolly Sods), the Outer Banks, the George Washington National Forest, and Shenandoah National Park, Virginia.
Our favorite place was the Finger Lakes because of the beautiful waterfalls, great fall colors, and wineries.  Go in early-mid October; we nearly missed the best colors.
When we went to Acadia, it was fun watching my nephew inhale our fish dinner like he hadn't eaten in a week. Teenage boys!  We got to go to the top of Mount Rogers via a high clearance only road on Labor Day weekend and only shared the campground with one other group for one night on the long weekend.
Jack and Joann Purdy
Thirty Five Years, One Truck, One Camper
1969 Ford F-250 Camper Special
1970 Roll-A-Long Sportster 9.5
We went to Clovis, California in the camper this year for our granddaughter's high school graduation.  We parked in front of our daughter's house with the camper providing an extra bedroom.
The favorite place I went in the camper was the Mojave National Preserve.  I got on old Route 66 at Ludlow, California and spent the night boondocking at Amboy Crater.  The next day I stopped at Roy's Cafe in Amboy for a photo op and continued on 66 stopping at the old Roadrunner Restaurant for another photo op.
At Essex, I headed up into the Preserve, stopping at Hole-in-the-Wall Campground for the night.  The next day I continued up Black Canyon Road (the pavement ends at Hole-in-the-Wall) to Cedar Canyon Road and West to Cima Road and pavement eventually ending at I-15.  I enjoyed the solitude and beauty of the varied desert scenery.
The best time to go is Spring or Fall.  In Winter you can have snow at the higher elevations.  If you have four-wheel drive, there are many beautiful trips including the Old Mojave Road.  Stop at the Visitor Center at Kelso for information on the area.
Ed and Sandra Krech
Truck Camper Helps Tornado Victims in Alabama
2006 Dodge 3500
2011 Northern Lite 8-11
We worked four disasters this year in Hattiesburg, Mississippi, West Texas, Moore, Oklahoma and Evans, Colorado.  While working in Moore, Oklahoma, the organization we work with, Disaster Assistance Church of Christ, fed over 70,000 meals.
We found time to travel and camp in New Mexico, Colorado, Arkansas, Virginia, Maryland, and in the Smoky Mountains.  Most of this was to trout fish and let others see our trout lure, the Trout Magnet.
When leaving West Texas for Moore, Oklahoma, we got a call from a buyer in Colorado wanting to buy our Outfitter.  The sale took place and we went to Moore without a camper.  We stayed in a fifth wheel and slept on the floor for a couple of weeks and left for Missouri where we heard about a Northern Lite 8-11 that had only been used twice.  It was in excellent shape.
While in Moore, Oklahoma, I came down with pneumonia.  Sandra got to the point she could not walk.  We rested a couple of weeks and went to Colorado after the floods where Sandra had to fly back because of her back.  Her surgery is in two weeks.
My favorite places were the San Juan River and Taylor River.  While fishing the San Juan River, I caught eighty-two trout in a six-hour period.  The Taylor River was just as exciting.  There is a real nice state park near San Juan called the Cottonwood.
While using the camper in Colorado after the flood, the comfort of camper was awesome.  It has been in cold weather and hot.  The heat or air conditioning kept the camper very comfortable.
Roger and Char Baxter
Pop-Up to Alaska
2008 Chevy Silverado 2500HD
2009 Hallmark Guanella
After five years in the Hallmark, we pretty much completed our bucket list.   Alaska, The Yukon, Northwest Territories, and lots of back roads in the West.
The last trip this Spring was to do the White Rim Trail in Canyonlands National Park along with some other back roads around Moab, Utah.  It was ninety miles at five miles per hour in four wheel drive low.  We were out three nights.  It was a great trip.  If you go, get your reservations early and enjoy.
We really enjoyed our Hallmark.  It was truly amazing to tour all the remote areas we did with that rig.  Our goal of "take the road less traveled" paid off in great memories.  Seeing the Alaskan grizzlies was still the highlight.  My heart still speeds up a little just thinking of them.
Jim and Patti Duarte
Camping on Sandy Neck Beach
2008 Ford F250
2003 Lance 845
We went to Sandy Neck Beach in Barnstable, Massachusetts where we go beach camping.  I like seeing the different types of ocean life at the beach.  We've seen dolphins, seals, and sharks.
Sally Stomberg
Sally Stomberg's Pastime Passion
2006 Ford F-550
2006 Lance 1191
Over Memorial Day weekend, the camper served as base camp for our annual snowmobile club's fundraiser at our local rodeo.  I love the early morning hours at the rodeo grounds before the crowds start rolling in.
We also made a few trips to the Spokane area to get in some rounds of golf.  In fact, we were there towards the end of October before the course closed for the season.  I felt like we almost had the resort to ourselves.  It was a very enjoyable and relaxing trip, especially since I missed my first Fall Colors Caravan in years.
My favorite place this year in the camper would have to be Deer Park, Washington.  I enjoy the trip over and back and seeing the sights along the way.
My favorite place, non-camper, would have to be Glacier National Park in Montana.  I'd love to take the camper and go back to continue our explorations.  If you go to Glacier, you won't be able to take your camper on the Going-to-the-Sun Road.  You'll need to do one of the tours with the red bus.
We have the most awesome flag pole on our camper from Flag Pole Buddy.  We bought the light kit so we can fly our flag after the sun sets.  It is solar powered and the built in solar panels on the light have to face up towards the sun in order to recharge the batteries.
Twice now I have installed it upside down.  I don't think I will ever live that mistake down.  It has become quite the joke when it is time to raise the flag.  I am asked if I am trying to signal aliens.   Even though our time in the camper was limited this year, any time in it is better than none at all!
Duncan Crawford
Fuel Cells for Truck Campers
2008 Ford F450
2008 S&S 11FBSC
We took the camper to Newfoundland in July, 1,300 miles from home, to the ferry in North Sydney, Nova Scotia, stopping at Portsmouth, New Hampshire and Frederickton, New Brunswick Walmarts en route.   We arrived at the port late afternoon without reservations and booked a noon crossing for the next day.  You can dry camp in the ferry waiting line if you arrive early or are on standby.  We made the midnight ferry on standby.
The road system is primarily coastal, with secondary roads branching off the more interior Trans Canada Highway.  Driving the Trans Canada (TCH on the signs) is like northern Maine; rolling road, lots of spruce, limited vistas.  Coastal views can be spectacular.
We hiked a lot, but it turned out to be too windy to canoe.  It's sea kayak country.  In all, we drove 3,000 kilometers on the island, took a side trip north to Fogo Island, and another for whale and puffin watching.
Newfies have a long tradition of gravel pit camping, wherein folks in town will haul a trailer, camper, or perhaps a converted school bus to a gravel pit and leave it as a holiday get-away destination.  There is no shortage of gravel pits, like the Alaska Highway.  Crews dug road materials as they went along, leaving the pits.  They're usually Crown (Canadian public) lands, similar in use to BLM land in the US west.  The whole phenomena is nicely captured in The Pits by a local musical group called Buddy Wasisname and the Other Fellers.
We discovered one of the more developed pits near Trinity Harbor, decided we might not fit, and found our own location just down the road.  The Province tried to shut down the pits in 2010, citing safety and sanitation concerns, but backed off under massive public protest to allow a forty-eight hour stay.  Folks in the big pit we found had clearly ignored that memo and were there for the Canada Day week.
Fogo Island, largest of the Newfoundland offshore islands, was quite interesting.  It's a short (12 kilometer) ferry ride to Fogo, that's sixteen dollars round trip.  The ferry can be a bit tight for larger rigs.
We camped in a pit (of course), walked the town next morning, then hiked up Brimstone Head, one of the four corners of the Flat Earth.  There's a local museum highlighting the island's long fishing industry history.  When the Newfoundland cod fishery collapsed about ten years ago the industry switched to snow crabs and lobster.
As far as advice for visitors, propane must be off for the seven hour ferry ride.  You can book a cabin for the crossing; there's no access to the vehicle deck at sea and you'll likely not sleep on the midnight ferry if you're in a lounge area.
Buy a twenty dollar seasonal vehicle pass for the Provincial parks.  You get full day use, including water, dump, and laundry facility access.  Camping is extra, with senior discounts.
Go prepared to filter drinking water for your tank.  We encountered boil notices in all but one of the parks.  Don't plan on cellular service unless you buy a Canadian phone, but wi-fi is widely available, and mostly free.  Get the official, free smartphone app for trip planning.
Secondary roads may be bumpy.  There is a short maintenance window, cold winters, and icebergs offshore in July.  Watch for skid marks (where firewood or snow machine trailers have gone airborne on the frost heaves) and slow down.  There are no red warning flags for the heaves, as in the Yukon and along parts of the Alaska Highway.  And watch out for moose!
Stephn J. Lewis and Lee A. Nold-Lewis
Two People, Two Cats, One Four Wheel Camper
2000 GMC Sierra
2006 Four Wheel Camper Hawk
We went on one family trip up to Trinty Lake, and one complex trip south.  Two favorite places we visited were the Mullen Museum and Bodie.
The Mullen Museum is unique in the world.  It has the most amazing displays and such a clear focus.  You must reserve well in advance to get tickets to see the Mullen.  Go to their website to see when they are open, and details on their tickets.
Bodie is a ghost town, and there are lots of those in Nevada.  This place feels like the people who lived there.  They just all got up and walked away.  Chairs and tables were left in place.  It's a wonder.  It was also bloody cold with the altitude and wind.  It's at 2,400 meters.
Gary and Rosemarie Kindon
From Crash to Camper Again
2005 Chevy Silverado 3500
2009 Lance 950
We are still on the road as I write this on Halloween having left New Jersey at the end of September for a six week trip.  Our first goal was to head west to Albuquerque for the annual Balloon Fiesta.
We made our reservation last October to stay in a premium site at the Balloon Fiesta.  It came with water and electric, but the majority of the 2,500 RVs there had no utilities.
We were about a mile from the launch site and took shuttles to the field for the early morning launches.  We chose to sleep in one day and the balloons sailed right over our camper.
Most of the RVs were much bigger than ours, but another Lance was placed beside ours.  We couldn't stop taking pictures both in the morning for the mass ascensions of 554 hot air balloons, and in the evening for the twilight glow when tethered balloons are lit in unison by means of their propane heaters.
We would recommend this experience especially if you can stay at the sites provided by the Fiesta due to the proximity to the launch and the ease of attendance versus sitting in traffic to get there each morning before dawn.
After six days there, we traveled down through the Gulf coasts of Texas, Louisiana, and Florida.  We then spent a week with family in Disney World (in a hotel not camper) and now we are here for a week in the the Florida Keys.  As usual, we are staying mostly in state campgrounds.  The ones in Arkansas and Florida are particularly scenic and well-maintained.
When we're home this winter, we will winterize and plan next year's trip.
Mike and Bonnie Belza
BLM Wisdom As Good As Gold
2007 Chevy Silverado 2500HD
2005 S&S Ponderosa
We went to Roosevelt Lake, Arizona, for a weekend birthday celebration for my granddaughter in March,.  Then, we went to Death Valley, California for a week-long trip in March.
We attended the Overland Expo in Mormon Lake, Arizona for a weekend in May and the Balloon Fiesta in Albuquerque, New Mexico for a week-long trip in October.
It's hard to pick a favorite place; let's call it a tie between Death Valley and the Balloon Fiesta.  Death Valley is one of the national parks I've wanted to visit for a long time and it exceeded my expectations.  The scenery is so different and striking.
The Balloon Fiesta is a trip that has been on my bucket list for years.  I celebrated my birthday there.  It was amazing how close we could get to the balloons and the spectacle of over 500 balloons taking off each morning and evening.
For Death Valley, go between January and early May to avoid the extreme heat.  The Furnace Creek campground was centrally located for exploring the east side of the park.  Make reservations and don't try to see everything in one trip.  Get up early to catch the sunrise at the sand dunes for some spectacular pictures.
For the Balloon Fiesta, again, make reservations for the campground near the fiesta a few months in advance.  Plan on getting up early to see the takeoffs.  Make your trip for several days during the fiesta so if bad weather occurs, you have a better chance of having a good viewing day.
Camping with family members and introducing our grandchildren to the truck camping experience was something we plan to continue as a tradition.
Gary Handsher
River Rising
Four Wheel Camper
This year I went all over northern California and Nevada.  I spent a week in the desert near Sparks, Nevada.  I was there for the senior softball western championships.  I spent several nights in the desert out behind the softball complex.  It was just me and the coyotes.  It was a really nice experience just going there to enjoy the peacefulness.
Dick and Karen Parsons
Putting Together a Flatbed Truck Camper
2012 Chevy Silverado 3500
2012 Northstar American Hero
We took about a dozen trips this year with our camper.  There were trips to visit family and friends where we parked in their yard or driveway.  We also used our camper to attend social events instead of renting a hotel room.  By doing this we are able to bring our pets along.
Our favorite trips were attending Jamborees as well as trips in the Adirondacks and the Rangely Lake region in northern Maine.  We have gained a vast amount of valuable information at the Truck Camping Jamborees we have attended through the seminars and conversations with fellow campers.
Our very favorite trip was to Black Brook Campground in the Rangely Lake region of Maine.  We camped on one of their more remote East Shore sites on beautiful Aziscohos Lake.  We pulled a small trailer carrying our canoe and two kayaks behind our camper.  It is a great area for fishing, canoeing, and kayaking.  If you wish to visit this area I would recommend Black Brook Cove East Shore campsites.
Reserve your site in March or April as there are a limited number of sites large enough to accommodate a truck camper.  The majority are tent sites.
The most exciting thing for us was to find out the dollars spent on a solar panel this year were well worth it.  It kept our batteries fully charged as well as our outside refrigerator running for over a week while in Maine.
Ron, Michelle, Macey, and Jarrett Humphress
Assateague Island Dreaming
2004 Ford F350
2005 Lance 881
This year we went to Lancaster, Pennsylvania twice; once for a kids' trip that included Dutch Wonderland.  Our second trip included a bike week over in Carlisle.
I took a guy's trip out to Elkton, Virginia where I used my camper as a base camp to ride my motorcycle in the mountains of western Virginia and West Virginia as well as down on the Blue Ridge Parkway.  The views in western Virginia during the motorcycle rides were remarkable.
Of course we also camped on Assateague Island.  Assateague is always the best.  Beach camping with family and friends and great fishing all summer long.  Don't be intimidated by beach camping or going off the grid for a while.  We can't wait for more truck camping in 2014!
Paul and Terry Beddows
Truth and Truck Camping South of the Border
2004 Chevy Silverado
2008 Snowriver
I spent four months in Mexico and I also went to Smithers in northern British Columbia to attend a high school reunion and the town's 100th year anniversary.
Melaque, Mexico, just north of Manzanillo, has my favorite campground.  I spend at least two months a year there.  Reserve your spot a year in advance.  It's a very popular park from November to February.
My recommendation is to find others to go with the first time when you travel to Mexico.  Either ad-hoc or in a commercial caravan.
The St Patrick's week celebrations in Melaque are always exciting if you enjoy being chased by men carrying contraptions loaded with flaming fireworks shooting all around you.
I am now working for Caravanas de Mexico, a Mexican RV Caravan company.  I will be leading a small portion of that group who have truck campers down into a crater near Tepic in Mexico suitable for small rigs only.
Jim Jeffries
Right Fit for a Phoenix
2007 Toyota Tacoma
2007 Phoenix Custom Camper
We went in the Spring to Anza Borrego State Park in California, and also on a Fall camping trip through Southern Nevada and Utah.
Snow Canyon State Park is located near Saint George, Utah.  The park is worthy of National Park status because if its beauty.  We enjoyed the petrified sand dunes and canyon and mountain vistas.  It's a perfect place for walks to see lava tubes and slot canyons.
If you go, plan early or call ahead as there are only thirty-one combined RV spots, some with hook-ups and some not.  Walking and climbing on petrified sand dunes several hundred feet tall in Snow Canyon State Park was really interesting.
Allan Huntly and family
Truck Camping Over Scotland
2008 Ford F350
2010 Arctic Fox 811
We went to an Americana event in England, Island of Islay and Torridon, Northwest Scotland.  Our favorite place was Islay.  The weather was amazing with beautiful deserted beaches for the girls and dog to explore.  You need to go when the weather is good, so you need flexibility.
We were camped up next to a film set as our favorite beach was commandeered by a film crew whilst filming a Billy Connolly movie which is out in 2014.  As we have now sold our truck camper we are eagerly awaiting our Chalet TS-116 for our 2014 adventures.
Russ and Donna Miller
Take Two Hits the Road
2007 Dodge Ram 3500
2011 Lance 1191
Our first adventure was to the Delaware State Fairgrounds.  Our band, Take Two, was part of the entertainment for the Mid-Atlantic Spring Samboree.  This was our most unique experience because we actually drove our entire rig, which included our sixteen foot stage trailer, inside of the ice arena where we performed.
Two trips were taken to Atlantic Beach, North Carolina, during the off-season; one in the early spring and one in late fall.  While there, we enjoyed reasonably-priced fresh scallops at a popular family-owned restaurant, which was recommended by the locals.
In September, we traveled through the New England States.  Our scenic route included the Green Mountains, the White Mountains, and a trip to the top of Cadillac Mountain.  We had picture-perfect weather.  Bar Harbor, Maine was also beautiful.
Ralph Goff
Ramblin' Ralph's RV Roamings
2006 GMC 2500HD
2001 Lance 845
This was my eighth year of ramblin' in my truck camper for six months.  After exploring Alaska in 2012, I returned to my usual Montana destination this year to visit my cousin for a couple of weeks.  While in Montana, I visited Glacier National Park for the second time.  That was a three and a half month trip.
I try to take new routes to and from Glacier every year, but it gets hard after already having made the trip six times.  This year I traveled states of California, Oregon, Idaho, Montana, Utah, Arizona, and Nevada.  Again, I logged my typical nine-thousand miles, which included California miles before and after my Montana trip.
There is lots of beautiful country out there.  However, I'll pick the Kaibab Plateau in Northern Arizona, north of the North Rim Grand Canyon National Park, as my favorite place this year.  It is a beautiful National Forest area with loads of boondocking spots off the many dirt roads.  It was my first time there and I'd like to go again.
My highest campsite for the year, at 8,800 feet, was when I was boondocking in this area (pictured above left).  It had a million dollar view looking out more than thirty miles!
It was another six months of nearly trouble free ramblin', but it was too hot for me from early July to mid August.  Ninety-plus degree days produced an inside camper temperature of up to 100 when I arrived at a campsite.  It takes a while to cool down for sleeping.
Jim Davis
Preserving the Desert Light
2009 Toyota Tacoma
1985 Palomino pop-up
This past year I went on eight trips total to southeast Oregon desert country and northwest Nevada.  Two of these trips stand out.  First, I was involved in taking a small group of established landscape photographers into a very remote and seldom visited area of the Owyhee Canyonlands.  This is one of my favorite areas to explore.  Having a capable and enthusiastic group to share this spectacular landscape was pretty special.
The second stand out trip was into the Pine Forest Range in northwest Nevada.  This was just a great relaxing trip with good friends.  We had crazy wild thunderstorms, great fishing for my buddies, and some excellent photo opportunities for me.
I would say that being self sufficient is a prerequisite for visiting any of these very remote and rugged Great Basin landscapes.  There is no cell service, terrible roads, and the prospect of a couple of days walking if you screw up are to be expected.  It is much less stressful if you have two vehicles in your party.
There was a thunderous hail storm in the Pine Forest Range that I later discovered had put holes in my roof vent skylight.  The top of my camper now looks like the cratered surface of the moon.
If you value and treasure these rugged and wild desert landscapes, lend your support via volunteer work or donations to the groups that fight to keep them protected.