Four experienced truck campers reveal a list of must-see roads, trails, and attractions in and around Alabama Hills in California.  Don't miss the photography.

You might do a double take when you see the spectacular vistas of Alabama Hills.  Located in Inyo County, California, the rock formations, ranges, and hills have been used for decades as backdrops for television and movie productions including The Lone Ranger, Bonanza, How the West Was Won, Tremors, Star Trek Generations, Gladiator, Iron Man, and Transformers: Revenge of the Fallen.
It's no wonder that the Alabama Hills have also been the background for a good number of Truck Camper Magazine Calendar winning photographs.  This is not to say that we're even remotely tired of seeing this stunning scenery adorn our monthly eye candy.  In fact, we're secretly hoping this article inspires a few more jaw dropping calendar entries.
Speaking of inspiration, we contacted four Truck Camper Magazine readers who, through their photography, revealed their affinity for the Alabama Hills and the surrounding area.  These folks have been there, done that, and now share their best advice on where to go, what to see, and how to score a campsite with a stunning – and possibly future calendar winning – view.
Next up in our Top 10 Bucket List destination series is Glacier National Park.  If you have visited Glacier National Park in a truck camper and have photography and tips to share with fellow truck campers, click here to participate.
Peter Mason
2013 Ford F150
2010 Four Wheel Hawk
1. BLM Camping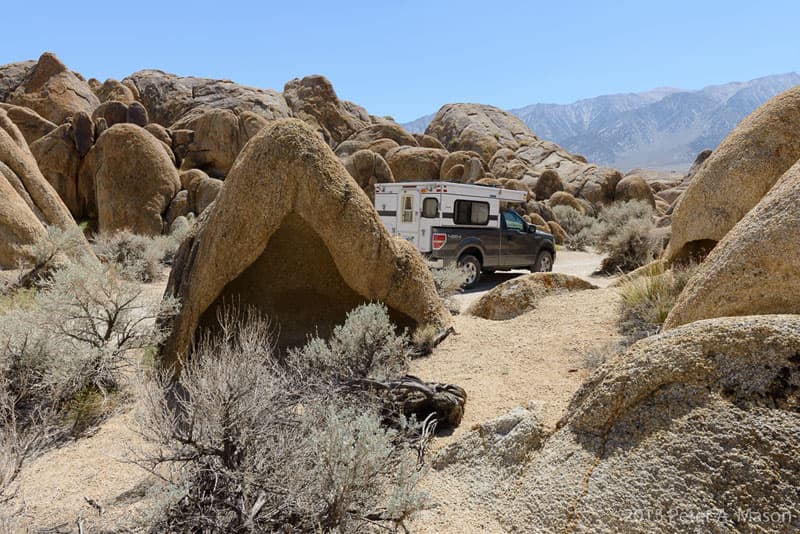 The Alabama Hills are managed by the Bureau of Land Management.  Camping is free and there are no formal campsites.  Note, there is no water, and no restroom facilities.  There are many unique camping spots, hidden in the rocks or out in the open.  Sometimes it can be quite windy, though.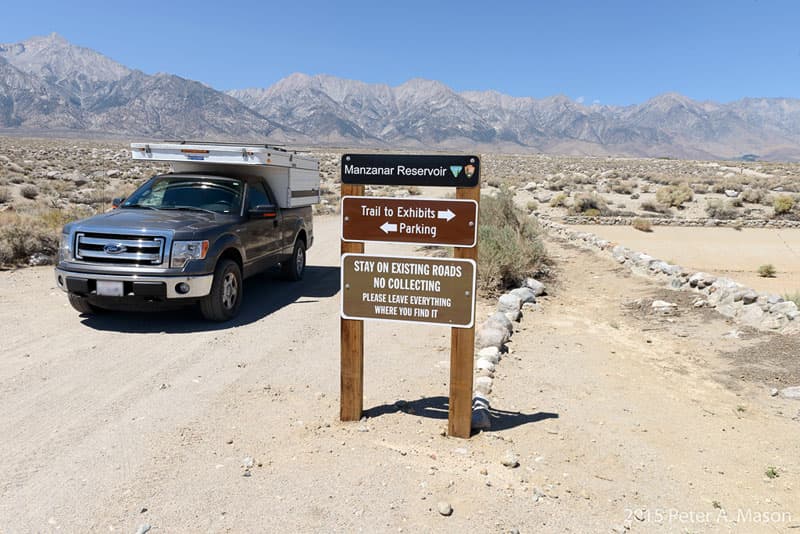 2. Climb Mt. Whitney With A Permit
The Eastern Sierras are filled with many great places to camp and hike.  If one likes challenges, and if you are lucky and get a permit, try climbing Mt. Whitney.  The trailhead is just down the road from the Alabama Hills.  The area is hot during the summer months.
3. Lone Pine Museum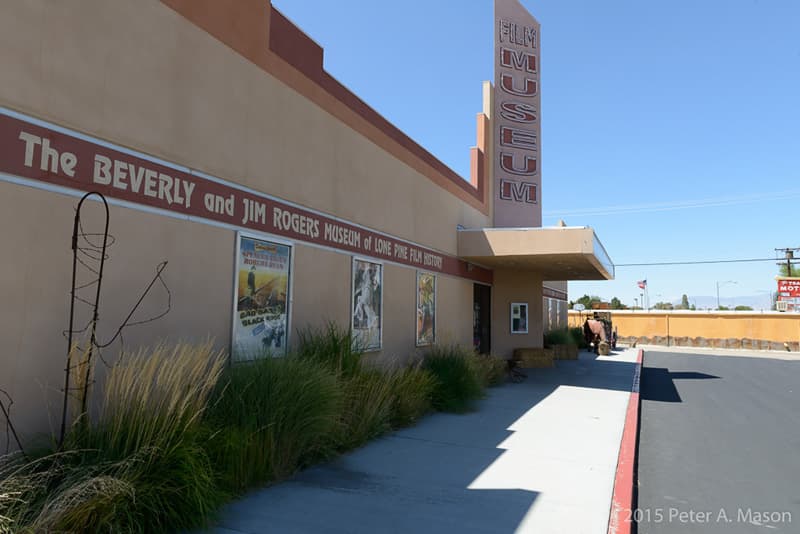 The Lone Pine Film Museum is a good place to stop before heading into the hills.  Here they tell the story of Hollywood and the Alabama Hills.  Many Westerns used these iconic hills for their backdrop.  There is a Western Film Festival in Lone Pine each October.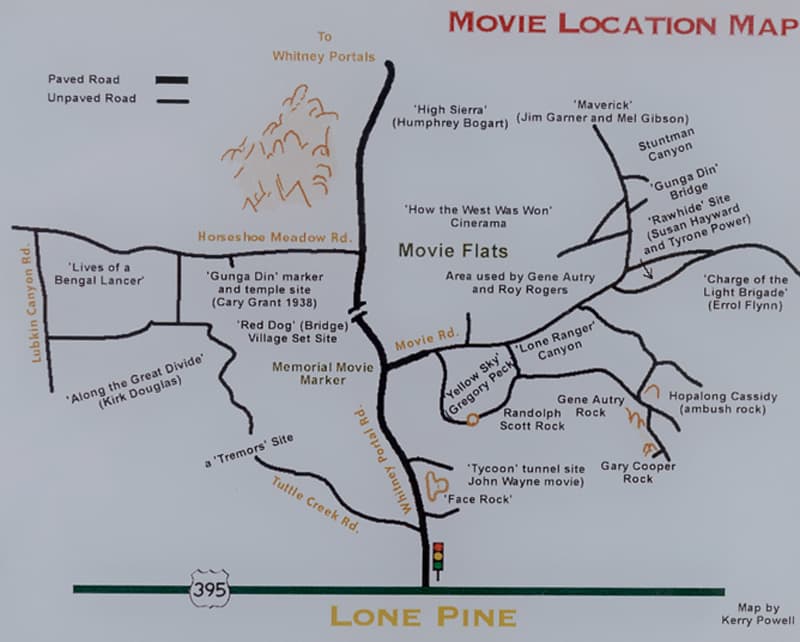 Nearby Restaurant:  Alabama Hills Cafe
If you are hungry for a good breakfast or lunch, try the Alabama Hills Cafe.  It is just off Highway 395; 111 West Post Street.
Bob Meigs
2011 Dodge Ram 1500
2012 Four Wheel Camper Raven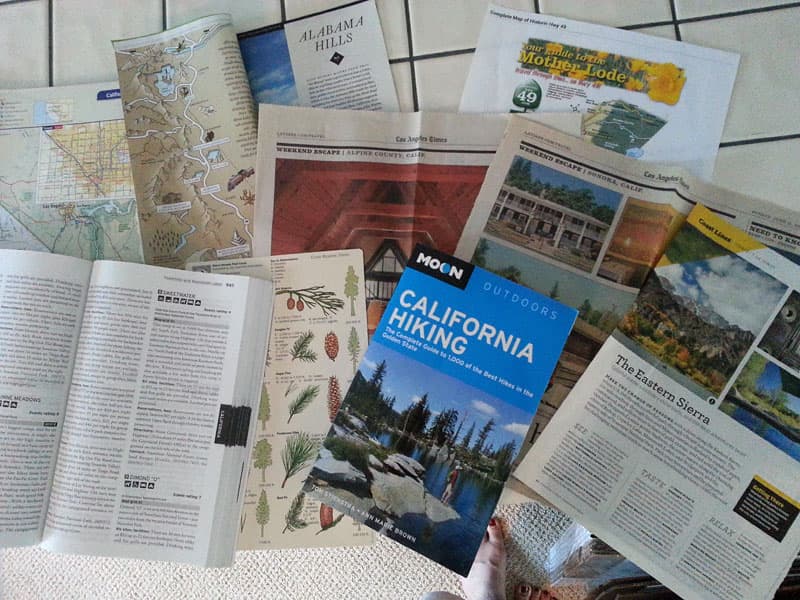 My wife and I took a trip this past September to explore the Eastern Sierras up Highway 395.  The plan was to visit the lakes on 395 and take the Sonora Pass to Highway 49, which is the gold rush area.  The fires on the Western Sierras put a stop to that side.  So, we cut our trip by a few days and went back down the 395.   We were able to see some of the changing of the colors on the way up the mountains.  Next year we'll go mid-October when it's spectacular.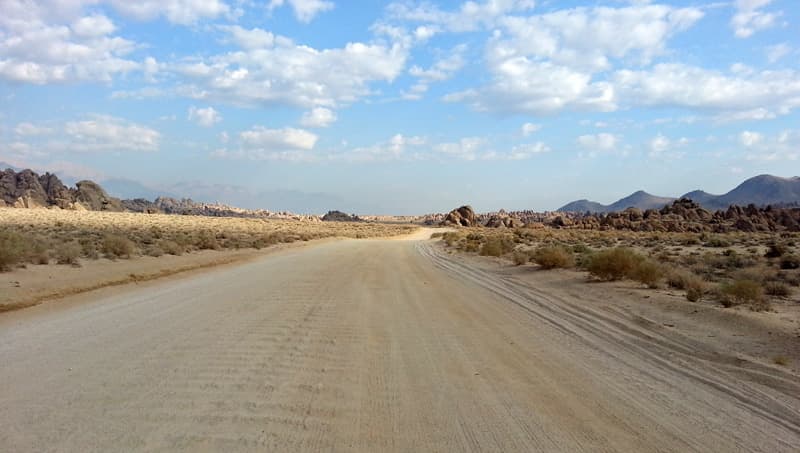 4. Long Pine Campground at the base of Mt. Whitney

The first stop was the Lone Pine Campground at the base of Mt. Whitney.  What a view!  Camping at the Lone Pine Campground was breathtaking.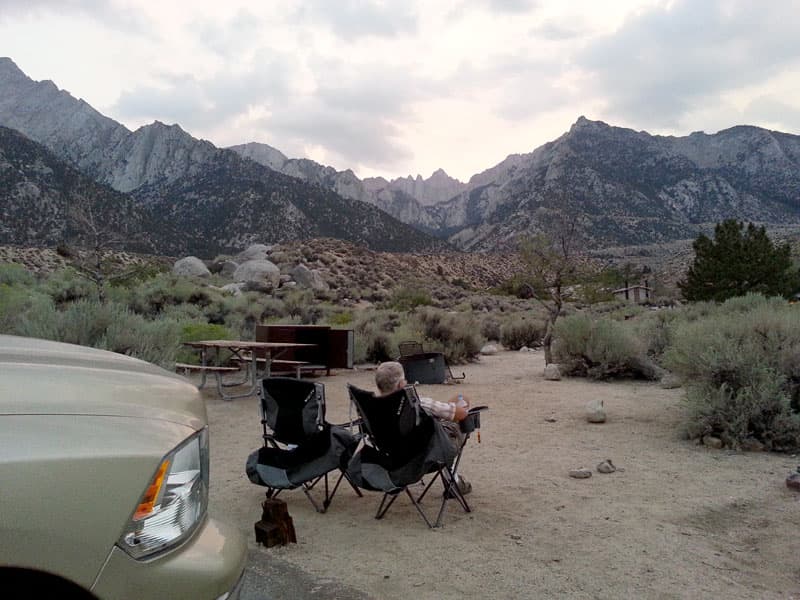 If you have a senior National Park pass (over 62), the camp fee is half price.  In peak season, the regular price is $19 a night.
We then explored the Alabama Hills where most westerns were filmed, including Django.  We also checked out the Western Film Museum in Lone Pine.  Both of these destinations are a do not miss.  As shown and explained in the film museum, even parts of Star Wars was filmed in the Alabama Hills.
Nearby Bonus: Manzanar Japanese Internment Camp
We also went nine miles north of Lone Pine, California and visited the Manzanar Japanese internment camp, one of the places the United States imprisoned American citizens of Japanese descent, without trial, during World War II.
Nearby Restaurant: Copper Top Smokehouse
We had lunch at the Copper Top Smokehouse in Big Pine, which is another favorite, and then headed up to the Bristlecone Pine Forest at over 10,000 feet.  Since it was so hot we stayed at a hotel in Bishop.  There is a nice campground on the way to Bristlecone which is only a $5 on the honor system.
Nearby Bonus: Laws Railroad Museum in Bishop
The next day we went to the Laws Railroad Museum in Bishop which was very cool, even though it was so hot.  Then, on the way to Lake Sabrina we stopped at the Bishop Burger Barn.  Yum!  Lake Sabrina was about 9,000 feet and pretty low because Los Angeles was siphoning off some of the water.   Even though the lake was low the drive up was spectacular and well worth it.
Cliff and Susie Kellogg
2006 Chevy 2500 HD
1999 Apache popup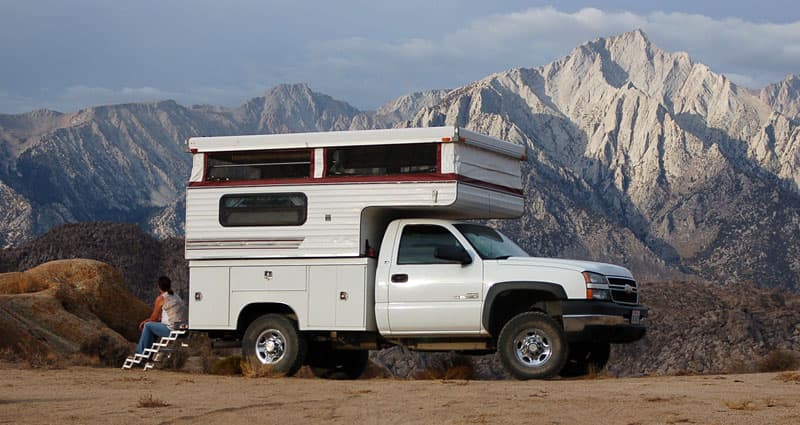 5. Eastern Sierra Interagency Visitor Center
When visiting the Alabama Hills, be sure to stop at the Eastern Sierra Interagency Visitor Center, located just south of Lone Pine, California, at the intersection of Highways 395 and 136.  They have numerous displays, maps, and books to help you get oriented to the area.
6. Amazing Photograph Opportunities Abound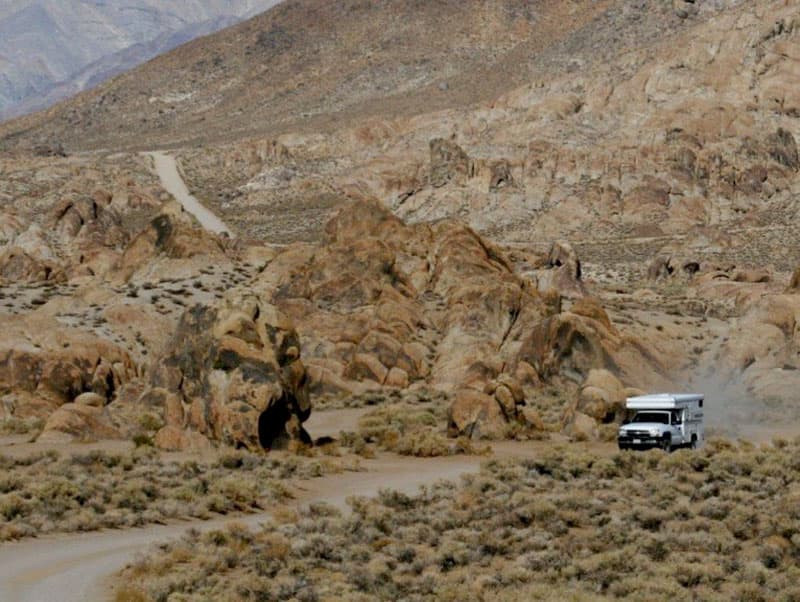 Many Truck Camper Magazine calendar entries and a few winners have been from the Alabama Hills.  Movie Road leads into the main portion of this fascinating area, a low range of mountains about nine miles long and a few miles wide, with an unbelievable view of the Eastern Sierras as a backdrop.  The photogenic rocks of the Alabama Hills are granite, and about 90 million years old.
7. See Where Movies Were Filmed
The roads throughout the Alabama Hills are all dirt and offer numerous campsites.  There are lots of opportunities to photograph, hike among the outcrops, and see where movies were filmed, including "The Adventures of Marco Polo" with Gary Cooper, (1938), "Tremors" with Kevin Bacon, and "Star Trek Generations" and "Star Trek V, The Final Frontier".  This is a fun and historic place to visit.  There is a Movie Museum in town for movie buffs to get their fill.
8. Drive Up Whitney Portal Road and Cottonwood Charcoal Kilns
You can take a drive up Whitney Portal Road into the Inyo National Forest in the Sierra Mountains above 8,000 feet.  There you will find campgrounds and trails into the John Muir Wilderness.  Note: It's bear country up there.  Be bear aware.
Check out the Cottonwood Charcoal Kilns, on the shores of mostly dry Owens Lake. Ghost and semi-ghost towns in the area include Cerro Gordo, Darwin, and Cartago.
Don't miss Manzanar War Relocation Center, now a National Historic Site managed by the US National Park System, approximately 20 miles north of Lone Pine.  The original auditorium is now the visitor center with displays and information. You can also tour the grounds and see orchards, foundations of the barracks, and roam the streets of Manzanar, the best preserved example of the World War II internment camps.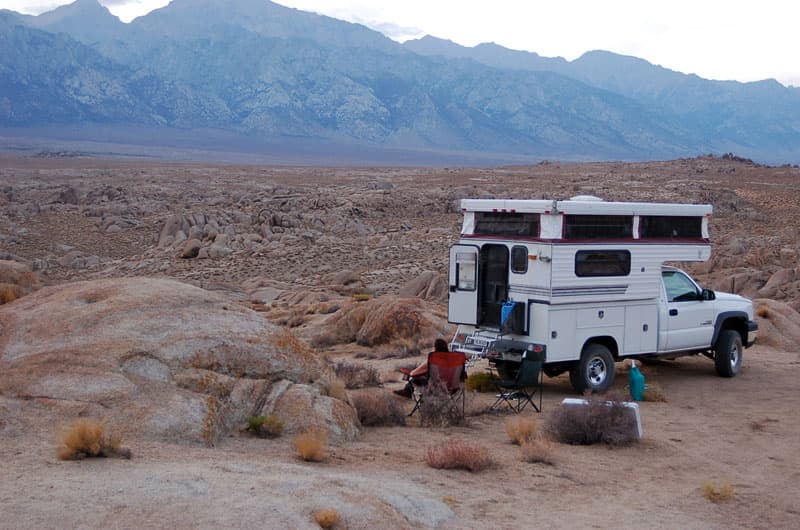 We've camped at different locations in the Alabama Hills.  We generally like campsites with far ranging views, so we camp on the higher ground.  Finding flat spots in some areas can be tough, so get there early and scout around.  Campers generally spread out so it's easy to find spots with no one else in sight.
Take cameras!  Binoculars are good to have, since birders can enjoy viewing around Lone Pine Creek and Tuttle Creek.
Recommended Reading
As far as books go, "Geology Underfoot" by Robert Sharp and Allen Glazner for anyone interested in the geology of the area.  Delorme Maps are very handy, but not necessary for the Alabama Hills.  Dress appropriately for heat in the summer; it gets hot with little shade.  It can also get very windy.  Hiking boots, sunscreen, and a good hat are recommended.
Gary and Gail Possert
1998 GMC K3500
1998 Coachmen Ranger
9. Get close to the Huge Rock Formations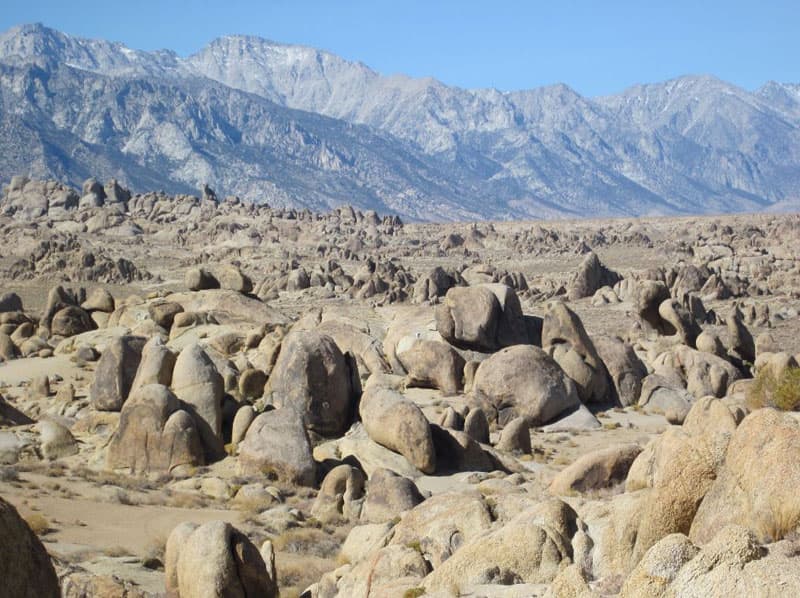 Nestled between Lone Pine, California and the Eastern High Sierras, and in the shadow of Mount Whitney, are some of the wildest rock formations in the country.  The Alabama Hills helped define the public image of The West, simply because so many western films and TV shows were shot there.
In the mid to late 1800s, Southern sympathizers searching for gold in the area named the hills in honor of the Confederate War-Sloop, the CSS Alabama, and the name stuck.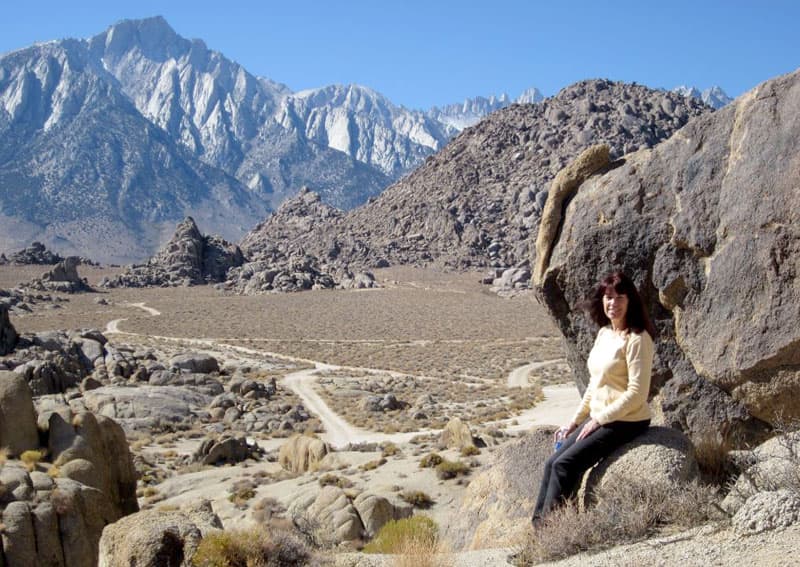 A very unique aspect of the Alabama Hills is the easy and close-up access for visitors to hike, climb, and view these huge rock formations.  The area is combed with dirt roads allowing Gail and I to drive our truck camper right up to any formation that looked interesting to explore.
10. Boulder Creek Campground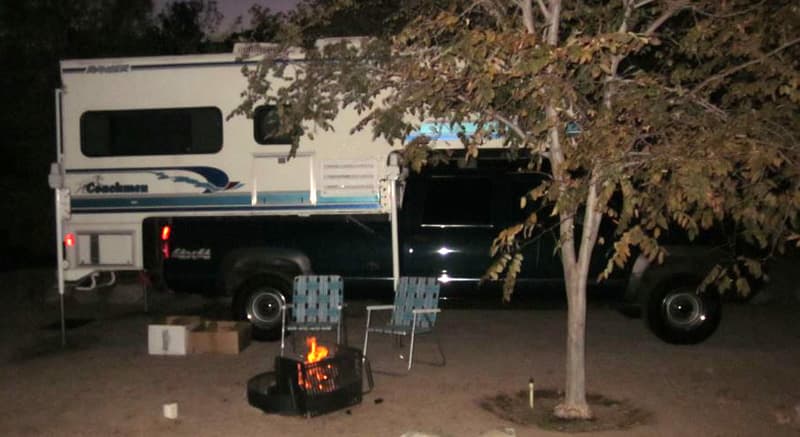 The very close Boulder Creek Campground made a several day stay easy and comfortable.  Boulder Creek features full-hookup and tent sites and is located on U.S. Route 395, which itself happens to be one of the United States most beautiful drives.  Staying at this campground, we could easily off-load the camper, set it on the ground as our evening retreat, and take the truck to more easily explore the area.  One of our photos shows an evening at Boulder Creek when we left the camper on the truck.
Nearby Recommendations
Other nearby recommendations include Ancient Bristlecone Pine Forest north of Big Pine, the switchback drive up the Sierra's to Horseshoe Meadows (just across the road from the campground), the Mt. Whitney portal, and Death Valley National Park (a trip unto itself).  It would be easy to spend weeks in the area.
Participate in TCM's Next Bucket List Article on Glacier National Park:
Our next Bucket List article will be on Glacier National Park.  If you have been to Glacier National Park, and would like to share your fantastic photographs and tips with your fellow truck campers, click here to participate.